Those with acne-prone skin know that they have to be extra careful with their skincare products, especially when it comes to moisturizers. While this product is essential for healthy skin, certain moisturizers have a tendency to clog pores and contribute to oily skin, which encourages acne and breakouts. Need help finding the best moisturizer for acne-prone skin? Target shoppers can't stop raving over the Yes To Tomatoes Daily Balancing Moisturizer, an antioxidant-rich moisturizer that hydrates and balances the skin to reveal a clear, radiant complexion.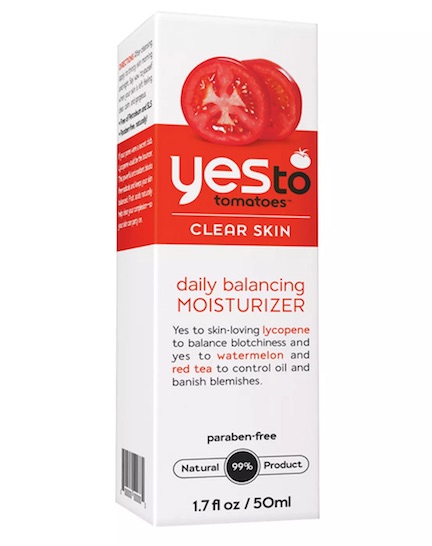 Shop The Best Moisturizer For Acne-Prone Skin
TRY IT: Yes to Tomatoes Daily Balancing Moisturizer ($11.99)
Shutterstock
How It Works:
Rich in antioxidants and powerful sebum (acne-causing oil) absorbers, it both moisturizes and balances, keeping your pores free of acne-causing agents and your complexion clear, even, and glowing.
Promising Yes To Tomatoes Daily Balancing Moisturizer Reviews:
"As someone with acne-prone skin, I've fallen in love with this moisturizer!!! It goes on smoothly under make-up, isn't too thick or too thin, and pretty clean when it comes to the ingredients. Solid." - mmcnutt527
"I love this line. I truly believe it has helped clear up my skin tremendously. The moisturizer is great. Does not have a strong scent and isn't greasy. I also use the bar soap and the wipes for easy make-up removal. Love it!" - Kim
"Ugh, I love this soo much. Smells great. First time I used it, it already got rid of those small bumps on my forehead, and moisturizers never do that to me. I also love the packaging with the pump, cause you don't have to dip your fingers in it and get all kinds of germs in there. You can just pump it in your hand or straight on your face! I use it morning and night right after I wash my face, or if I use toner the ill use it after the toner. Still moisturizing and doesn't clog your pores!<333 def going to buy again." - Sofia
Shutterstock
Tomato Benefits For Skin
Who knew tomatoes played such an important role in clear skin, right? Experts say that it's a superfood for the skin because it's rich in skin-healthy antioxidants like carotene, vitamin C, and lycopene. "Tomatoes contain high levels of the plant pigments called carotenoids, such as lycopene, that gives tomatoes its red color and is known for its many health benefits, as well as phytoene and phytofluene that absorb light in the UV range," Karin Hermoni, Ph.D., head of Science and Nutrition at Lycored, tells InStyle. Here's how tomatoes can help transform your skin when applied topically through your skincare routine:
Tomatoes For Pores
Large pores are one of the biggest skincare concerns among men and women. Thankfully, lycopene has been found to make a profound difference in pore size and help reveal a more even complexion. "Tomatoes act as an astringent and can reduce the appearance of large pores," says dermatologist Tsippora Shainhouse of Stay Skin Safe.
Tomatoes For Oily Acne Skin
As for those with oily and acne-prone skin, tomatoes can help reduce the redness and size of breakouts thanks to its anti-inflammatory properties. Tomatoes are also rich in acne-fighting vitamins A and C, which are commonly found in products geared towards fighting acne and breakouts.
Tomatoes For Dull Skin
The antioxidants found in lycopene improve the overall health and appearance of the skin by neutralizing the damage caused by free radical and UV ray exposure. "The nutrient not only quenches free radicals but also induces the body's own protection mechanism against oxidative stress and inflammation, enhancing skin resilience and allowing skin cells to better cope with the environment," Dr. Hermoni says.
Tomatoes For Younger-Looking Skin
The antioxidants also give mature skin the repair and nourishment it needs to look younger, according to experts. "Antioxidants help prevent and undo damage to collagen in the skin," Dr. Shainhouse explains. "Lycopene, specifically, helps prevent skin discoloration, texture changes, and fine lines and wrinkles."
SheFinds receives commissions for purchases made through the links in this post.