There are several products that make up an anti-aging skincare routine, but none are as important as a moisturizer. It's an essential product for healthy, youthful skin due to its role in strengthening the skin barrier, which helps prevent moisture loss and the appearance of dry lines and wrinkles.
"Even though your body has its own natural lubricating system consisting of glands that secrete oil (or sebum) to maintain a protective coating against harsh outside conditions and infections, most of us do need extra hydration after the havoc that sun, weather, and harsh chemicals wreak on our skin," dermatologist Sandra Kapp, M.D. writes for Dermstore.
Keep scrolling to find out which formulas dermatologists say are the best moisturizers for over 50:
The Best Moisturizers For Over 50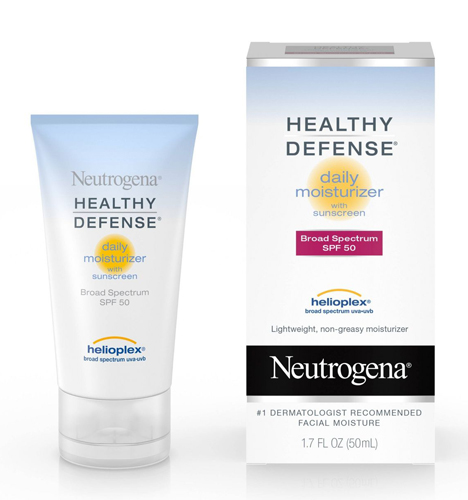 1. Best SPF Moisturizer For Over 50
Neutrogena Healthy Defense Daily Face Moisturizer SPF 50 ($11.99)
Key Benefits:
-Provides all-day hydration and prevents environmental damage to skin.
-Specially formulated with antioxidants & vitamin E, it helps prevent the signs of premature aging.
-HELIOPLEX Broad Spectrum SPF 50 Sunscreen protects skin against damaging UVA/UVB rays.
Why Dermatologists Love It:
"It provides protection and hydration in one, which is why I like it," Dr. Joshua Zeichner, a dermatologist in New York City, says. He applies the Neutrogena Healthy Defense Moisturizer SPF 50 after using a vitamin C serum as a means to lock in moisturizer and neutralize free radical damage in the skin.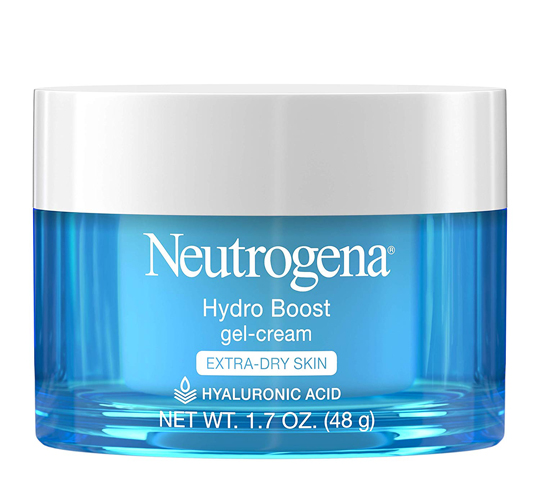 2. Best Drugstore Moisturizer For Over 50
Neutrogena Hydro Boost Gel-Cream ($16.97)
Key Benefits:
-Formulated with hyaluronic acid to quench extra-dry skin.
-Leaves skin looking smooth and supple.
-Restores the skin's natural barrier against moisture loss for stronger, more hydrated skin.
Why Dermatologists Love It:
Aside from its low price tag, the Neutrogena Hydro Boost Gel Cream has an amazing reputation among dermatologists for its hyaluronic acid-rich formula. "Because of its ability to draw and hold water, it can be used as a humectant in your skincare regimen," says Dr. Rachel Nazarian, a dermatologist at the Schweiger Dermatology Group in New York City. "It continually keeps skin moisturized throughout the day."
Dr. Kavita Mariwalla, a dermatologist in New York City and the founder of Mariwalla Dermatology, notes that the important ingredient can also help improve skin elasticity and promote a younger, more dewy complexion when used topically.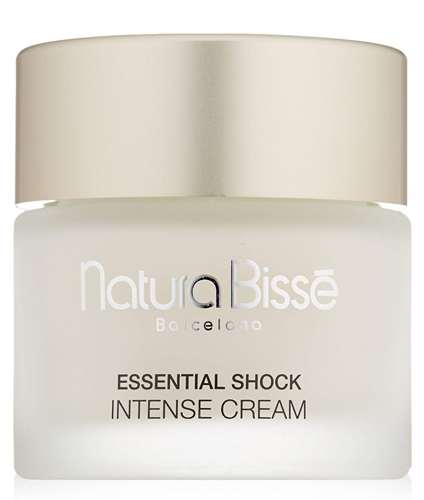 3. Best Moisturizer For Dry Skin Over 50
Natura Bisse Essential Shock Intense Cream ($125)
Key Benefits:
-Nourishes and revitalizes your skin using a rich formula and delivers a more radiant, firm, and supple complexion.
-Provides maximum skin elasticity and minimizes expression lines and wrinkles.
-Intensely repairs and restores skin while correcting dryness and illuminating the skin.
Why Dermatologists Love It:
Shereene Idriss, who is a dermatologist at Union Square Laser Dermatology, uses Natura Bisse Essential Shock Intense Cream for its rich and nourishing formula, which she applies after her harsh anti-aging products that contain exfoliating ingredients like retinol. "This is where it's important to note that what works for me may not work for you, so get to know what your skin can tolerate," she advises. "My skin remains in harmony when I exfoliate two or three times a week. I also believe that exfoliating at night is key because it strips your skin of all impurities that accumulate throughout the day and creates a clear foundation for your skin to absorb the essential nutrients it needs to repair itself overnight."
4. Best Nighttime Moisturizer For Over 50
CeraVe Facial Moisturizing Lotion PM ($29.48)
Key Benefits:
-Moisturizes skin throughout the night to help restore the protective skin barrier.
-Formulated with three essential ceramides (1,3,6-II) and hyaluronic acid to help retain skin's moisture.
-Niacinamide works to calm skin and improve overall texture, tone, and appearance of skin.
Why Dermatologists Love It:
Dr. Brittany Carter-Snell, a board-certified dermatologist at Detroit Medical Center, recommends this nighttime moisturizer for anyone who needs extra hydration. Its "humectant compounds attract water from the second layer of the skin and maintains water in the first layer of the skin, working from the inside out," she says. "Ceramides are naturally present in the skin and improve the skin barrier by preventing water loss."
5. Best Night Cream For Over 50 Skin
Aveeno Positively Radiant Intensive Night Cream ($13.99)
Key Benefits:
-Works while you sleep so you wake up looking fresh and luminous.
-Shown to visibly even skin tone and texture.
-Formulated with Total Soy Complex to help brighten skin for a more radiant complexion and vitamin B3 to help diminish the appearance of dullness, blotchiness, and brown spots.
Why Dermatologists Love It:
"I love the Aveeno Positively Radiant Night Cream because it contains a soy complex that brightens the skin overnight. Once it dries, I go right in with tretinoin and that's that," Dr. Zeichner says.
SheFinds receives commissions for purchases made through the links in this post.