Those who struggle with acne know that finding a solution to breakouts isn't easy. They also know that not every product they try is guaranteed to work, especially if it's not formulated with the right acne-fighting ingredients. In fact, there's one ingredient that dermatologists say should be in all of your acne products to combat breakouts and prevent new pimples from forming: retinoids. "Retinoids can inhibit and decrease the number of orchestrators of inflammation, not to mention other inflammation players," says Adam Friedman, MD, associate professor of Dermatology at George Washington University, who suggests using topical retinoids to fight acne. Need help finding the best retinol serum for acne? There's an affordable formula on Amazon that shoppers can't get enough of–it's TruSkin Naturals' Tea Tree Clear Skin Serum!
How The Best Retinol Serum For Acne Works:
TRY IT: TruSkin Naturals Tea Tree Clear Skin Serum ($24.79)
Shutterstock
Key Benefits Of Using This Retinol Serum
-Soothes & heals blemishes, fades the appearance of acne scars, dark spots, hyperpigmentation & fine lines for fresher, clearer & glowing skin.
-Uses ingredients like vitamin C, hyaluronic acid, retinol, niacinamide (B3), salicylic acid & tea tree essential oil to unclog pores, comfort irritated skin and deliver brighter healthier skin.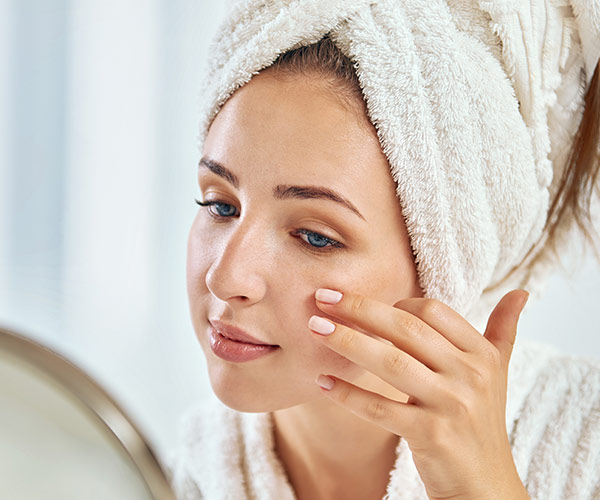 Shutterstock
Promising TruSkin Naturals Tea Tree Clear Skin Serum Reviews
"I dont usually leave reviews but Uhhh... Ladies and gents , this product changed my life...in less that 3 weeks.I use it every night before i go to sleep with also the Biore Charcoal cleanser. I have no more break outs, my skin is finally glowing, my pores are becoming smaller. Get it before they go out of stock again! ps: I am african american with a combination/oily skin. Check out the pictures and see for yourself." - Amazon Customer
"So, wow!! This stuff really works. It's a great, high quality product, that doesn't totally break the bank! I am 21 years old and have always struggled with big, painful pimples. This product tightened and brightened my skin, AND got rid of my acne! This is my progress from the first day I used it (left) to less than 2 months later (right).
It does dry out my skin a bit if I use it every night (which is my fault because I don't use moisturizer like I should), so I only put it on every other night and it still seems to work great! BUY IT." - Amazon Customer
"First I want to mention that I normally do not place reviews (especially with my picture) but I CAN NOT express enough just how happy I am that I gave these products a try, after trying so many different things for my skin (Proactiv, Acne Free, Rodan and Fields, prescription creams from the dermatologist and many many many others) none of them stayed true to all of the promises. For that reason, and for all of the wasted money I have spent I was definitely a little Leary to try it but I am just so thankful for other users posting amazing reviews that I Wanted to post some pictures of my results so that anyone else that suffers from problematic skin can see just how amazing this stuff is!!" - Stacey Woodley
SheFinds receives commissions for purchases made through the links in this post.