Stuck on where all of these fine lines and wrinkles came from? The changing appearance and quality of your skin can all be credited to the amount of collagen your skin produces; and if you're over 50, then it's not making a lot due to your changing hormones. "Studies show that women's skin loses about 30% of its collagen during the first 5 years of menopause. After that, the decline is more gradual. Women lose about 2% of their collagen ever year for the next 20 years," The American Association of Dermatology states.
Looking for the best serum for collagen production? There's a new collagen-boosting serum that just landed at Sephora and it's already received positive reviews from shoppers–it's The Inkey List's Collagen Booster Serum! This serum is designed to support natural collagen production and prevent further collagen loss, giving you radiant, firmer skin.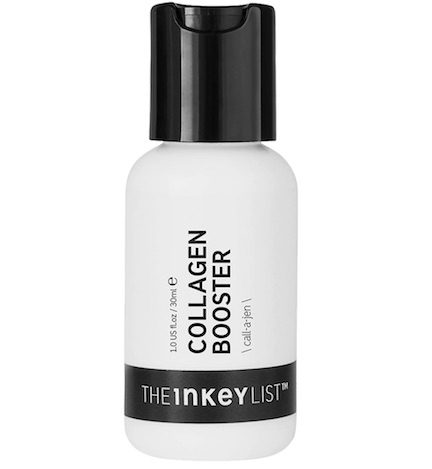 Shop The Best Serum For Collagen Production
TRY IT: The Inkey List Collagen Booster Serum ($10.99)
Shutterstock
Benefits Of Using A Collagen-Boosting Serum
-Supports natural collagen production for healthier, stronger skin.
-Visibly firms and reduces the look of fine lines and wrinkles.
-Delivers plumper, younger-looking skin by improving elasticity.
Highlighted Ingredients:
Matrixyl 3000™: Supports natural collagen production.
Syn-Tacks™: A dual-peptide that provides collagen-boosting benefits.

Promising The Inkey List Collagen Serum Reviews:
"I enjoyed this product more as a "primer" for my skin which I typically don't do. It was more of a silicone type feel which I didn't mind but it does dry quickly. I would recommend using this after a toner and before moisturizing!" - SeanPVM
"Love this product! I apply a small amount and then follow that by using a jade face roller. I follow that with a moisturizer and my skin seems to be really happy!" - ASVESTY
"this serum is GREAT! Absorbs nicely, sits well under makeup and works well with their HA serum. Skin feels reaallly plump after using it." - QuitoC
"Great product so far. I need to use it longer to see about lines/wrinkles but so far I have been layering it with the Hyaluronic Acid at night and it's been a great booster to wake up to that perfect 'glow.'" - annajoyc
Shutterstock
How Do Collagen Serums Work?
Your skin needs collagen to be healthy, and dermatologists say that using a collagen-boosting serum is an effective and easy way to naturally stimulate collagen production in the skin. These serums work by mimicking the effect of what natural collagen would do to your skin, which then helps the skin appear plumper and firmer. Collagen serums can also help reduce the appearance of dark spots, hyperpigmentation, and uneven tone and texture thanks to their ability to promote cellular turnover. "The best topical ingredients for this age aim to repair DNA damage, increase collagen production, fade unwanted pigmentation, and thicken skin," explains Jennifer Herrmann, a Beverly Hills-based dermatologist.
Here are some of the most important collagen-boosting ingredients that should be in your go-to serum:
Ingredients That Stimulate Collagen Production
DNA repair enzymes
As Dr. Hermann previously mentioned, repairing damaged skin cells is something that should be at the top of your serum's to do list. This means that the serum "improves skin's health and helps decrease the chance of early pre-cancerous spots from emerging," she says.
Retinol:
Perhaps one of the biggest ingredients in anti-aging skincare, retinol possesses the power to promote cellular turnover and improve the skin's firmness. "These help increase collagen synthesis, which improves skin elasticity and decreases fine lines," Dr. Hermann explains.
Vitamin C:
"Stabilized versions of vitamin C can help fade dark spots," Dr. Hermann says, listing kojic acid, black licorice, bearberry, azelaic acid, arbutin, niacinamide, and hydroquinone as other effective dark spot busters. "Pigmentation can result from both sun and hormonal influences, and depending on your skin type, different combinations of these ingredients may be more or less appropriate for your skin.
SheFinds receives commissions for purchases made through the links in this post.