Is anyone else feeling major 1980's nostalgia despite not having lived in the 80's after watching "Stranger Things"?
If you haven't watched the third season of the Netflix hit yet, we suggest you clear your schedule for the next ten hours and binge all eight episodes. If you haven't seen any of "Stranger Things," you'll probably need a whole 24 hours. But anyway, here's what you missed: the show follows a group of young teens living in Hawkins, Indiana in the 1980s. Strange things keep happening in the quiet midwestern town, like sci-fi monsters from the Upside Down taking over people's bodies, hence the title. Yes, it's as bizarre as it sounds.

The Netflix series reaches peak 1980's in season 3. It takes place in 1985 when Hawkins gets its first shopping mall, turning all the characters, including Eleven, Max, Dustin and others, into mallrats for the summer. Peak eighties trends like graphic prints, jumpsuits, pleated pants and neon looks are topped off with accessories from suspenders to scrunchies. There's an iconic scene in episode two when leading ladies Eleven and Max head to the mall to forget about some boy trouble. The teens end up in The Gap, where a fashion show ensues and ultimately leads to some of the characters' best looks, such as Eleven's printed jumpsuit or her paint-splatter patterned button-down top worn with suspenders.
If you're loving this nostalgia as much as we are, Halloween is the perfect time to replicate their looks. Though it isn't hard to find 80's inspired looks nowadays, we've pulled together the best styles to shop to make your own DIY Stranger Things season 3 Halloween costumes for all the characters. You can easily hit the Goodwill or Target to find them, making this an easy last-minute costume idea, too: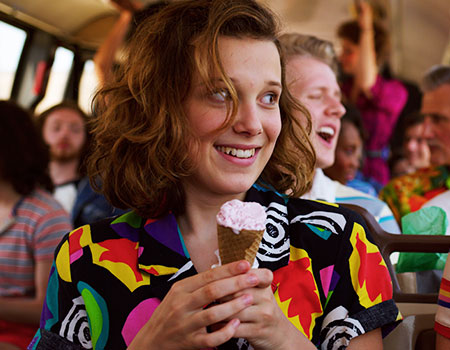 Eleven
In one of her most iconic looks, Eleven wore an oversized button-down top with a graphic paint-splatter print and suspenders connected to a pair of mom jeans. Luckily, these items are not too hard to find nowadays. Plus, you can get blue suspenders like Eleven's from Party City... and don't forget a scrunchie!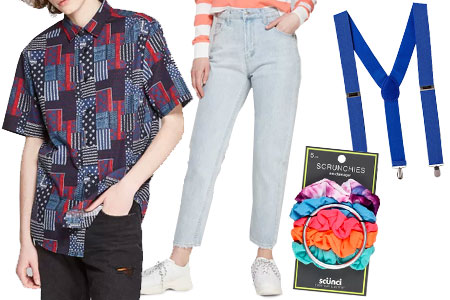 How To DIY It:
Start with this retro Original Use Fighter Printed Short Sleeve Button-Down Shirt ($18), grab a pair of Wild Fable Light High-Rise Mom Jeans ($22.49). Every eighties girl needs her scrunchie, we love this Conair Scunci Everyday & Active No Damage Scrunchies With Keeper ($5.99). And last but not least, Eleven's suspenders! These Party City Blue Suspenders ($7.99) are perfect.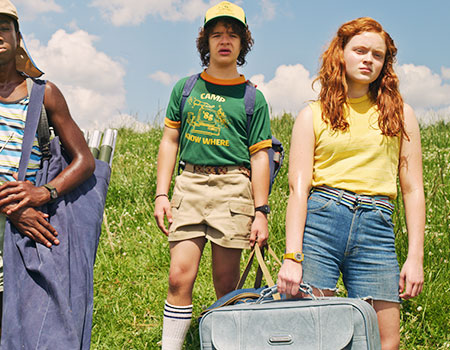 Dustin
While Dustin wears his "Camp Know Where" T-shirt for most of Stranger Things season 3, you can imitate his look with a differnt slogan. This "Hawkins Indiana" top will is a more recognizable reference to the show. Wear it with knee-high socks just like your favorite character.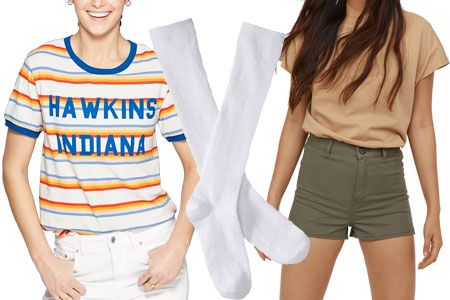 How To DIY It:
You can get everything for this costume in the Target aisle and your closet. Start off with the camp-inspired Stranger Things Hawkins Indiana Striped Short Sleeve T-Shirt, grab a pair of Xhilaration Knee High Socks ($2.50), and wear any nuetral or khaki shorts from your closet.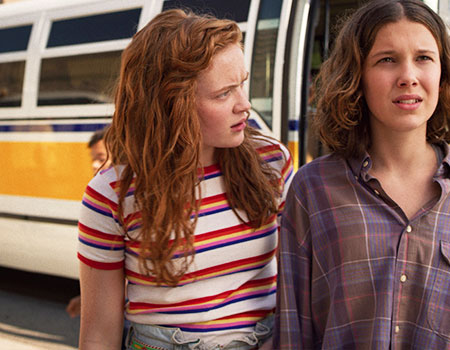 Max
Recreate Max's tomboyish vibes with high-waist denim shorts and a striped T-shirt, then finish off the look with her red sunglasses.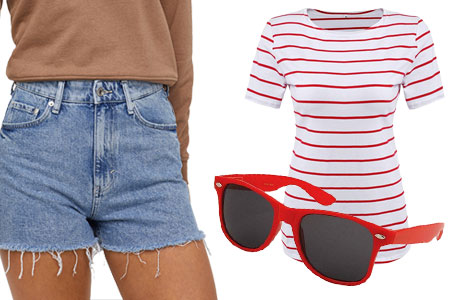 How To DIY It:
This one you can actually re-wear in real life (or build from your existing closet). Start with a striped tee like this Summer Short Sleeve Striped T-Shirt Tee Tops Slim Fit Stripes Blouses ($9.90). Top it off with shades like these Retro Optix Sunglasses Classic 80s Vintage Style Design ($5.28).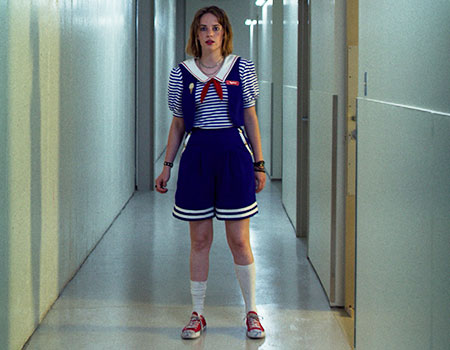 Robin
Robin is a new character in Stranger Things season 3, but we love her just as much as the original crew. Luckily, the sailor uniform she wears while working at the mall's Scoop's Ahoy ice cream shop has already been made into a costume set. You can get a cute sailor hat from Target, too!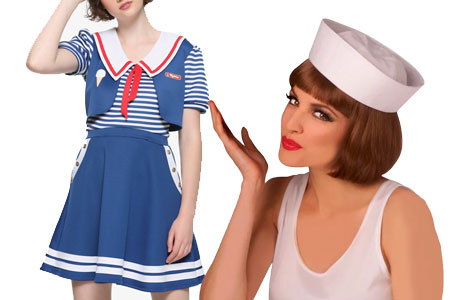 How To DIY It:
Luckily, sailor costumes are easy to come by. Get this official Stranger Things Robin Scoops Ahoy Dress ($49.90) and don't forget the Sailor Hat ($4.99)!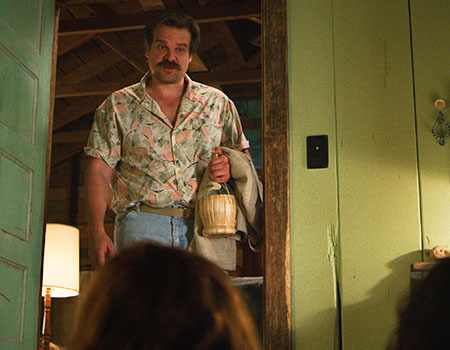 Hopper
We all have a soft spot in our hearts for the Hawkins chief of police, don't we? Hopper is an easy Halloween costume to create; all you need is a pair of high-waist jeans, a button-down fit for a tropical vacation and a brown leather belt.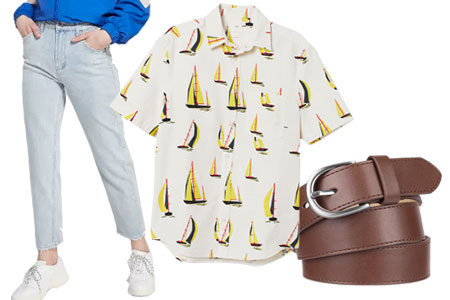 How To DIY It:
These Wild Fable Light High-Rise Mom Jeans ($22.49) are perfect, plus A New Day Faux Leather Belt ($9.99) and Hawaiian shirt.
Karen Wheeler
Karen Wheeler is one of the more unexpected characters to dress up as for Halloween, but also a bit more fun. Though she was in all three seasons, Mike and Nancy's mom had more attention in Stranger Things season 3. She and the other suburban moms spent their summer days at the pool in their oh-so-80s swimsuits. Dress like Karen with a color-blocked neon swimsuit and big costume pearls.
How To DIY It:
Get her look with this Laucote Womens Sexy High Cut Backless Monokini Contrast Color One Piece Swimsuit ($15.99) and KOSMOS-LI Large Style Big Imitate Pearl Strand Choker Necklace with Earrings Set ($9.90).
SheFinds receives commissions for purchases made through the links in this post.