Recently, my little sister's best friend texted me and asked me for recommendations for the best sunscreens for your face that won't irritate you or end in a breakout. Long ago, we were able to slather SPF 30 on and go about our days. I used to be terrible about applying sunscreen daily and I always wrote off my mom's warnings about damaging my skin in the winter because of things called "UV" rays as a myth. At the time, I didn't care. It was prom season and I was (gasp!) going to tanning beds to bronze my skin for that perfect senior prom photo. Looking back, I know it was clearly immature and irresponsible and I will regret it for the rest of my life (the tanning, not the prom dress!). You can't reverse skin damage and luckily for me, I had a mother who would email me articles featuring young women whose melanoma left them with devastating scars on their faces to convince me to be more diligent about sunscreen.
In my twenties, I turned a new leaf and began using sunscreen diligently to protect my skin. But with my face being extremely sensitive and prone to breakouts, I was determined to find the best sunscreen for acne that wouldn't leave me greasy, oily and clogged up. Not all sunscreen formulas are created alike and I needed one that was effective in protecting my skin and preventing breakouts. No one wants to end up with their sunscreen causing even more skin issues. Of course, I had to ask my favorite celebrity esthetician, Shani Darden, whose clients include Jessica Alba and Chrissy Teigen, about her number one favorite sunscreen for acne. 
Supergoop Everyday Sunscreen ($32)
SPF: 50
According to Darden, "If you have acne, it's more important to wear SPF because it will take so much longer for scars to heal if you're not keeping your skin protected." If your searching for a great sunscreen that won't leave you reaching for your acne spot creams, Darden has the best recommendation.  "I love the Supergoop Everyday SPF because it's oil free and won't clog your pores, but it's still hydrating. The simpler the better, so having fewer steps is always great! Overall, it's a great formula that keeps your skin moisturized and protected with SPF 50 which I love!"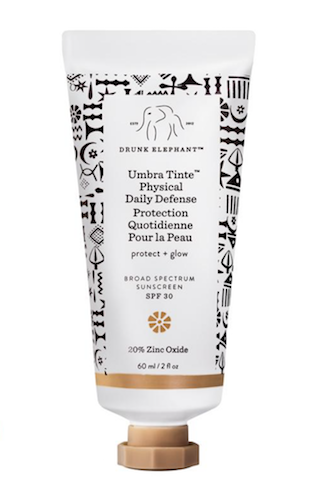 Drunk Elephant Umbra Tinte Physical Daily Defense Sunscreen ($36)
SPF: 30
What I Thought:
I'm a fan of anything and everything Drunk Elephant (in case you can't already tell by my rave reviews!) so this was an easy one for me to try. I loved the fact that this sunscreen gives you a hint of tint so it's great to put on straight out of the pool if you're heading to grab a bite to eat straight from the water. It also perfectly blended with my foundation so I didn't have to use as much.
Shoppers said:
"And just in time for summer! I'm a long time DE devotee. I use all of their products religiously but I couldn't get the first Umbra to work without clumping on my skin. This is much improved and is not only better, it's flat-out fantastic. It goes on smooth and is a little greasy right at first, but then it dries to a matte finish that makes my skin look more even. Gorgeous under makeup and it doesn't have that nauseating sunscreen smell. I love that there aren't any fragrances or essential oils or bad chemicals. I feel so healthy using this and will definitely try to wear every day. I am the worst about protecting my skin but this will at least make it easier. DE has to be my fave brand of all time and I honestly don't want to use anything else."
SPF: 35
What I Thought:
This bottle is small but mighty. A little goes a long way with this product so make sure you get a pea-sized squirt and thoroughly rub in. I love that this product virtually disappears on your skin - you can't see it OR feel it.
Shoppers said:
"I've been using Invisible Shield for about a week now. I previously was using mineral sunscreens and was a little hesitant about switching to a chemical sunscreen, but it's been great so far! It goes on clear and sinks into your skin immediately, and isn't sticky. I'm able to apply my Skin Tint almost immediately after applying Invisible Shield, and it goes on seamlessly. The smell is citrusy, with a slight hint of the stereotypical "sunscreen" smell (which I actually like). I have not had any problems with it clogging my pores or causing breakouts. I have combo skin, and it has not made my face any oilier/dryer than usual. I wish the bottle was a little bigger or the price was a little lower, but that I would still repurchase this item regardless!"
Farmacy Green Screen Daily Environmental Protector Broad Spectrum Mineral Sunscreen ($36)
SPF: 30
What I Thought:
This sunscreen is so smooth it feels like a primer when you put it on. I especially like that it's a mineral sunscreen that easily fits into my daily routine. It feels fresh and doesn't leave ANY white streaks which is a huge plus.
Shoppers said:
"I've been searching for the perfect mineral sunscreen far and wide and I finally found it! This sunscreen absorbs well, is lightly moisturizing, and leaves NO white cast on my skin. The texture of it is lovely and it layers very well with my other skincare and under my makeup. I've tried many other brands and no other mineral sunscreen comes close to this one."
Supergoop Unseen Sunscreen ($32)
SPF: 40
What I Thought:
There's a reason pretty much every dermatologist loves Supergoop. It's lightweight, doesn't contribute to acne and actually works. I used this over my entire Memorial Day Weekend and I couldn't be more pleased with it. It dries so quick that I barely feel like I'm wearing anything and it didn't make me oily which is great for anyone with acne concerns.
Shoppers said:
"This sunscreen/primer is great. It feels slightly oily when you first apply it but it dries to an almost powder feeling and dries very quickly. It doesn't have any sunscreen smell which is such a relief. I also feel like my makeup has been staying on better than with other primers or sunscreens I have used. I normally have oily skin and this doesn't make me break out or get any more oily than I do normally! I use this every day and have been loving it!"
More On SheFinds:
-What Our Editors Are Buying From Nordstrom's Half-Yearly Sale
-This Is The Best Light Pink Nail Polish That Looks Amazing Year Round
-These Are 5 Beauty Products You Need For Memorial Day Weekend
SheFinds receives commissions for purchases made through the links in this post.