Finding the perfect pair of underwear that is completely invisible (no VPL here!) under white jeans is no small fete. I've been a fashion editor for ten years, and I still struggle with this every year when June rolls around. So I enlisted the help of some real underwear experts, ie. the designers and founders of some of the best brands, to discover exactly which undies get the job done.
What are they?
"Panty lines are so much more visible under white pants, so you need something with a raw cut. Then the key is matching your skin tone! If in doubt, go a shade darker, as lighter shades will show through. And remember, white is wrong under white pants!" Kerry O'Brien, founder & designer of Commando, reveals.
Shop now: Commando Classic Thong ($22) and Solid Bikini ($28)
"The most common mistake people make when choosing underwear for white pants is wearing white, when NUDE is always the best option," explains fashion stylist Jeni Elizabeth. "No color ever. If you can't do nude you can go with a light grey as well."
Shop now: Hanky Panky Signature Lace Petite Low Rise Thong ($20).
"This nude seamless brief is made to wear under white jeans; the cut and fit ensure that they can't be seen and the wedgie-free guarantee keeps them in place all day," Lisa Mullan founder of Uwila Warrior exclusively told us.
Shop now: Uwila Warrior Happy Seams ($42)
"The seamless edges and full seat coverage won't dig in or show any bumps under white skinnies. Even better? Its wide waistband that keeps stomach smooth and contained," says Erin Lynn, Vice President of Marketing, Intimate Apparel at PVH.
Shop now: No Pinching No Problems Seamless Hipster ($11.50)
"Spanks are always an option, as well," Jeni Elizabeth exclusively tells us. "Mid-thigh gives you the best coverage and seamless lines."
Shop now: Spanx Thinstincts Mid Thigh Shorts ($58)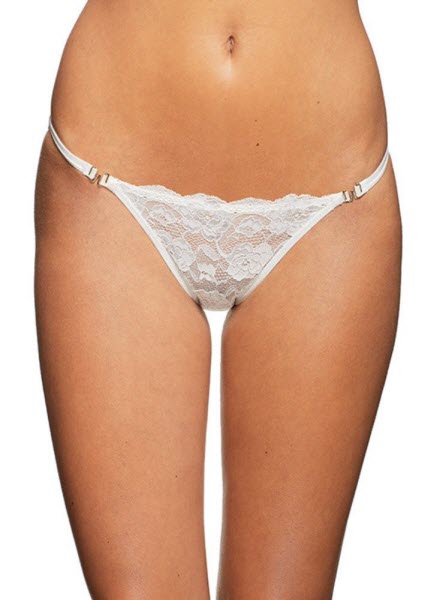 "This white thong is not only practically invisible but it is so subtle and comfortable that you forget you have it on," says Azita Yaghoobian, founder and CEO of Wings Intimates.
Shop now: Pearly Eye Thong ($32)