We all know how beneficial Vitamin C can be for our bodies, but did you know that the citrusy nutrient is actually the secret to younger skin you've been looking for? Sometimes referred to as the "holy grail of skincare ingredients," Vitamin C is chock-full of antioxidants that protect against environmental stressors and promote smoother, brighter skin. Plus, it stimulates the production of collagen, which is the key to a more supple and energized appearance for the skin.
How To Find The Right Vitamin C Serum For You
If you're looking for younger-looking skin over 30, Vitamin C serums could be the answer for you. Serums are designed to penetrate deep into your pores, delivering strong results, fast. Combine that with the rejuvenating and protective qualities of Vitamin C, and you've got a recipe for brighter, younger-seeming skin.
"Vitamin C serums are an excellent antioxidant source to use daily on your skin to protect against environmental toxins and have demonstrated the ability to promote younger looking skin in clinical studies," Dr. Nava Greenfield of Schweiger Dermatology Group in Brooklyn, NY, told SheFinds.
Many skincare brands have caught onto this, and a simple search on Sephora or Ulta will prove just how many options there are for Vitamin C serums. "Be careful because not all vitamin C serums are equal," Dr. Greenfield warned. "Use one that has been clinically tested and ideally should contain other complementary antioxidants in the formulation like ferulic acid."
Heeding Dr. Greenfield's advice, we've researched and rounded up the best Vitamin C serums for younger-looking skin. Scroll down to shop our picks.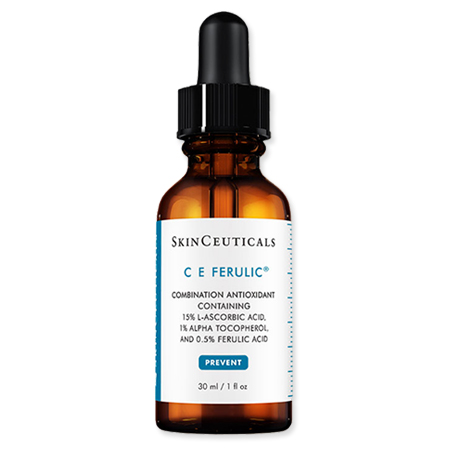 1. Skinceuticals C E Ferulic
SkinCeuticals C E Ferulic ($166)
What It Does
- Enhances the skin's protection against environmental damage
- Improves signs of aging and photodamage
- Brightens skin and helps protect against oxidative stress
Why Dermatologists Love It
"I think it's the best out there," said Dr. Kenneth Howe of Wexler Dermatology Group. "A product must be formulated carefully to enable sufficient delivery to the skin."
Promising Review
"I have been using this serum for about 2 yrs now. My skin looks so much brighter, dark spots are faded and it feels so soft. Anytime I have strayed for more than 2 weeks-I have paid dearly. Although the price seems high, it is not when you consider you are using drops every 2-3 days( lasts 72 hrs per the bottle). If you have the ability to save up and splurge you will never regret it. All of their products do what they say they do." - Anonymous Dermstore shopper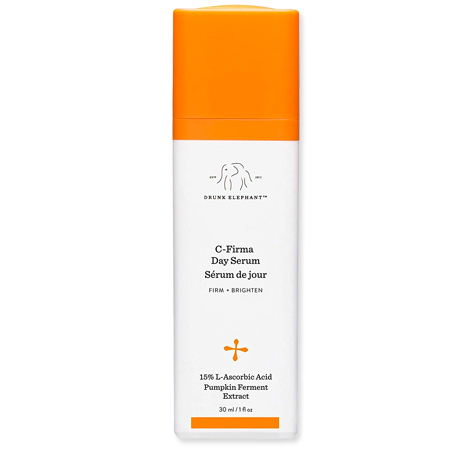 2. Drunk Elephant C-Firma Day Serum
Drunk Elephant C-Firma Day Serum ($24.99)
What It Does
- Firms and brightens the appearance of skin
- Improves the signs of photoaging, dark spots and wrinkles
- Neutralizes environmental stressors and repairs damage
Why Dermatologists Love It
"This serum has the right amount of vitamin C and brightens, plumps, and hydrates," said Dr. Marmur of Marmur Metamorphosis Skincare.
Promising Review
"I am loving this serum! I have been using it for about two weeks, and my skin has improved so much! My skin tone is more even, and my skin seems more youthful! I am going to be trying A LOT more products from this company because of how much I love this!" - Anna Gallaher
3. Clinique Fresh Pressed Vitamin C 7-Day Serum
Clinique Fresh Pressed Vitamin C ($28)
What It Does
- 7-day system to provide younger-looking skin
- Diminishes lines and wrinkles while giving a firmer and more even-toned appearance with continued use
- Jump-starts the skin's natural cellular renewal process
Why Dermatologists Love It
Dr. Noelani Gonzalez of Mount Sinai Health System told New York Magazine that this serum has her vote of approval due to its powder form, which in more stable for Vitamin C as the benefits are less likely to be affected by light or oxygen.
Promising Review
"I tried the 7-day Fresh Press for the first time and I was amazed with the results from the first use, I noticed brighter glowing skin, friends and family had asked me what I had been wearing and told them about the 7day fresh press I had a flawless skin, even skin tone, I was so happy with results I did not want to wear any makeup at all my skin just likes great!" - LovelyLesley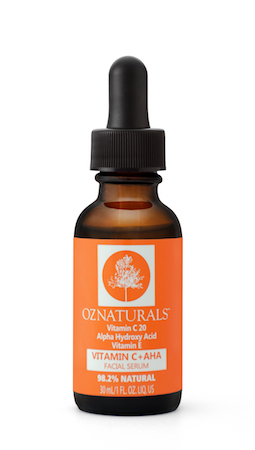 4. OZ Naturals Vitamin C Facial Serum
OZNaturals Vitamin C + AHA Facial Serum ($19.95)
What It Does
- Prevents and reduces wrinkles
- Increases collagen production with Vitamin C
- Delivers brighter, healthier skin with an overall glow
Why Dermatologists Love It
Tsippora Shainhouse of Rapaport Dermatology said that the OZ Naturals Vitamin C Facial Serum is a "much less expensive, vegan-friendly Vitamin C serum with AHA (natural glycolic acid). Consumers love the texture and notice brighter skin with reduction in hyperpigmentation over time."
Promising Review
"Love this Vitamin C Serum! It's lightweight & absorbs quickly. I always apply it first, after washing my face in the morning, then follow with moisturizer & finish with sunscreen. It's perfect for layering & creates a great base for absorbing other products. Serums/oils go first! I sometimes use at night too, but have been using a face oil for bedtime instead. I've repurchased this serum 5 or 6 times . I feel it's helped with a balanced, smooth overall complexion as well." - Adrienne Fitzpatrick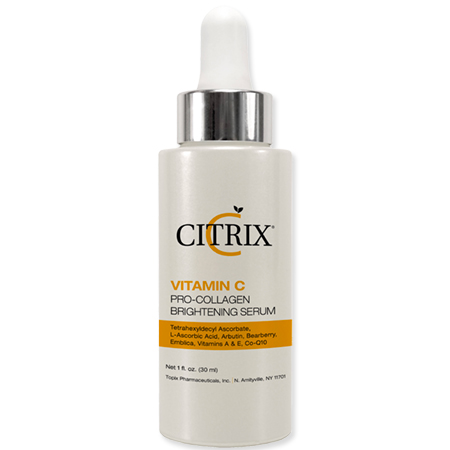 5. Citrix Vitamin C Pro-Collagen Brightening Serum
Citrix Vitamin C Pro-Collagen Brightening Serum ($76.89) )
What It Does</strong
- Enhances skin for improved texture and tone, plus an allover healthier appearance
- Reduces dark spots and hyperpigmentation
- Promotes younger-seeming skin
Why Dermatologists Love It</strong
This is dermatologist Melanie Palm's Vitamin C serum of choice for reducing the appearance of age spots and discoloration. She said, "Vitamin C is a well-known brightening agent," she says. "It is used topically to fade brown spots without altering normal skin pigmentation."
6. Obagi Professional-C Serum
Obagi Professional-C Serum ($127)
What It Does
- Provides effective antioxidant protection from UV damage
- Brightens away hyperpigmentation while promoting collagen production
- Penetrates deep into the skin for stronger results
Why Dermatologists Love It
Dr. Rhonda Klein of Modern Dermatology of Connecticut finds this serum "to penetrate deeply and provide antioxidant protection from UV damage while brightening areas of hyperpigmentation."
Promising Review
"This is my go-to every morning! I have been using it for a few months now but noticed results within a week! It made my skin smooth, soft, and it glows! I typically have dry skin, so in the beginning I layered it with a little bit of a light hydrating moisturizer, but after a couple of weeks, my skin got used to the product. I definitely suggest starting with this concentration if you're looking to add a Vit-C serum to your routine! It's not harsh or abrasive at all. It's completely changed my complexion and I recommend it all the time to family and friends!" - Anonymous Dermstore shopper