Not everyone knows this struggle, but it is very real: when girls with curves work out and their leggings start slipping down down down.
This happens to me all the time (I've got a booty). Before I know it, the waistband is around my hips and the crotch is mid-thigh. The last thing you want to focus on when you're trying to get a good sweat is having to constantly pull them back up. Blergh!
Luckily, I've had some time to road test countless pairs to find the brands and styles that actually stay up. Here they are >>
[Photo: Damsel In Dior]
Boodywear Active Full Leggings ($65.95)
The leggings are smoothing, sculpting, full coverage and moisture-wicking. The bamboo fabric offers hugging support and maintains its shape, regardless of the activity. Plus, bamboo is great for sensitive skin!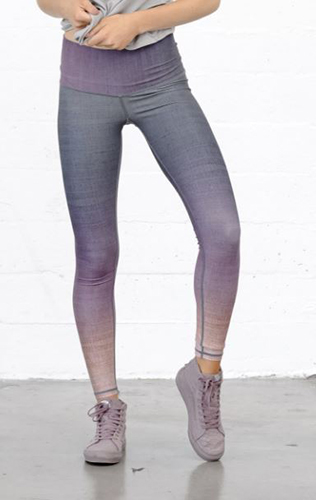 Niyamasol Magic Hour Barefoot Legging ($88)
These leggings have a 4-way stretch for freedom in every direction,--aka, no matter how you move, they're good.
C9 Champion Premium Herringbone Leggings ($39.99)
These affordable leggings are made with premium smooth and shape fabric that help them stay in place--even when you're really working it.
Ivy Park Cutaway Leggings ($70)
Ivy Park leggings (that's Beyonce's brand, FYI!) are mostly high-waisted, making them less prone to sliding down. This pair comes from the new spring 2018 collection!
VISAKAI High Rise Freedom 7/8 Legging 23" ($72)
Company founder Hau Greene explains that these leggings don't slip thanks to the high rise, an inner drawstring that allows you a custom fit, and a four-layer liner built into the gusset which allows you to exercise without underwear if you want, eliminating uncomfortable bunching and friction while running. Bonus!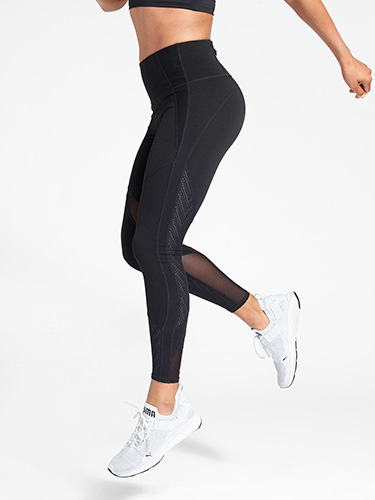 Athleta High Rise Precision 7/8 Tight ($33.97)
The editors at HuffPo write that these are made of premium compression fabric that, "wicks, breathes and keeps it all together."
Old Navy High-Rise Yoga Leggings for Women ($19.99)
You cannot beat $20 leggings that actually stay in place! We're naming these best cheap leggings that don't ride down.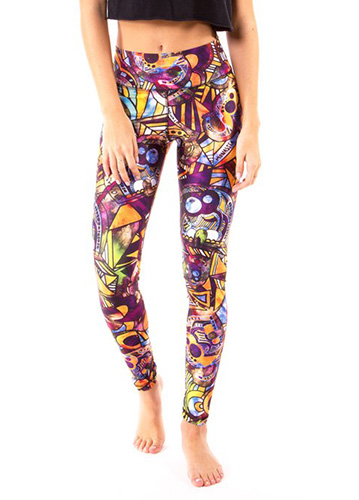 Monasita Gold Elphant Leggings ($65)
Their stretchy "ready-for-anything" feels like a second skin and stay in place! Plus, they also help with quick muscle recovery.
Zella Live In High Waist Leggings ($54)
These leggings from Nordstrom have lots of 5-star reviews, are figure-sculpting and moisture-wicking, and feature and a no-slip waistband for that extra fit. They're also available in plus-size, HuffPo writes.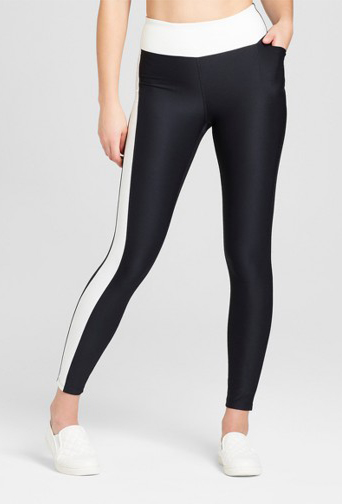 JoyLab Performance Color Block Leggings ($29.99)
For less than $30 you can get a pair of cool color block leggings made with ultra-soft, higher spandex content fabric.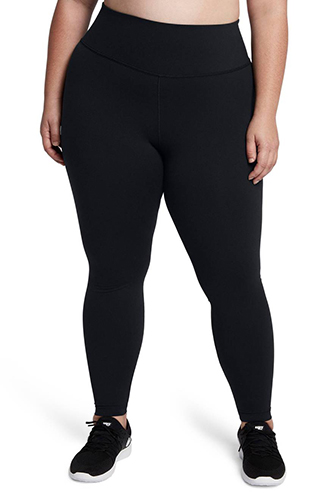 Nike Power Sculpt Training Tights ($95)
The moisture-wicking Dri-FIT fabric means that *no matter* how much you sweat, these won't get slippy.
Gaiam Willa Wide Strap Capri Leggings ($52)
These capris have "stay-put elastic waistband"--plus anti-chafing seams (don't get me started on chub rub!).
JoyLab Comfort Lattice 7/8 Leggings ($34.99)
You don't have to go high rise to get leggings that stay in place--these mid-rise leggings come with a with full waistband elastic for less slipping.