Anti-aging skincare products have the power to transform your skin, but they can also be extremely difficult to find. This is especially true if you're shopping at a place like Sephora, where there are hundreds of different brands, products, and formulas to choose from.
Serums are an important product that should be included in every anti-aging skincare routine as they're formulated to deliver vital nutrients to the skin and keep it protected. And, if they're used at night, they can also help improve the skin's hydration levels, firmness, and elasticity, which will help you wake up with younger-looking skin in the morning.
Best Night Serum
When it comes to anti-aging nighttime serums, none work quite as well as Estée Lauder's Advanced Night Repair Synchronized Recovery Complex II. It's got everything your skin needs to stay hydrated and radiant and it's also one of Sephora's bestselling formulas!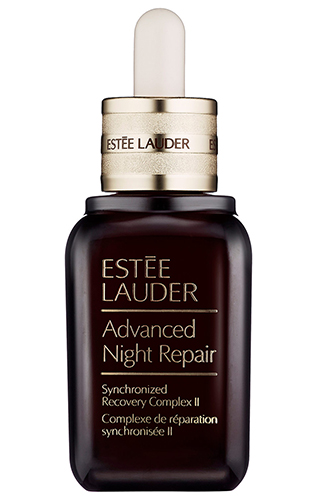 Estée Lauder Advanced Night Repair Synchronized Recovery Complex II ($98.00)
This powerful nighttime serum reduces the look of key signs of aging while maximizing the power of skin's natural nighttime renewal with the brand's exclusive ChronoluxCB technology. It improves the appearance of fine lines and wrinkles, leaving the skin smoother, stronger, and more hydrated when you wake up.
Here's what people are saying about it:
"The results are instantaneous... Skin tone gets more even, wrinkle and pigmentation spots seem to fade and it even gives you a healthy glow (as if enhancing your tan)... I love this product since it really seems to repair my skin." - slkoh
"A coworker of mine recommended this product to be and boy am I glad I listened! Literally, the whole feel of my face and texture is totally different within 2 weeks. I feel more balanced and hydrated, my skin has more of a glow and bounce to it as well as my breakouts have lessened. I took another person's review and use it under my eyes during the day as well." - cpalm3r
"I've been using this serum for just over a week now and the results have been incredible. My skin feels refreshed, hydrated and soft. Skin tone has evened out dramatically, minor discolorations reduced and pores a bit smaller. It's to the point where I'd feel comfortable leaving the house without any foundation/make up on my skin (and I have never felt like that!). Took about a week before these results appeared, and now I'm absolutely hooked. Regarding use, I press it into my skin after cleansing and put my moisturizer on over top. I have relatively sensitive skin, but have had no breakouts or irritation - just healthy, glowy skin." - elle416
We know $98.00 is a lot to spend on a product, so we found some other bestselling formulas that are affordable and effective: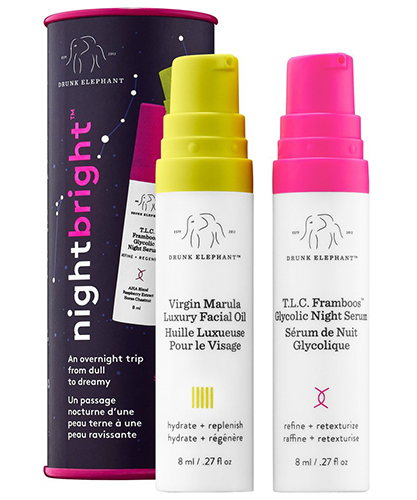 Drunk Elephant Nightbright Duo ($28.00)
This set uses a serum and facial oil to correct dullness and uneven texture and tone, as well as fine lines and wrinkles. The T.L.C. Framboos Glycolic Night Serum exfoliates to gently dissolves dead skin cells and support the skin's natural collagen production, while the Virgin Marula Luxury Facial Oil's antioxidant-rich formula hydrates, preserves, and calms the skin to restore your natural, youthful glow.
What people are saying about it:
"Since using this product, I have noticed smaller pores (they were HUGE) and my skin feels amazing. I have suffered from breakouts (mainly blackheads and a few whiteheads) and since using this I have had, maybe one. I wish I had known about this line MUCH sooner, but I can honestly say I'm happier with my skin because of it." - amyahsmom

OleHenriksen Invigorating Night Transformation Gel ($48.00)
By using potent AHAs, this anti-aging serum has the ability to smooth skin texture, even tone, and reduce the look of fine lines and wrinkles while you sleep. Its cooling gel texture is lightweight to absorb quickly, even as it delivers skin-nurturing hydration, allowing you to wake up with results.
What people are saying about it:
"Love it, ordered it and love it. Many compliments on my skin. I will reorder too! Last a long time and a little goes a long way. Does not break out my skin, and that usually a problem with my sensitive skin. Love it!" - Musthavethebest


Sunday Riley Luna Sleeping Night Oil ($55.00)
This retinol oil boosts the look and feel of the skin's plumpness while improving the appearance of wrinkles, redness, and pores for visibly younger-looking skin. It's clinically proven to improve the appearance of fine lines, radiance, and skin smoothness in as little as four weeks!
What people are saying about it:
"I have used so many oils over the course of the last 3 years. I have sensitive skin, but I also have combination dry & oily skin. I found Fresh oil worked, but then I got this as a deluxe sample. I was afraid that I might react in a negative way to the oil, but OMG it's amazing!! My skin is fresher, clearer, and way less red! I actually received so many compliments on my complexion! I think it's crazy to spend this much for 1oz of anything, but I'm totally sold." - Lin891
Have you tried any of these serums? Let us know how you keep your skin looking youthful and radiant in the comments below!
SheFinds receives commissions for purchases made through the links in this post.