The most wonderful time of the year is right around the corner. Yes, I'm talking about Halloween! If you're already brainstorming the perfect Halloween costume idea and adding all the fall-scented candles to your shopping cart, you're in good company. One of the best ways to make the most of the creative holiday is by paying homage to the biggest pop culture moments, which is what brings us to Big Little Lies season two.
That's right, the infamous Monterey Five made their long-awaited return to our screens this summer and one thing's for sure, they did not disappoint. This season, the star-studded cast featuring Reese Witherspoon, Shailene Woodley, Zöe Kravitz, Laura Dern, and Nicole Kidman followed suit and through the ultimate 70s-inspired birthday bash. The costumes were so amazing that we're expecting to see a lot of friend groups create Big Little Lies Halloween costumes based off the far-out 70s party.
Inspiration For A Big Little Lies 70s Party Halloween Costume:
If anything's for sure, it's that these women know how to dress for a themed occasion. If you remember back to that fateful evening of the season one finale, elaborate Audrey Hepburn costumes at the school's 50s-themed trivia night fundraiser will come to mind. This season, the Monterey 5 made their return to costumes in a fun, glittery, music-filled, 70s themed shindig that stood in stark contrast to the last time we've seen them decked out for a party.
The popularity of the series and the eye-catching looks that the characters wore in make for the perfect idea to recreate for this year's Halloween costume. And while we're fans of all the 70s-style looks they sported, it's Witherspoon's character, Madeline, whose outfit we're dying to recreate!
How To Make A DIY Madeline Big Little Lies 70s Costume: 
Abyelike Women's Sexy Shiny Faux Leather Leggings ($11.99)
The pink palette and sparkly accents of this ensemble would definitely be Elle Woods-approved, but they really are on point for a 70s disco look. These hot-pink faux-leather leggings are just like Madeline's and set the tone for an authentic recreation!
Ofenbuy Womens Sexy Tank Tops Sleeveless Sequin Embellished ($9.99)
This sparkly little number looks just like the one Madeline opted for to create her 70s ensemble! The sequins create just enough campy glitz to stand out in a crowd this Halloween, and of course, be instantly recognized by any Big Little Lies fan.
Cromoncent Women's Stylish Baseball Collar Satin Flight Coat Bomber Jacket ($7.43)
Madeline opted to throw a pink bomber jacket over her costume, just like this one! It's the perfect piece for a chilly Halloween night but if you find yourself needing to shed a layer at your costume party, you can rest assure your Big Little Lies ensemble will still be on-point.
Topcosplay Women's Hair Wigs Blonde Short ($16.99)
Wigs aren't for everyone, but if you don't already have blonde curly hair and you're after a spot-on Halloween costume channeling Madeline, you'll want to add this wig to your cart. Brush it out a few times and add some hairspray to create the textured and teased 70s look!
Ray BanGold Metal Aviator Sunglasses ($7.99)
No Halloween costume is complete without accessories! For the icing on the cake, you'll want to wear a pair of gold aviator sunglasses like Witherspoon's character. They'll also help to keep your wig in place during any big dance numbers during your Halloween soirée.
IDB Stainless Steel Big Hoop Earrings ($6.99)
If you don't already own a pair of hoops, get on it! Madeline opted for an oversized pair of thin gold hoops when creating her 70s-themed outfit.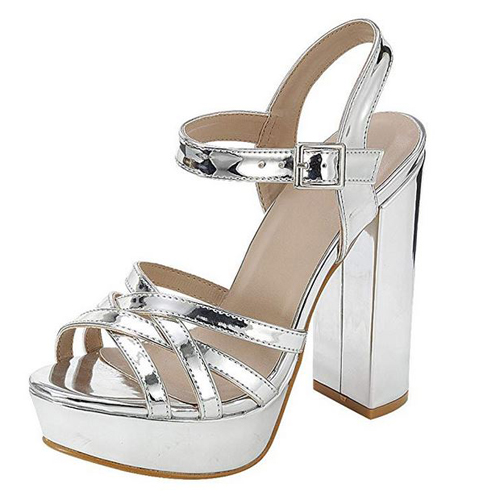 Cambridge Select Women's Peep Toe Ankle Strappy Platform ($22.81)
To really set off the Halloween costume, pair the glitzy pieces with a pair of platform heels like Madeline's! The eye-catching platforms are comfy enough to walk in so you can enjoy all your Halloween festivities while rocking the best Big Little Lies costume around.
SheFinds receives commissions for purchases made through the links in this post.