This post was updated on 6/10/2019 to reflect the most recent sales.
Bloomingdale's offers pretty good flash sales throughout the year, but none are as epic—or as fun—as their roulette-style Deal Reveal Sale in June. The only sale that's more epic is their Friends & Family in April, but usually they have Buy More, Save More events or the 25%-40% off select items like the one that's running now for Father's Day.
The semi-annual Deal Reveal happens in June and December and allows customers to enter their email address for a chance to win a 20%, 30% or 40% off. You don't find out what deal you've received until it lands in your inbox. Exciting!
And it will be here before you know it! Here's everything you need to know to play in 2019:
What Is It:
Bloomingdale's makes their interactive Deal Reveal Sales fun. Shopping is like playing Wheel of Fortune or spinning a dice: enter your email address to receive a custom discount code via your inbox for 20%, 30% or 40% off. The code takes about 15 minutes to hit your inbox (oh, the anticipation!), but once it does you can use it on the site for an extra discount on their already generously-priced sale items.
What percent off you receive is totally up to chance—there's a thrill to playing, unlike typical sales where everybody gets the same code. (Don't worry—there are plenty of forums on the dark web for swapping these codes or buying the 40% ones, so if you get a lesser code but definitely want to shop the sale, you can find them.)
Or, if you're a private person and don't want to provide your email address, you can simply use a generic code provided (such as TAKE20) for the bare minimum of 20% off.
Oh, and members of their free Loyallists rewards program also receive free shipping on all orders.
How it works: enter the custom code at checkout and take the extra discount off all sale and clearance items (for a total savings of 40-70% off!).
The sale happens a few times a year—typically once at the end of June (last year it ended on fourth of July), in mid-December,
It can take about 15 minutes or so for the Deal Reveal code to come through–or if you're already a Bloomingdale's email subscriber, simply search your Inbox for "Deal Reveal" and the code may already be there.
Reveal your Deal @Bloomingdales and SAVE up to 40% OFF!!

>> https://t.co/LrqxoH3xTY <<

FREE pick up in store and FREE SHIPPING for Loyallists!! pic.twitter.com/01lec0xD5T

— FashionistaNYC (@FashionistaNYC) June 28, 2018
When Is It:
In 2018, the summer sale started on the last Thursday, June 28th, and lasted 7 days or one week, ending on Independence Day, July 4th. The December sale that year started on Monday, July 10th. In 2017, the December event lasted from Monday, December 11th to Sunday, December 17th.
Based off this historical information, we can predict that the next Bloomingdale's Deal Reveal will take place on or around Thursday, June 27, 2019.
What To Buy:
All the items that are eligible for the extra percent off with your promo code are marked as "Deal Reveal" with a big yellow banner on the product page. The best deals (aka, biggest discounts) to be had are from designers like Tory Burch, Adidas, Coach and more.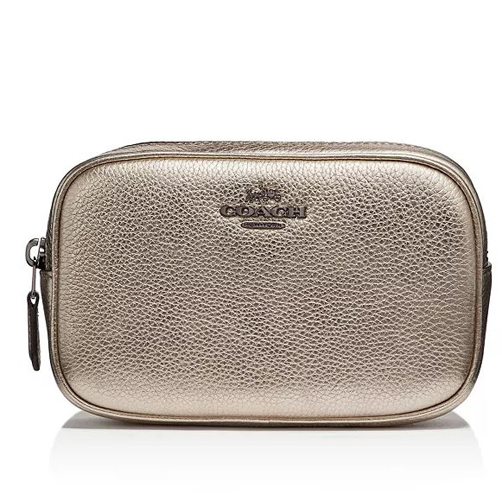 Coach Bags & Wallets
Bloomingdale's offers deep discounts on Coach bags and wallets with this Deal Reveal code layered on top of existing sale prices.
COACH Metallic Leather Belt Bag ($102.37, down from $146.25)
Burberry Jackets
The retailers has a deep selection of Burberry coats and jackets--which means more will be on sale during the promo.
BURBERRY Smethwick Down Puffer Coat ($525, down from $750)
Tory Burch
Swimsuits, sandals, handbags and more from the brand will be featured as Deal Reveal elligible.
TORY BURCH Miller Scallop Leather Thong Sandals ($182.40, down from $228)
SheFinds receives commissions for purchases made through the links in this post.