You may know very little, or even nothing at all about probiotics. However, these bacteria and yeasts can actually really help to improve your weight loss results. Some breakfast foods even contain probiotics that result in good gut health. Read on to find out the one food you should eat in the morning for good gut health, according to a dietitian.
[Photos: Shutterstock]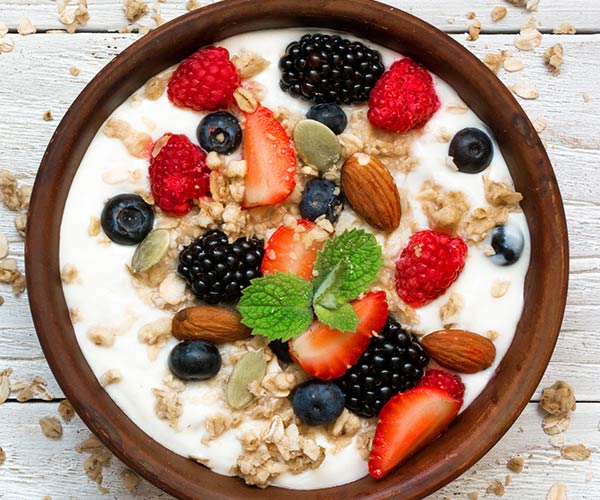 Yogurt Parfait
Dietitian Allison Kuhn says that you can find probiotics in foods like yogurt. Although some foods contain probiotics, different strains of bacteria are found in each food. "Found in dairy products, like kefir and yogurt, L. acidophilus helps promote gut integrity and nutrient absorption, thereby assisting with overall digestion," Allison says.
Gina Sam, MD, MPH, further explains to Daily Burn why yogurt is such a healthy probiotic. The effective probiotic food varies in its amount of bacteria depending on the brand of yogurt. "Some brands have more live and active cultures so people have to be aware of reading the labels," Gina says. Some even have millions or billions worth of healthy bacteria in serving portions.
Luckily, you don't always have to rely on the foods that you eat in the morning to get a good amount of probiotics. And sometimes you may be trying to go beyond a parfait serving for good gut health. If that's the case for you, you can always turn to probiotic supplements. In fact, there's even probiotic supplements containing L. acidophilus-- which is what is found in yogurts.
We've got you covered on all of the probiotic and weight loss tips that you need to know from morning to right before you go to bed. For more, make sure to check out the best nighttime probiotic for a faster metabolism, and the weight loss probiotic you should take if you're over 40.