It's no surprise that navigating a healthy diet on your own can be difficult. Luckily, health experts offer tons of tips and tricks on foods you should and shouldn't eat so that you stay on the right track towards maintaining good health. 
It definitely helps to start your day off right when choosing your breakfast options. While it's tempting to reach for something quick in the mornings like a muffin or toast, you should be wary of them because many carbs slow down your metabolism.
In fact there's one carb doctors say you should stop eating because it slows down your metabolism in the morning. In an interview with Redbook Dr. Louis Aronne said that refined carbs such as bagels, white bread, and potatoes promotes storage of fat and slows down your metabolic rate. With that said, you should definitely opt out from having a bagel for breakfast. 
Shutterstock
One bagel can have up to around 350 calories and are loaded with carbohydrates. If that's not enough to convince you to steer clear from bagels, one of the worst things for your diet is your favorite go-to bagel spread: cream cheese. Cream cheese is high in fat and low in other nutrients, so it really doesn't do much for your diet.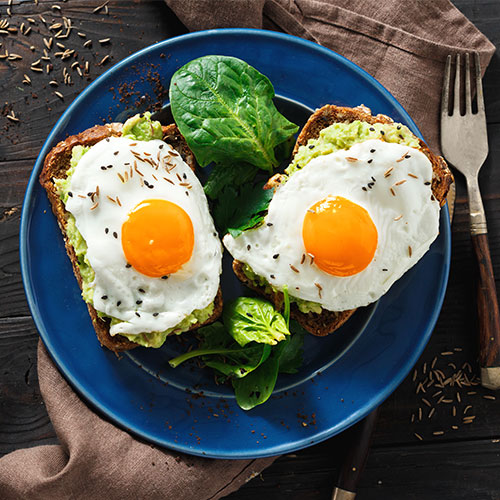 Shutterstock
Have no fear, we've got a quick breakfast idea for you to easily whip up in the morning. Cooking eggs for breakfast only takes a few minutes during your busy a.m. routine and can do wonders for your metabolism. According to the Eat This, Not That! website, egg yolks contain a nutrient that's essential to metabolism. Apart from boosting metabolism, the nutrient Choline also plays a role in nerve function and brain development.
Just remember to try to stay away from carbs and think of other quick healthy meals you can make for breakfast. Even a healthy breakfast can be both simple and affordable!