If anyone knows a thing or two about skincare products, it's celebrities. They have access to the industry's finest products and have leading dermatologists and skincare experts in their inner circles. So, it's safe to say that they know what they're doing.
Despite having these amazing, high-end products in their bathroom cabinets, some can't break up with their drugstore skincare faves–and some of them are the products that we swear by, too! From St. Ives' iconic Blemish Control Apricot Scrub to Neutrogena's Makeup Remover Wipes, here are the drugstore skincare products that your favorite celebrities can't live without:
Gigi Hadid
St. Ives Blemish Control Apricot Scrub ($3.39)
How does Gigi Hadid keep her skin looking so flawless? She swears by St. Ives' Blemish Control Apricot Scrub, which helps to exfoliate skin and deeply cleans pores with salicylic acid. Trust us, blackheads and blemishes are no match for this scrub--just look at Gigi!
Anna Kendrick
Burt's Bees 100% Natural Tinted Lip Balm ($7.48)
Hydrated lips are an essential part of a healthy skincare routine. Keep your lips nourished and moisturized with Burt's Bees Natural Tinted Lip Balm, which actress Anna Kendrick is a fan of. It's formulated with shea butter and botanical waxes and offers a sheer tint.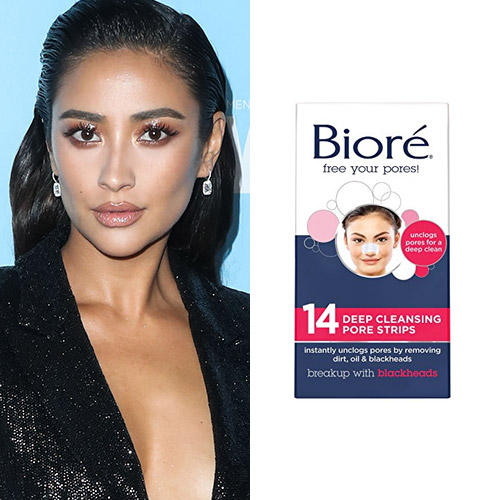 Shay Mitchell
Biore Deep Cleansing Pore Strips ($7.49)
The secret to Shay Mitchell's poreless complexion is Biore's Deep Cleansing Pore Strips. They work like a magnet to draw out dirt, oil, and impurities to erase blackheads and reveal clear skin.
Kylie Jenner
L'Oreal Paris Pure-Clay Mask Detox & Brighten ($9.79)
Kylie Jenner's glowing complexion is all thanks to her obsession with L'Oreal Paris' Pure-Clay Mask. It detoxifies and illuminates the skin while removing impurities with its powerful charcoal-clay formula.
Kim Kardashian
Neutrogena Makeup Remover Cleansing Towelettes ($4.99)
Clear skin is the result of a well-rounded skincare routine. But, before you use your cleanser, exfoliator, and moisturizer, you have to make sure that your makeup is completely removed. Take a cue from Kim Kardashian and remove your makeup with Neutrogena's Makeup Removing wipes. They're gentle and perfect for those with sensitive skin, and they're the only ones that get rid of stubborn waterproof makeup!
[Photos: Splash]
SheFinds receives commissions for purchases made through the links in this post.