Everyone that struggles with acne knows that every day is a different battle. Thankfully, there are brands like Curology that design products to cater to your skin and get down to the problem. In fact, the brand just launched two new products, the Cleanser and the Moisturizer, which are the final pieces to their acne-fighting trio. When used together with the Superbottle cream, which has been customized using an online quiz to adhere to your individual skincare needs, you have all you need to combat acne and get that clear skin you've been dreaming of.
The Cleanser is a gentle, hydrating, balancing, light-foaming cleanser that is made for everyday use. It's formulated with a combination of plant sugars and anti-inflammatory oat extract, which work together clean the skin and prevent clogging.
The Moisturizer is a gel-cream hybrid with a cloud-like texture that was specifically designed to not clog pores. It's buildable and breathable, lightly hydrating the skin to keep moisture levels balanced using ingredients like hyaluronic acid, which is known for helping skin retain moisture and leaving it soft.
We spoke with Dr. David Lortscher, who is a board-certified dermatologist and CEO of Curology, to find out how Curology's new cleanser and moisturizer work and learn some helpful skincare tips to maintain a healthy complexion.
"Both the Cleanser and Moisturizer are specifically formulated to complement our customized, prescription cream," Dr. Lortscher tells SheFinds. "The Cleanser is gentle enough to use every day, morning and night. Nourishing and non-clogging, the Moisturizer can also be used daily, both morning and night. But, our custom superbottle is formulated with a moisturizing base, so layering the moisturizer at night is optional."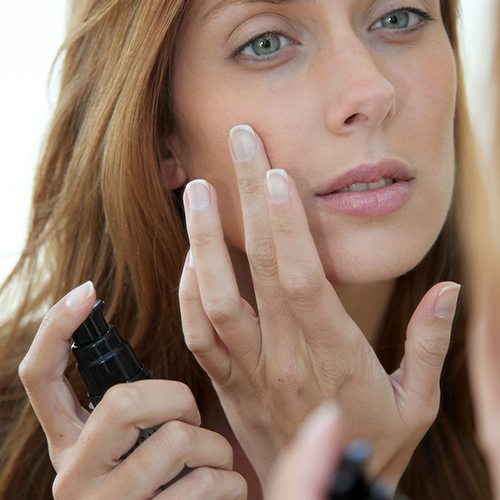 Shutterstock
In addition to using the Cleanser, Moisturizer, and Superbottle daily, Dr. Lortscher says that the real secret to achieving clear skin is to establish a healthy, acne-fighting lifestyle, too. To start, he recommends reducing sugar and simple carbohydrates from your diet and trying to avoid dairy as it can cause acne to form in some people.
"Not everyone's breakout is aggravated by milk and other dairy products, but if your skin is susceptible, it may take months off all dairy to see improvement," he says. "Skim milk appears to have a more negative effect on acne-prone skin than does whole milk."
He also recommends introducing fish into your diet because they're loaded with omega-3 fatty acids, which are known for their anti-inflammatory properties and role in protecting the skin against acne development.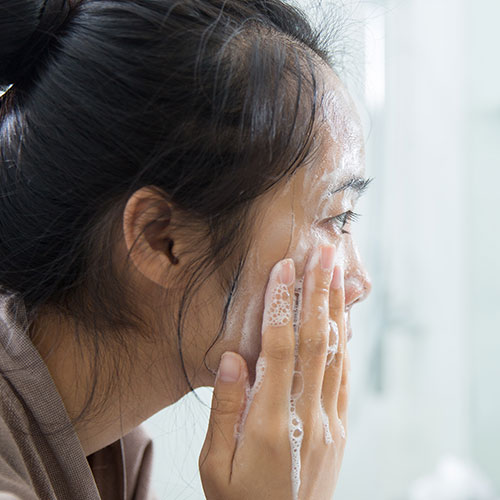 Shutterstock
Diet aside, Dr. Lortscher says that the way you wash your face and body can also contribute to acne as well. "Hot showers and baths cause vasodilation, or enlargement of the capillaries (tiny blood vessels near the surface of your skin), making exposed areas appear even more red," he says.
You should also be wary of harsh exfoliants when washing your face. "We see a lot of acne aggravated as people try to scrub it away! The friction from aggressive scrubbing will backfire. This causes irritation, and irritation leads to more acne," Dr. Lortscher explains.
Shutterstock
But perhaps Dr. Lortscher's biggest tip is to take it slow when treating acne. Most people try to pile on the products in their attempts to cure their blemishes, but Dr. Lortscher says that it's best to introduce new products slowly and to see how your skin reacts first before adding something new to the mix.
"There are some good over-the-counter ingredients that help fight acne, including benzoyl peroxide, BHA (salicylic acid) and AHA (glycolic acid, lactic acid or similar). These are fine to use, but start with one ingredient, and add another only after you know that your skin is tolerating the first, without dryness or irritation," he says. "Everyone's skin is different. What works for one person may not work for the next. With the overwhelming array of products and regimens out there, it can be hard to differentiate what's best for you."
Want to try a customized Superbottle and see if Curology's new Cleanser and Moisturizer can help clear your skin? Visit Curology.com to start your free trial and find out more about these amazing skincare products!