Earlier this month Selena Gomez showed up at New York Fashion Week with curtain bangs and now everyone wants them–including us. If you're eager to switch up hairstyles this year and give your look a refresher, you may want to ask for shaggy curtain bangs at your next hair appointment.
Made popular in the 70s by Brigitte Bardot, the stunning vintage-inspired bangs are here for a comeback. In fact, searches for the term were up 600 percent as of last year, and are still going strong. Thanks to celebs like Nina Dobrev and French girls everywhere, curtain bangs have already been named a huge trend for 2018.
Dayna Goldstein, a celebrity stylist for Camila Cabello, said, "I was just having a conversation with a client about curtain bangs! They're a nice change from the sleek, straight long looks we've been seeing. Everyone's into more textured messy styles right now and the curtain bangs are a great and easy way to make any style look done and put together without trying too hard. Or even get temporary clip-on bangs so that you don't have to make the commitment!"
Curtain bangs were also spotted at Paris Fashion Week on the Chloé Runway. Models sported the soft fringe and showed us exactly why their called French girl bangs, to begin with.
[Photo: ImaxTree]
Cut at an angle, the swooped and middle-parted bangs frame the face perfectly. Ideal for a round face or oval face shape, whispy curtain bangs can be found on some of the hottest celebrities around. The length of curtain bangs depends on personal preference. They can hit at eyebrow length or go all the way down to your chin. We recommend asking your hairstylist which style would suit your face type and desired to look best.
Below, we rounded up some of your favorite celebrities, from Selena Gomez to Jennifer Lopez for some major bang-spiration. See which celeb-inspired hairstyle look you'll want to copy ASAP.
Dakota Johnson
For short hair, long hair, and medium length hair, curtain bangs can work great with your look. The bang style is not exclusive to any hair length. If you have an oval-shaped face like Dakota Johnson, curtain bangs are especially flattering in framing out your face.
Halle Berry
If you wear your hair in an updo with curtain bangs, they add a fun twist to an elegant look like a top bun or sleek high ponytail. Use Halle Berry as inspiration to create a messy, yet sophisticated bun.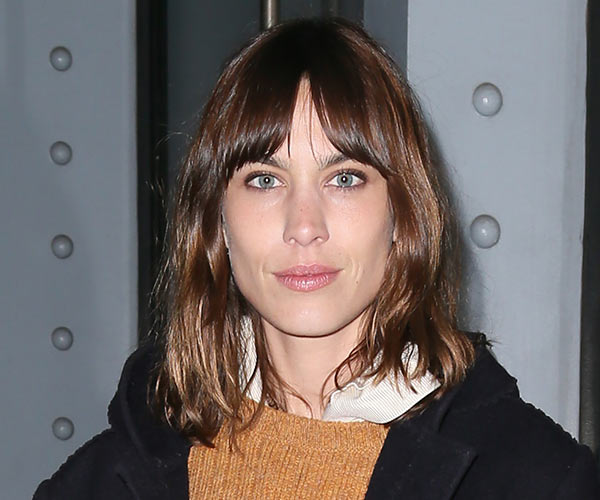 Alexa Chung
Now that you're aware of the hairstyle, you may have recognized that Alexa Chung has sported curtain bangs it for years. Honestly, we can't remember a time when she wasn't rocking the fabulous fringe. Whether she's sporting a voluminous style or close cropped version, the look never fails to wow.
Chloe Grace Moretz
Paired with tousled locks, curtain bangs create that effortless cool-girl vibe we're all dying to achieve. A few lingering strands left down the middle of your part will only add to the overall chicness.
Jennifer Lopez
Jlo is also a huge fan of curtain bangs. Why? The style perfectly complements her sultry smize and makes her look so polished.
Jeanne Damas
If you weren't already rearing to try curtain bangs, let resident French Girl Jeanne Damas convince you. The beauty icon shows that the cut pairs nicely with any outfit.
Selena Gomez
No matter what your age is or what decade it is, curtain bangs have proven to be a flattering style. You can go full textured waves when styling this look or for a less dramatic look, you can opt for thinner curtain bangs to subtly frame your face.
Nicole Richie
The best part about fringe curtain bangs is that they're super easy to manage. When you're in a rush, simply pull your hair back into a low knot and run your fingers through the fringe for a sweet finish.
Sienna Miller
The simple and soft wave of curtain bangs highlight your personal style and instantly make you look put together and styled. It's no wonder celebrities and everyday women everywhere are giving the hairstyle a try!
So, do you think you'll give curtain bangs a try? What about the daring new 2018 style of ultra violet hair?