There are several steps involved in creating the perfect canvas for your face, before applying any foundation. Between smoothing pores and evening out skin texture, it's hard to believe that a product can take the role of magic eraser, giving your skin the most amazing glow. Say hello to PÜR's 4-in-1 Correcting Primer Dark Spot Corrector. The first step in any makeup routine, this miracle formula can help ease and neutralize any age spots, dark under eye circles, freckles, or uneven skin tone. Acting as a daily primer, the promise of PÜR's 4-in-1 Correcting Primer, is the ultimate way to get ten years back on your face.
Mastering The Art of Color Correcting
Color correcting is a wonderful tool to use when trying to erase unwanted skin tones or create an even complexion. The basis for color correcting, follows the same principals learned in elementary school art class. One color can neutralize or cancel out the opposite color on the color-wheel. When it comes to the correcting primer, PÜR's formula is able to reduce purple undertones because of it's apricot shade range. By masking the purple with a peach/orange formula, you're able to hide those unwanted tones.
*Fun fact! If looking to cancel any redness in the face, try using a green tinted primer, as green mask red tones (like this Redness Reducer from PÜR).
Creating The Perfect Base – For A Flawless Complexion
As mentioned previously, PÜR's Correcting Primer is meant to be worn under foundation (and not on it's own). The key to using this product, and creating the most youthful and glowing complexion, is to create a base. Not only will this let your makeup glide on smoothly, but it well increase the wear time of your foundation formula, and reduce your makeup's breakdown. By filling in pores, and evening out texture through color correcting, there's more opportunity to create  beautiful art from your makeup bag. Nothing screams flawless, like a long-lasting, smooth complexion.
Daily Wear for An Everyday Boost of Radiance
Wearing quality products on our skin (in particular face), is a no-brainer. As we're  growing  conscious of the ingredients and formula compilation, it's more popular than ever to pick out the best products for our beauty routine. Luckily, PÜR's 4-in-1 corrector, doesn't make us worry! From an ethical stand-point, the formula is cruelty-free and vegan (so we can go to bed with a clear conscious). For our skin health, the ingredient list contains hydrating Ceretin® Complex and soothing Aloe Vera, to add constant moisture to our skin – making it great to wear every single day.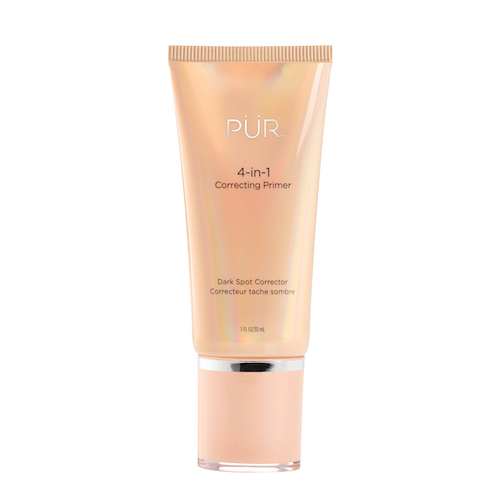 pur Cosmetics
PUR 4-in-1 Correcting Primer Dark Spot Corrector ($33)
Try out our recommendation for yourself, and see what all the hype is about!
Love our product reccomendations and would like to see our other best makeup finds? Head over to SheFinds, for the latest updates in beauty best-sellers and exceptional products.
SheFinds receives commissions for purchases made through the links in this post.