Yesterday I shared my wrinkle cure discovery, and today we're learning that *all* my lifelong beauty woes are being cured this summer, because I've also found the BEST cellulite treatment. Ever.
Yes, dreams do come true and my bum is finally smooth–well, mostly–because I discovered cupping for body contouring.
What is it? Cheeky Physique's Cheeky Cups use the ancient technique of cupping (yes, the kind that Gwyneth Paltrow made mainstream, just like yoga and crystals) to target cellulite.
What Is Cupping?
Cupping is an alternative medicine form that uses cups to create local suction on the skin.
Celebrities like Jennifer Aniston, Justin Bieber, Gwyneth Paltrow, Olympian Michael Phelps, and more have all used some form of cupping.
Remember when Gwyneth Paltrow was cupping over a decade before these Olympics? #Olympics2016 pic.twitter.com/FzkMLfIjxJ

— Elaine L. (@LaineyGossip) August 8, 2016
It can be used to treat various health issues, such as pain and inflammation, and to boost circulation and for detoxification. It also has skin-smoothing benefits. Hence, the Cheeky Cups.
Instructions
Apply lotion then place the cup to the skin, push down to create a suction, and move the cup in circular or back and forth motions.
Results
Cheeky Cups use cupping to target cellulite in a way that diet, exercise and cellulite creams alone can't: by stimulating circulation and lymph flow, eliminating toxins, firming and toning the skin, and smoothing the fascia to reduce the appearance of cellulite. Or at least, that's what the box says.
I used the Cups at home and can give you a full rundown on how they actually work. Here's my review:
Review
I tried the Cheeky Cups after receiving a free sample from the company. I've had a pretty stubborn patch of cellulite on my outer thighs, despite having just lost 40 pounds of baby weight. As many of you know first-hand, cellulite doesn't just go away when you have less fat. What I really needed was a little push over the finish line in terms of toning my legs. And this was definitely it!
I first applied lotion, as per the instructions on the box. It says that you can use body oil or a generous amount of body lotion, and I went with the latter because I wanted to make cupping a part of my regular routine. Slathering body oil on at 8am before work just isn't going to happen.
I applied the cup to my skin and pushed down on the top with my thumbs to create the suction. The trickiest part is creating the right amount of suction. You're not supposed to use too much suction in the beginning because the skin has to get used to the technique. It's easy to suck too much or too little when pushing down, and at first I definitely did it way too hard. The cup was seriously on there, and it was painful to move it at all. The box will tell you that it should NOT hurt in the beginning, and I would definitely suggest that you heed this advice. Remove the cup if it hurts and just start again–or risk getting bruised.
Once I'd gotten the right suction (it just took a few times), and after re-applying the lotion because I determined that I did not have enough (hmmm–maybe I should have used that baby oil, afterall??), I was soon feeling comfortable using the cup. When it's gliding across your skin you feel a little bit of tingling. And this isn't just for the placebo effect–when the skin gets a little red, it's a sign of increased circulation. I swear that my legs felt firmer immediately after using it that first time (although I definitely still had cellulite bumps).
Also, it just feels good. They say that the cups are like a "deep tissue massage in reverse," and it's totally true.
The instructions advise that you use the cups for 3-5 minutes per leg, per day to see stubborn cellulite reversed and to completely smooth imperfections. I have followed these instructions for the most part (okay, yes–I missed a few days here and there), and although I'm not at the four-month mark that the company says you need to see real results, I can definitely tell there's a difference.
And I'm totally hooked on the feeling. The set also comes with a small cup so you can target areas big and small: hips, thighs, butt, abdomen and arms. Arms are next for me!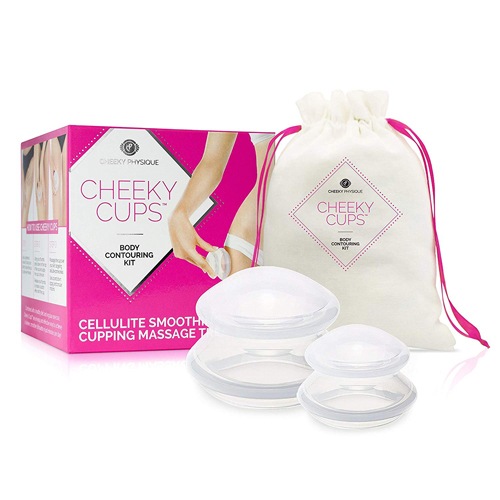 Cheeky Cups Anti Cellulite Cupping Massage Kit ()
SheFinds receives commissions for purchases made through the links in this post.