I swore that I would never be one of those women with a wrinkly chest, but here I am a couple of years into my 30s and sure enough, I've got one. It's not totally my fault—yes, I did engage in a little too much sun worshiping in my twenties, but I'm also a side sleeper which means my chest is creased when I sleep. You can't fault a girl for getting her shut eye!
It's unfortunate that there's really only one way to sleep for wrinkles (on your back)—but I was overjoyed to learn that there is a hack for us side and stomach sleepers: anti-aging silicone pads.
Apply these pads before bed, and they completely smooth out the area so you wake up sans wrinkles. They are LIFE CHANGING. Let me tell you everything you need to know:
Wrinkles Schminkles silicone pads are made from US-made medical-grade silicone. They smooth out the fine lines and wrinkles while you sleep.
Here's how: "Using a high-quality silicone pad can help prevent or treat wrinkles by stopping the creasing that causes wrinkles, increasing moisture, hydration, and blood flow to the area; the latter will increase collagen production," Dr. Annie Chiu, board-certified dermatologist and founder of The Derm Institute explains.
Apprehensive about the results (because I always assumed that lasers or Botox was the only way to go), but eager to get rid of some chest lines just in time for plunging summer dresses, I tried the chest pads a few months back.
The sticky pads are a little bit heavy and I wasn't sure how it would feel to sleep in them, but as soon as my head hit the pillow I was off to dreamland in usual time. I slept through the night without really noticing them (what you do feel is oddly comforting?). When I woke up I *slowly* peeled the pad off my chest, per the instructions… and WOW. All I can say is WOW.
My chest had absolutely no wrinkles. I'm not exaggerating—the results were jaw dropping.
And it turns out that they're actually *more* effective in treating chest wrinkles, or "crinkles," than more invasive treatments like lasers because of the texture of the skin in that area.
"Chest skin is thinner, under natural tension, and does not heal as well as facial skin, making it harder to target with higher settings like laser," Dr. Chiu explains.
So, if you're like me and sun has damaged your skin in that myriad of ways it does—fine lines, wrinkles, loss of laxity, dark spots, and uneven texture—silicone pads are your answer.
Since doctors say that clinkles are hard to treat even at a dermatologist office, taking this first step at-home is absolutely your best best.
And the brand also makes a InfuseFAST Décolletage Sheet Mask ($20) that can be used once weekly as a booster product with the pads; it contains hyaluronic acid to hydrate, vitamin C to brighten, snail extract to smooth, and vitamin B3 to regenerate.
And, Wrinkles Schminkles also makes pass for other areas—the neck, undereye, forehead, mouth and lip. So you can really go to town. And trust me—I will be.
Shop now: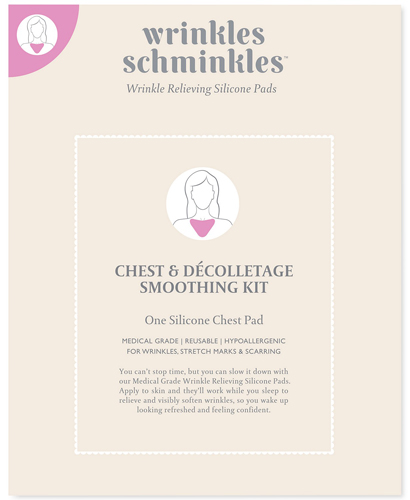 Wrinkles Schminkles Chest & Décolletage Smoothing Kit ($29.99, down from $30)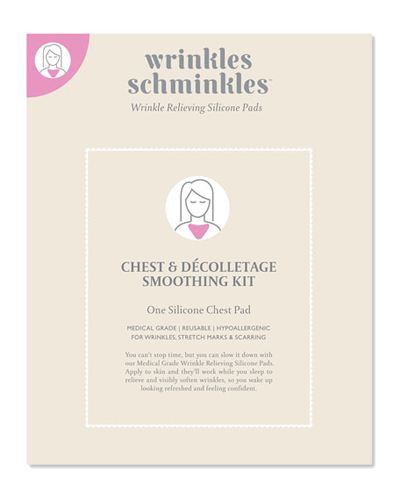 Wrinkles Schminkles Chest Wrinkles Smoothing Kit ($30)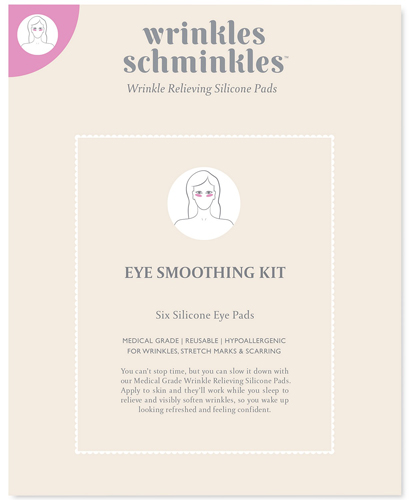 Wrinkles Schminkles Eye Smoothing Kit ($29.99, down from $30)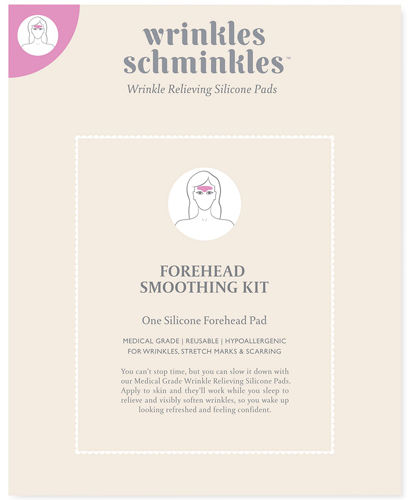 Wrinkles Schminkles Forehead Smoothing Kit ($30, down from $29.99)