Eating a healthy, well-balanced diet is what we all strive to do. But it's hard to stick to that goal when you've got a busy schedule, or if you're not the best cook in the world.
If you're looking to step up your kitchen game and eat better, we've got the best dinner recipes for you! They're super easy to execute and do not require that much time or ingredients. So, grab your aprons, get out your cutting board–and maybe pour yourself a glass of wine–and get ready to try these super-healthy, delicious, and nutrient-dense dinner recipes:
Zucchini Noodles With Avocado Pesto & Shrimp
Dig into those pasta cravings without feeling guilty about the carbs with this delicious zoodles recipe from EatingWell.com. Top your zucchini noodles with Cajun-seasoned shrimp to complete this quick and easy dinner.
Ingredients:
5-6 medium zucchini (2¼-2½ pounds total), trimmed
¾ teaspoon salt, divided
1 ripe avocado
1 cup packed fresh basil leaves
¼ cup unsalted shelled pistachios
2 tablespoons lemon juice
¼ teaspoon ground pepper
¼ cup extra-virgin olive oil plus 2 tablespoons, divided
3 cloves garlic, minced
1 pound raw shrimp (21-25 count), peeled and deveined, tails left on if desired
1-2 teaspoons Old Bay seasoning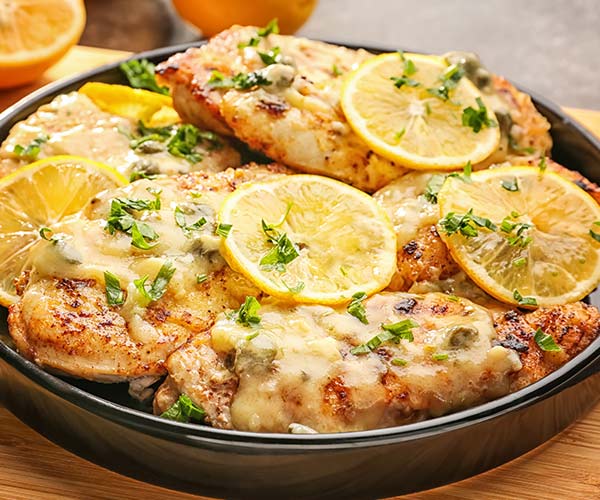 Roasted Parmesan Chicken and Tomatoes
Chicken cutlets are one of the easiest dishes to make, and this panko-covered cutlet recipe get bursts of flavor from roasted Campari tomatoes and a variety of seasonings. Serve it with a healthy salad or your favorite veggies and you're all set!
Ingredients:
4 boneless, skinless chicken breast fillets
Kosher salt and black pepper
1/4 c. panko breadcrumbs
1/4 c. grated Parmesan
1 tbsp. olive oil
1 tbsp. chopped fresh flat-leaf parsley
1 Chopped Garlic Clove
1 tsp. Dijon mustard
1 lb. Campari Tomatoes
Sugar Snap, Orange, and Teriyaki Stir-Fry
Combine healthy oranges and sugar snap peas with noodles and chicken to make this delicious stir-fry dish.
Ingredients:
1/2 (8.8-oz.) package rice stick noodles
1 1/4 lb. sliced boneless, skinless chicken breast
3 tbsp. cornstarch
2 tbsp. canola oil
1/2 sliced red onion
2 chopped garlic cloves
2 c. sugar snap peas
1/2 c. teriyaki sauce
2 tbsp. rice wine vinegar
1 tbsp. sesame oil
1 tbsp. Toasted sesame seeds
2 peeled and sliced small oranges
Black Bean–Stuffed Sweet Potatoes
This protein-packed dinner is super easy to make for an inventive and healthy taco alternative. Add your favorite healthy toppings like avocado, cheese, sour cream, or salsa depending on what's in your fridge!
Ingredients:
4 medium- large sweet potatoes
1 teaspoon of lime juice
1/2 teaspoon of ground black pepper
1/2 of a medium red onion, finely diced (about 1 cup diced)
1 1/2 tablespoons of oil (I used olive oil)
1/4 teaspoon of garlic powder
1/4 teaspoon of onion powder
1/4 teaspoon of cumin
1/4 teaspoon of chili powder
1/2 teaspoon of sea salt
1 15oz can of black beans, drained and rinsed
This is the perfect dinner for those who come home too tired to cook. Line your trusty sheet pan with parchment or foil and add all of your favorite veggies and proteins. Not only does this make for a fast clean-up, but it's also super tasty and healthy, too!
Ingredients:
2 cups (~1 small) red potato
3/4ths pound green beans
1 large head of broccoli (~ 1 and 1/2 cups)
1 and 1/2 cups chopped bell peppers 2 large or 6-7 mini sweet bell peppers
9 ounces smoked sausage
6 tablespoons olive oil
1/4 teaspoon red pepper flakes optional
1 teaspoon paprika
1/2 teaspoon garlic powder
1 tablespoon dried oregano
1 tablespoon dried parsley
1/4 teaspoon salt
1/4 teaspoon pepper
10-Minute Lemon Garlic Salmon & Asparagus
Salmon is one of the healthiest proteins there is. Top this lean fish with Gimme Delicious' tasty lemon and garlic sauce and you've got yourself an easy and flavorful meal.
Ingredients:
1- pound salmon fillet cut into 2-3 fillets
1 bunch asparagus trimmed
1 tablespoon salted butter
1 tablespoon olive oil
2 cloves garlic minced
zest and juice of 1/2 lemon
Salt and cracked black pepper to taste
Photos: Shutterstock