It's the best time of year again. Not Christmas, but it might as well be Christmas in May because Nordstrom is giving you the gift of a major S-A-L-E. Given that the majority of my job requires me to online shop (terrible, I know!) there is one sale I always have bookmarked on my calendar as far in advance as possible. It's Nordstrom's Half-Yearly sale and it's back and better than ever before.
Nordstrom's Half-Yearly sale is kicking off with some unbelievable items for up to 40% off. Some of your FAVORITE brands are now nestled in the sale section and the prices are unbeatable. The sale is happening now through June 3rd – but fair warning, these sale items go super fast so we suggest shopping sooner rather than later if you want to snag your favorites.
Not sure what to get? Check out what our editors are buying for some inspiration.
Acne Studios Asymmetrical Tank Dress ($125.98 down from $210)
"I love that this isn't a full maxi so it doesn't overwhelm my frame. Also, $125 for anything Acne is crazy good!" -Jeanine Edwards, Vice President
Lydelle Ruffle Top ($17.40 down from $49)
"Not only is this top super chic but it's versatile enough that you'll also get a lot of use out of it. You can dress it up for a swanky event or dress it down for work, which is what I always look for when shopping for new clothes. Plus, it's only $17, which is practically unheard of at Nordstrom!" -Emily Belfiore, Editorial Assistant
Lewit Rosa Knotted Bow Mule ($158.98 down from $265)
"Mules have easily become my favorite shoe style. I'll be able to wear this cute bow pair over and over again with so many different outfits. White shoes are also very trendy right now so these are perfect for the season." -Jessica Harrington, Editorial Assistant
Paige Vanette Jumpsuit ($98.98 down from $198)
"I never used to be a jumpsuit girl but I am LIVING for this Paige black jumpsuit. It's chic and flattering and is the perfect lightweight piece that can take you from day to night in the summer heat." -Brianna Peters, E-Commerce Editor
Levi's Wedgie High-Waist Cropped Jeans ($65.66 down from $98)
"I've been needing some new denim for Summer and what better time than when Levi's are on sale!" -Alisha Stacy, Sales & Marketing Coordinator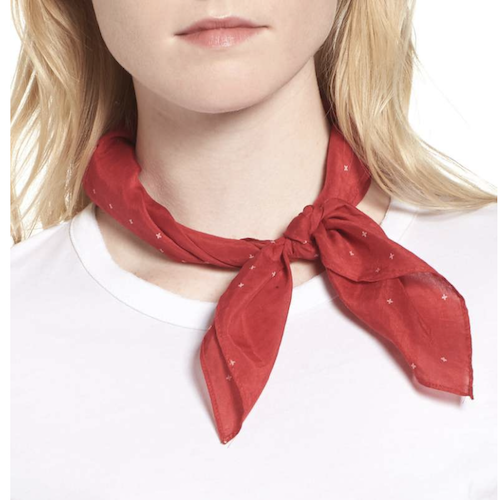 Rag & Bone Cross Bandana ($56.98 down from $95)
"Love this simple scarf in red to brighten up all the black and white in my closet." -Jeanine Edwards, Vice President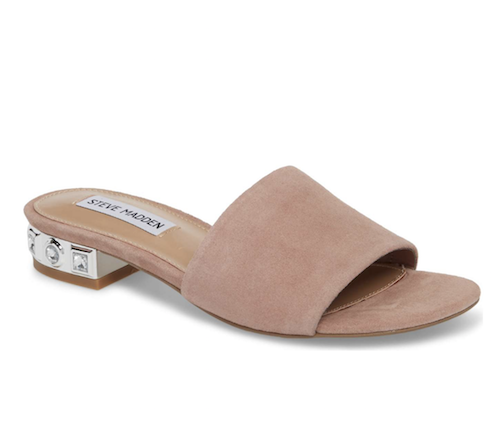 Steve Madden Costa Slides ($47.96 down from $79.95)
"A sob story: My favorite, go-to sandals broke last summer and I desperately need a new pair. These Steve Madden Slide Sandals are a dream and they're available in a neutral color -- so you know I'll be buying them once they're on sale!" -Emily Belfiore, Editorial Assistant
Nordstrom Asymmetrical Skirt ($149.40 down from $249)
"Now that it's spring, I just can't stop wearing dresses and skirts. This Asymmetrical Stripe midi skirt is the perfect piece to add to my wardrobe this season because it's so versatile. I can wear it to work or on a date, it's going to look so cute!" -Jessica Harrington, Editorial Assistant
Free People Garden Maxi Dress ($76.80 down from $128)
"What I love more than Free People? Free people on sale. Their items are on the pricier side but the quality is amazing and their garments last for years." -Alisha Stacy, Sales & Marketing Coordinator
Stuart Weitzman Square Nudist Sandal ($238.80 down from $398)
"There's a reason every celebrity alive can be seen strutting around town in Stuart Weitzman's nudist sandals - they're SO pretty and comfortable. A pair like these are an investment and getting them for 40% off is practically impossible until today!" -Brianna Peters, E-Commerce Editor
*prices are accurate and items in stock at the time of publication
More on SheFinds:
-Nordstrom's Half Yearly Sale Will Be 40% Off This Year--We've Got All The Details
-These Are 5 Beauty Products You NEED For Memorial Day Weekend
-The Sandals You Won't Take Off All Summer Are On Sale Right Now
SheFinds receives commissions for purchases made through the links in this post.