When it comes to skincare, Sephora seems to know the answers to every question – even before you ask it. You can go into Sephora ready to pick up a new bottle of your favorite daily serum, and leave with a completely new nighttime face ritual, plus an extra shampoo you didn't even know you needed. The employees at Sephora eat, sleep and breathe everything beauty, so it only makes sense that they would have the best recommendations. So when it came time to researching new anti-aging face creams, we decided to think like a Sephora employee.
We found the five top-rated face creams that we know Sephora employees love. Each of these powerful day or night creams has five-star reviews and is listed under Sephora's "Bestsellers" tab online. The best part is that they provide serious anti-aging benefits and are all priced under $70.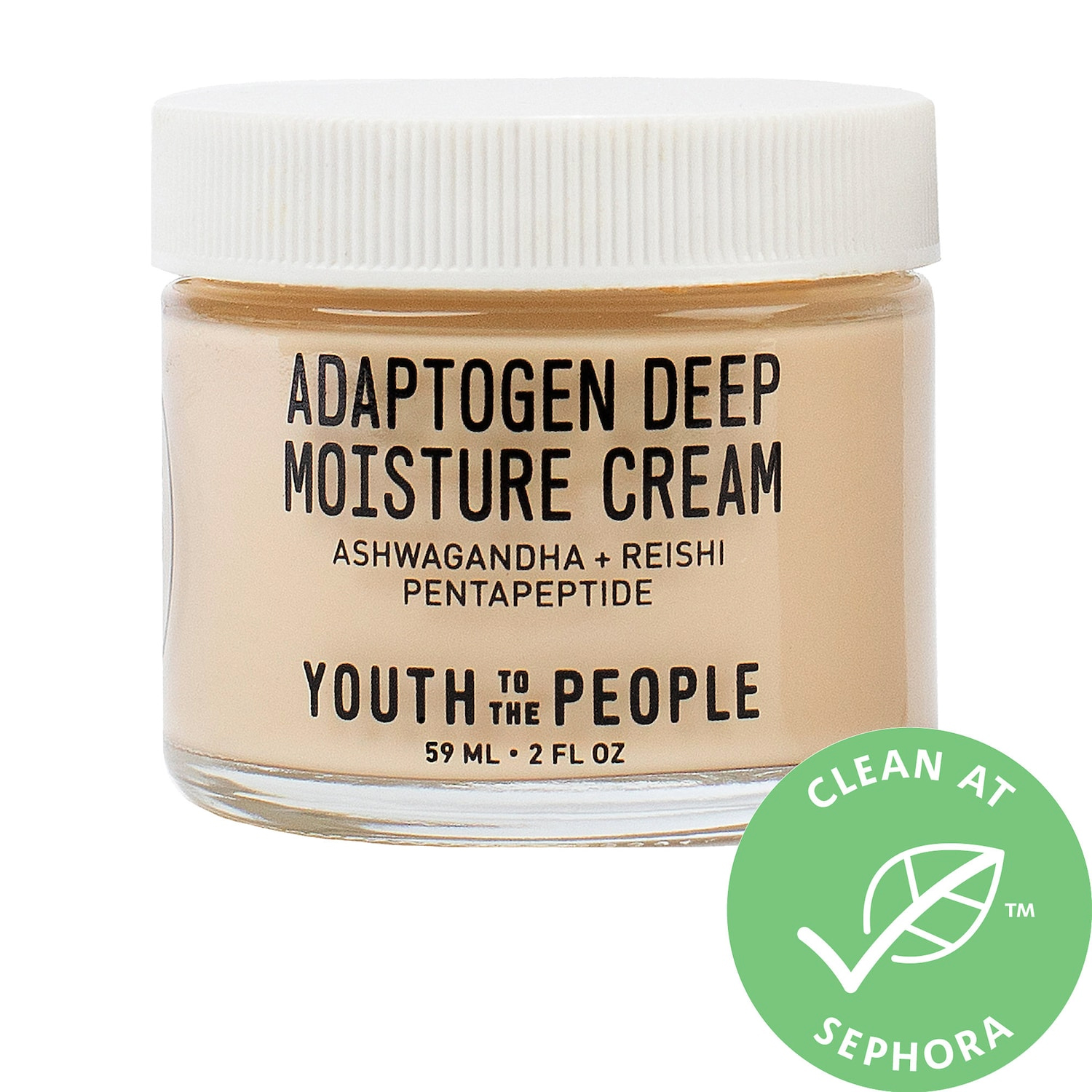 Youth To The People Adaptogen Deep Moisture Cream with Ashwagandha + Reishi
What It Does
This intensive, hydrating moisturizer uses plant extracts and a professional-grade peptide complex to replenish and rejuvenate dry, sensitive skin.
Key Benefits
- Reduces visible signs of fatigue such as dark spots or blemishes
- Boost hydration by mimicking the skin's natural oils
- Detoxes the skin to combat premature signs of aging
Promising Review
"Amazing moisturizer! Love the texture and how luxurious it is. I love applying this moisturizer at night before bed and in the morning as part of my makeup prep routine. Nice scent and it spreads so easily, noticed a definite difference in the texture of my skin and pore size. It is dense but once works into the skin absorbs well and leaves skin looking luminous! I initially received this product at no charge to review and have since purchased it because I'm such a fan!" - MaryMorales84
Youth To The People Adaptogen Deep Moisture Cream with Ashwagandha + Reishi ($58)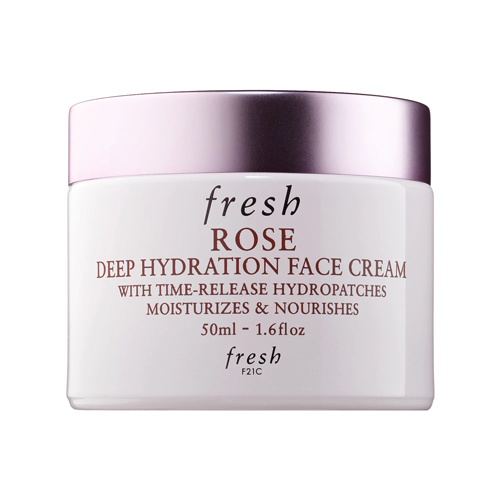 Fresh Rose Deep Hydration Moisturizer
What It Does
This day cream reduces signs of aging on the skin by locking in powerful moisture that hydrates and smooths the skin throughout the day.
Key Benefits
- Attracts and increases moisture for a 24-hour deep hydration
- Lightweight consistency that promotes smooth and soft texture
- Forms a protective moisturizing veil to help the skin retain moisture
Promising Review
"This moisturizer is great! Last winter my skin was so dry it was literally flaking off but after only one or two uses of this it was completely hydrated! I only use it at night now because otherwise it makes my skin too hydrated that it gets oily but this is the best moisturizer I have ever used!!" - SGE99
Fresh Rose Deep Hydration Moisturizer ($42)
Belif True Cream Aqua Bomb
What It Does
This lightweight moisturizer comes in a gel cream that intensely hydrates while leaving skin cooled and refreshed, without an oily or greasy look.
Key Benefits
- Refreshes skin with an antioxidant-rich formula for a healthy and supple complexion
Neutralizes skin-damaging free radicals to improve skin elasticity
- Minimizes the appearance of pores
Promising Review
"Legitimately the absolute best moisturizer I have ever ever used. I have sensitive skin that can have oily patches and dry flaky patches when using an irritating product. I work long hours on my feet and some moisturizers will end up just becoming greasy after a while, but this NEVER becomes oily. Its super light weight and you only need a little bit, one jar lasted me 5 months of daily and nightly use. It absorbs quickly and you cant even feel it. Fine lines have gone away, my skin feels hydrated 24/7, my skin glows. Love love love never buying another moisturizer." - carocat596
belif The True Cream Aqua Bomb ($38)
Caudalie Vinoperfect Brightening Glycolic Overnight Cream
What It Does
A night cream powered by glycolic acid and vine sap viniferine, the Vinoperfect Overnight Cream diminishes dark spots and improves texture.
Key Benefits
- Time-released glycolic acid formula provides hydration over a continuous eight-hour period
- Visibly lightens dark spots and hyperpigmentation and plumps the appearance of skin
- Gently exfoliates to promote the regeneration of new skin cells
Promising Review
"This cream is amazing. I rarely buy products more than once as I'm always wanting to try the next new thing, but this lives up to the hype and I just bought my second jar. The texture is fantastic. I have some fine lines I'm determined to soften and this along with admittedly Dysport injections keeps me looking glowing and nearly lineless! I'm 40 and everyone assumes I'm 28! It's great for keeping acne at bay and fading discoloration. I typically use a sheet mask, the Stacked Skincare Microneedling 2.0 tool followed by Innisfree Firming Energy Essence and then this cream and my skin glows and looks amazing!" - carashea79
belif The True Cream Aqua Bomb ($65)
Fresh Lotus Youth Preserve Dream Night Cream
What It Does
Using highly potent antioxidants, this night cream nourishes the skin and supports its natural barrier for a rejuvenated appearance with less fine lines and wrinkles
Key Benefits
- Helps skin look and feel refreshed for a smooth, renewed and radiant complexion
- Hydrates the skin while protecting it from damage and repairing existing damage
- Promotes a youthful look with a smooth and supple texture
Promising Review
"So moisturizing and soothing. Smells very clean, a bit like cantaloupe, and feels so nice when I massage it into my face. I also use this on my chest and have noticed it looks more glowy. The little lines I had on my chest from sleeping on my side have become less noticeable. My face looks healthy and fresh when I wake up, so this product is a win!" - kpeco
Fresh Lotus Youth Preserve Dream Night Cream ($48)
SheFinds receives commissions for purchases made through the links in this post.