What can dermatologists teach us about the foods we should start eating for inflammation? A lot.
You skin is a reflection of your health — and since chronic inflammation can cause inflammatory skin damage, it helps to have an understanding of how your diet can contribute to inflammation, and also how it can relieve its symptoms.
Chronic inflammation in the body can be a culprit behind skin conditions like psoriasis, rosacea, and eczema. The foods you eat aren't solely responsible for skin issues — factors like genetics, stress, and hormones are huge factors, as well. But, while you may not be able to control your family history, the foods you eat are within your control, and proteins and veggies such as these four anti-inflammation foods can help.
"In some cases, dietary interventions may influence the course of the skin disease, as in acne," experts concluded in a 2014 study entitled Diet and Dermatology. "In others, dietary change may serve as one aspect of prevention, such as in skin cancer and aging of the skin. In others, dermatological diseases may be linked to systemic disease, and dietary changes may affect health outcomes, as in psoriasis."
Incorporate these four anti-inflammatory foods into your diet and your skin will thank you.
Berries
The best thing you can do for your skin in terms of dietary changes is to reduce your intake of sugar and high-glycemic foods and stick to a low-glycemic diet. And while fruits are a healthy part of any diet, Dr. Stefanie Williams, a dermatologist and founder of eudelo.com, told the Daily Mail one fruit category stands out above the rest.
"Avoid sweet tropical fruits and have fresh fruit in moderation," Williams said. "Except all types of berries. They're high in antioxidants that bring great anti-aging benefits to the skin."
Photos: Shutterstock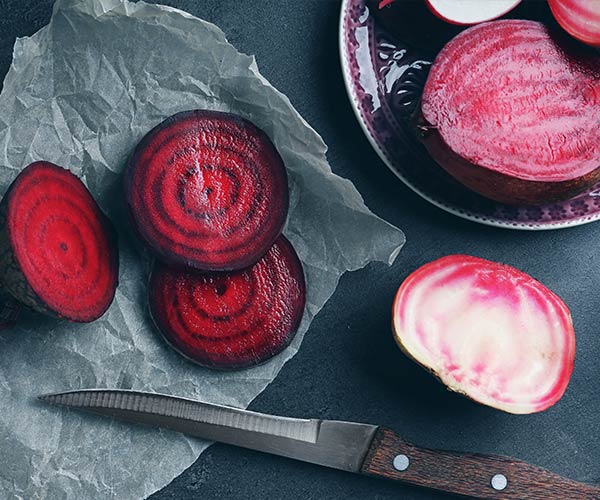 Beets
Beets contain an important anti-inflammatory antioxidant called betalain that goes to work fixing cell damage caused by chronic inflammation. They even improve circulation, which gives your complexion a rosy, healthy glow. Add a few beet slices to your morning smoothie or salad.
Bone Broth
Bone broth is simple to make--boil organic chicken or beef bones for hours and hours--and it contains a wealth of anti-inflammatory benefits. Its collagen and amino acid content heal your gut lining and protect it against bad bacteria. Bone broth isn't just amazing for your skin—it's excellent for keeping joints healthy and free from pain.
Kefir
Any fermented food—Greek yogurt and kombucha included—will deliver probiotics that balance the levels of good and bad bacteria in your gut. But if you're looking for a food that's slightly different from yogurt, but packs the same anti-inflammatory benefits, try delicious kefir, a slightly sour, but rich and creamy fermented milk drink that can be enjoyed by itself or added to smoothies.
For more anti-inflammatory tips, check out 4 Anti-inflammatory supplements doctors swear by to speed up your metabolism and 4 Anti-inflammatory proteins you should eat for fast weight loss on SHEFinds.com.
[Photos: Shutterstock]