After this year, Bohemian Rhapsody is not just the name of the greatest sing-a-long song to date. The Oscar-winning story of how British rock band Queen came to be the musical legend it is today became 2oth Century Fox's fourth biggest movie, raking in over $900 million internationally. (Psst–last week we told you about the Halloween costume inspired by one of 2019's other biggest biopics, Rocketman.)
If you've seen the movie, you know exactly why it was so successful. If you haven't, let us break it down for you. Freddie Mercury struggles with identity, sexuality, friendships, fame and eventually illness as he grows from a young adult to a full-fledged international rock star and frontman of Queen. Though some events in Mercury's life are exaggerated in the movie, the whole story is an emotional rollercoaster that strengthens the respect and admiration we all have for the late icon.
What is very realistic about the movie, however, is Mercury's creativity, talent and impeccable style sense. Most of us weren't around to witness firsthand the impact Freddie Mercury had on music and style; this movie lets us experience his evolution. Really, you should watch it.
Bohemian Rhapsody shows us that Freddie Mercury was fearless and he demonstrated who he was through his clothing. He looked cool and confident in everything he wore, making each of his outfits something to envy. Doesn't that make you want to emanate his style and persona?
While it is unrealistic to try to dress like Freddie Mercury every day, fortunately for us Halloween is coming up. If you're going to dress up as the Bohemian Rhapsody version of Freddie Mercury for your Halloween costume, we suggest the most iconic look shown in the movie: his Live Aid 1985 outfit.
Though simple, Mercury's Live Aid look is instantly recognizable and perfect for an easy DIY Halloween costume. It only consists of a white tank top, jeans and a couple of easy-to-find accessories, but if you wear it right, everyone will know who you're dressing as. The best part? You probably already have most of these items.
And if you still need to shop around for your Freddie Mercury Halloween costume, we've got just the right ideas for you.
Freddy Mercury Concert Costume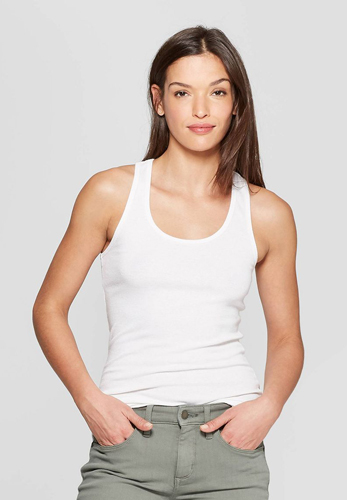 White Tank Top
Freddie Mercury's iconic Live Aid outfit was topped with a white tank top. While you probably already have one of these staples hanging around your closet somewhere, keep in mind that detail is key with this simple DIY Halloween costume. Mercury wore a racerback tank top with his look, so we suggest you check out this racerback from Target.
Universal Thread™ Slim Fit Scoop Neck Rib Racerback Scoop Neck Tank Top ($7 down from $8)
High Rise Jeans
Again, its all about the small details. While you can still be easily recognizable as Mercury with your go-to pair of skinny jeans, consider this light-wash, high-rise pair. It looks just like the original.
Wild Fable™ High-Rise Skinny Jeans ($20)
Adidas Grand Court Sneakers
While any pair of white sneakers will do the trick for your DIY Freddie Mercury Halloween costume, this pair of Adidas Grand Court Sneakers are probably the closest you can get to the original outfit. Plus, you'll definitely find yourself sporting this comfy wardrobe staple many more times.
adidas Women's Grand Court Sneaker ($29.97)
Studded Arm Band
The accessories are the most important part to this Halloween costume. There is leeway on your choices for your shirt, jeans and sneaker with this costume, but if you don't have the iconic studded arm band and matching belt for this outfit, it won't look complete. But lucky for us, Amazon has us covered on the arm band.
Studded Armband Queen Armlet Fetish Rock Mercury 3 Snap Freddie Style Black ($17.99)
Studded Belt
Last, but most definitely not least, the aforementioned studded belt. This essential accessory is much easier to find than its arm band counterpart. We recommend this style from Hot Topic with three rows of studs because it is very close to Freddie Mercury's original belt.
Hot Topic Three Row Pyramid Belt ($15.20, down from $19)
SheFinds receives commissions for purchases made through the links in this post.