It's hard to imagine a time before Glossier, even though the cult-favorite brand launched in 2010. One product at a time, the brand has worked its way into our skincare and makeup routines, and of course, our hearts.
With its "skin first, makeup second" mantra in mind, the brand launched Brow Flick just in time for all of your hassle-free summer brow needs. The superfine, brush-tip pen was created to work in combination with Boy Brow, Glossier's OG brow magician and best-selling product. You can buy the duo together for $30 if you're in the market for a restock of the wonderous brow gel.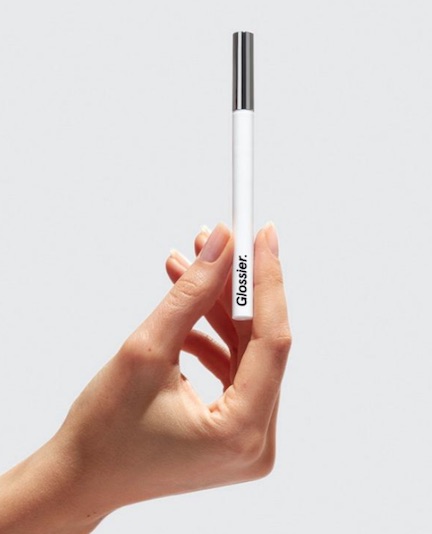 TRY IT: Glossier Brow Flick Eyebrow Detailing Pen ($18)
Glossier
Once again, Glossier saved the day by streamlining our makeup necessities and creating a product to make filling in brows easy and stress-free. Designed with an ultra-fine, flexible brush tip, Brow Flick allows for precise application mimicking the look of actual hair. If your brows could use a little more you know, brow, this is a serious game changer.
The long-wearing formula comes in three sheer shades including Blond, Brown, and Black. All you have to do is shake the pen to activate, apply at a downward angle in the spots that need it most, and allow for it to dry for 15 seconds. After defining brows to your heart's content, lock them in place with a few swipes of Boy Brow to groom and set them to perfection.
Glossier
By using the pen to add light, feathery strokes of color to fill in sparse areas and define arches, you're able to mimic the appearance of natural hair just as good as microblading. Whether you're a fan of a darkened brow, or a lighter, more no-makeup look, the pen was designed as a smudge proof, sheer, and buildable alternative to one-size-fits-all brow pens. Say bye, bye to block-like brows forever.
Glossier
Aside from its brow-changing abilities, the newest formula is also ophthalmologist tested, vegan, paraben free, cruelty-free, dairy-free, soy-free, gluten-free, hypoallergenic, and dermatologist tested for a jack-of-all-trades pen you can feel good about.
SheFinds receives commissions for purchases made through the links in this post.