Overall weight loss is the only way to tackle those stubborn fat "trouble spots" on the body. There's no shame–we all have them. But if you're committed to getting rid of them once and for all, it's going to take a lifestyle change–and a few new yummy, low-calorie recipes (see below!)–to get there.
If you've been holding on to a few extra pounds, specifically in the mid-section, it's time to consider a lifestyle change: mainly, eating more fiber. We've spoke to the country's leading expert on the topic, NY-based registered dietitian and creator of popular F-Factor diet Tanya Zuckerbrot, to find out more about the power of fiber when it comes to fat loss.
"Starting your day with a fiber filled breakfast can aid in digestion and relieve excess bloating in the abdomen," Zuckerbrot exclusively tells SheFinds. "Fiber rich foods help move everything through the digestive system, leaving your stomach feeling flatter than ever."
So, what's a fiber-rich food Tanya recommends?
Best High-Fiber Breakfast For Weight Loss
"One high-fiber food you should have to get rid of belly fat is F-Factor 20/20 Belgian Waffles, made with F-Factor 20/20 Fiber/Protein Powder," Tanya explains of her own bestselling powder.
"To get rid of belly fat I recommend having F-Factor 20/20 waffles for breakfast, because it does wonders for overall weight loss, and therefore benefits belly fat, too."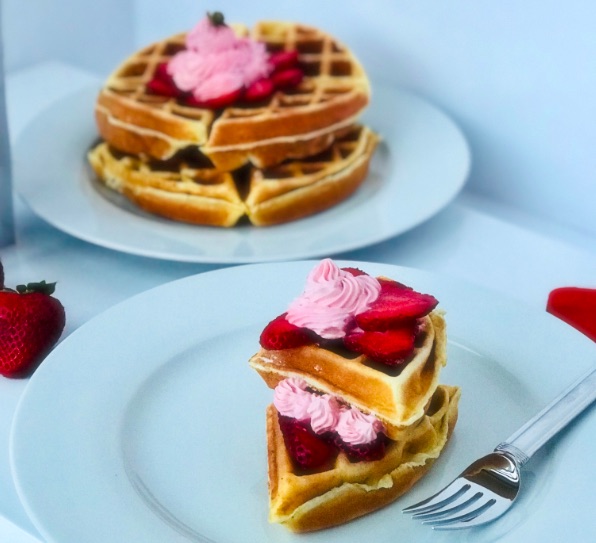 F Factor Belgian Waffles
"This gluten free recipe packs in 34g of protein and 23g fiber making it an ideal way to start the day for weight loss," Tanya says. It's half your daily fiber need in just one meal. And because it's high in fiber, this food reduces bloat too.

Ingredients: F-Factor 20/20 Fiber/Protein Powder, baking powder, coconut oil, egg whites.

Recipe.

Nutritional info: 2 scoops (1/2 cup) = 145 calories, 20g fiber, 3g net carb, 20g protein.
Eating Breakfast For Weight Loss
Starting your day with this recipe is ideal, Tanya tells us of eating breakfast's important role in weight loss. "Skipping breakfast slows down metabolism and leads to weight gain. Breakfast jump-starts your metabolism for the day, making it extremely important to consume." So eat more and lose the stubborn fat? Score!
"Studies show that breakfast eaters burn calories more efficiently throughout the day and are more likely to be thinner than non-breakfast eaters. And the best breakfast is one that combines fiber with protein."
Overall Weight Loss --> Flat Stomach
It's important to know that the only way to target specific areas of the body is through overall weight loss. "You cannot target weight loss in specific areas of your body other than creating a caloric deficit to decrease overall fat stores," Tanya caveats.
"Fiber has been shown to help decrease amount of visceral fat in the abdominal area, subcutaneous fat," Tanya explains. "Still, the kind of fat that lies directly under the skin will only decrease with overall weight loss." Noted!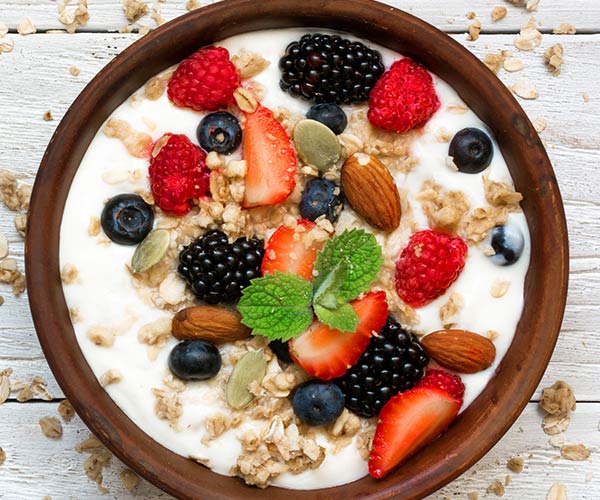 Fiber + Protein
"Clinical evidence shows that fiber and protein have a high satiety benefit in calorie-controlled diets and in weight reduction," Tanya explains.
"The combination of fiber and protein keeps you feeling full, for the longest period of time, on the fewest calories." Interesting! The fuller you feel after a meal, the less likely you'll be to overeat at the next meal, she explains.
But, Seriously--Eat More Fiber
The Academy of Nutrition and Dietetics recommends women get 25 to 35 grams of fiber in their diet daily, and men, 38 grams, yet most adults in the U.S. get only 9 to 11 grams of fiber per day, less than half of the recommended amount, Tanya explains. "Lack of fiber in the diet leaves people hungry and more prone to overeating." Yikes!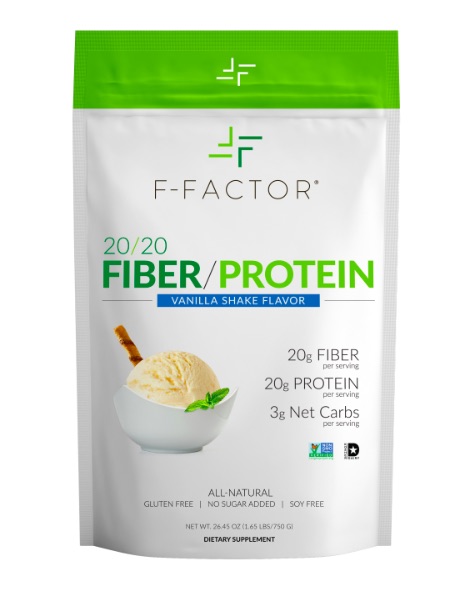 F Factor Protein Powder
Tanya's own 20/20 protein powder comes in both a chocolate and a vanilla flavor, and can be used in countless recipes such as smoothies, waffles and pancakes, baked goods (cookies, breads, cakes), as a healthy coffee ingredient in lieu of creamer, to make ice creams and cones, and more. It's made with whey protein and is the only protein powder that contains 20 grams of fiber. Boom! Shop now.