Move aside crock pots, because instant pots are the next new wave of kitchen gadgets and people are totally obsessed. Instant pots are just what they sound like: a pot that cooks your food at a rapid pace, opposite of a slow cooker.
You can make virtually all of the same things as you can in a crockpot but it takes about half the time. For anyone who doesn't feel like they have enough time to cook, but still wants to make healthy meals an instant pot is a good option.
If you're on a diet, try one of these healthy, high-protein instant pot recipes this week. Your wallet, waistline, and taste buds will thank you!
Shutterstock
1. Instant Pot Lemon-Vegetable Risotto
This tasty lemony risotto is loaded with veggies like broccoli, peas, onion, leeks, spinach, and more. While it may look like it requires a lot of ingredients, it won't take long to make with the instant pot!
Shutterstock
2. Instant Pot Chipotle Chicken Bowls
This chipotle chicken bowl recipe is easy to make and requires two high-protein ingredients: quinoa and chicken. You can meal prep it ahead of time in your instant pot and eat it for lunch all week.
Nutritional info: Yield: Calories: 400 calories, Fat: 14g, Protein: 29.5g
Shutterstock
3. Mexican Chicken Stuffed Sweet Potatoes
Sweet potatoes are a great meal option for anyone on a diet. Make the delicious Mexican chicken stuffing for them in your instant pot and have dinner ready in under an hour.
Nutritional info: Yield: Calories: 413 calories, Fat: 18g, Protein: 28g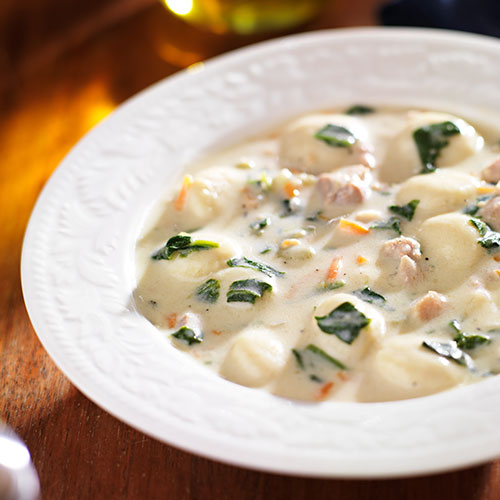 Shutterstock
4. Instant Pot Chicken Dumpling Soup
This Instant Pot Chicken Dumpling Soup recipe is perfect for when you want a yummy comfort meal! It's loaded with veggies and high-protein chicken and topped with dumplings.
Nutritional info: Yield: Calories: 388 calories, Fat: 14g, Protein: 23g
Shutterstock
5. Instant Pot Creamy Tomato Soup With Crispy Parmesan Chickpeas
In just 40 minutes you can have yourself a bowl of delicious tomato soup with crispy chickpeas. The chickpeas add in some extra protein to keep you feeling fuller longer.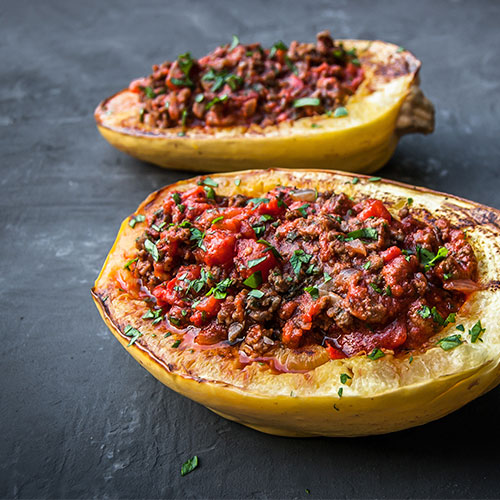 Shutterstock
6. Beef and Mushroom Ragu with Spaghetti Squash
Spaghetti squash is another weight loss meal staple. It's loaded with nutrients and delicious flavors and so versatile. Most people even use it in place of pasta!
Nutritional info: Yield: Calories: 310 calories, Fat: 11.5g, Protein: 16.5g
Shutterstock
7. Instant Pot Potato Leek Soup With Cauliflower
This delicious potato leek cauliflower soup recipe is a must for the cold winter temperatures! It's loaded with tasty veggies and is gluten free, grain free, paleo, whole30-approved.
Shutterstock
8. Protein Instant Pot Mac And Cheese
Still craving mac and cheese even though you're on a diet? This protein mac and cheese recipe will help you get your fix without ruining your progress. It's made with 2% cottage cheese and nonfat Greek yogurt so you know it will still be creamy!
Nutritional info: Yield: Calories: 430 calories, Fat: 16, Protein: 23g