Ever wonder why your energy levels always slump in the middle of the day? Low energy is the result of many lifestyle factors, but the most important one is diet. Think about it: If you eat a good, well-balanced meal, your body automatically feels better.
"The best way to satisfy your stomach and keep your energy levels in check is by eating meals that are high in lean protein and include foods that are rich in nutrients, vitamins, and minerals," says New York-based nutritionist Regina Fazzini. "These good-for-you foods will also help you stay full and focused, which will help you avoid unhealthy snacking and blood sugar spikes and drops during the day."
Not sure what to make? Check out our favorite high-protein, low-calorie slow cooker meals that will make the perfect addition to your diet:
Slow Cooker Quinoa Energy Bars
Start your day off right with these protein-packed energy bars. They're super easy to make and they'll keep your energy levels steady all day long.
Ingredients:

2 tbsp almond butter
2 tbsp pure maple syrup
1 cup unsweetened vanilla almond milk
1 pinch of salt
1/2 tsp cinnamon
2 large eggs
1/3 cup quinoa uncooked
1/2 cup raisins
1/3 cup roasted almonds roughly chopped
1/3 cup dried apples roughly chopped
2 tbsp chia seeds
Pork is filled with B vitamins that help keep you feeling full, focused and energized. When combined with fresh and healthy ingredients, these pork tacos make for a delicious and filling meal.
Ingredients:
3 whole ancho chiles
3 whole pasilla chiles
4 cloves garlic, unpeeled
2 to 3 chipotles in adobo sauce
1/2 medium white onion, roughly chopped
3 tbsp extra-virgin olive oil
2 tbsp honey
1 tbsp cider vinegar
Kosher salt
2 tbsp dried oregano, preferably Mexican
3 3/4 cups low-sodium chicken broth
4 pounds boneless pork shoulder (untrimmed), cut into chunks
Freshly ground pepper
2 bay leaves
1 cinnamon stick
Corn tortillas, warmed, for serving
Assorted taco toppings, for garnish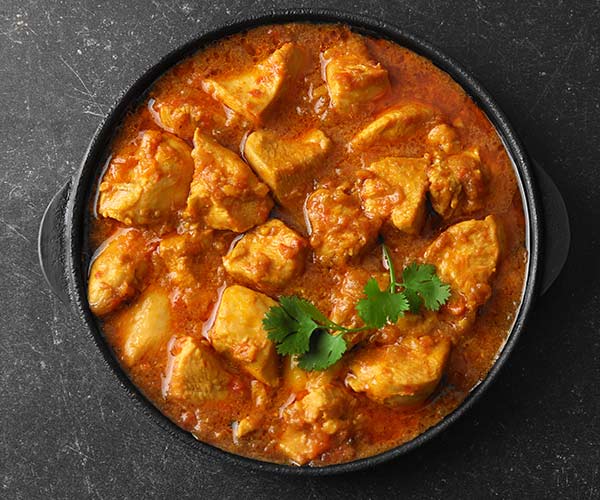 Chicken is one of the best sources of lean protein there is. Eating more ensures that your body will be filled with the energy it needs to build muscle and burn calories. Try this tasty Slow Cooker Chicken Curry recipe from the Food Network--it's so easy to make!
Ingredients:
2 tbsp red wine vinegar
1 tbsp all-purpose flour
1 tbsp tomato paste
2 tsp garam masala, plus more for sprinkling
2 tsp Madras curry powder
2 cloves garlic, halved
One 14.5-ounce can diced tomatoes
One 1-inch piece fresh ginger, peeled and cut into pieces
Kosher salt and freshly ground black pepper
1 pound red skinned potatoes, cut into 1/2-inch pieces
2 pounds chicken thighs, skin removed (about 8 thighs)
One 5-ounce package baby spinach
1/2 cup chopped fresh cilantro, plus extra for garnish
Hot cooked jasmine rice, naan bread, chutney and/or Greek yogurt, for serving
Slow Cooker Clean & Light Stuffed Peppers
Get your protein fix with these colorful Stuffed Peppers from Kim's Cravings. Add the lean protein of your choice and fill your peppers with brown rice and assorted veggies to make the best dinner ever!
Ingredients:
4 large bell peppers (any color)
1 lb. lean ground meat (chicken, turkey, beef, bison)
1 cup cooked brown rice or quinoa
1 (14.5 oz.) can diced tomatoes, drained (or black beans, or corn)
1 tsp garlic salt
1 tsp chili powder
½ tsp cumin
½ tsp pepper
2 cups low-sodium fat-free broth (vegetable, chicken or beef)
Optional toppings; fresh cilantro, guacamole, salsa, Greek yogurt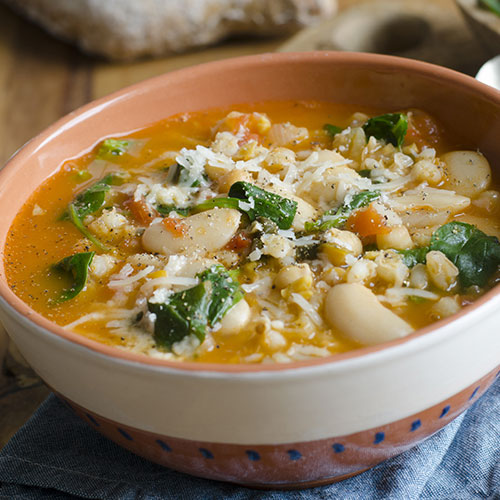 Slow Cooker Bean and Barley Soup
This healthy, light soup is filled with protein-rich ingredients that will help keep you energized and satisfied.
Ingredients:
1 cup dried multi-bean mix or Great Northern beans, picked over and rinsed
1/2 cup pearl barley
3 cloves garlic, smashed
2 medium carrots, roughly chopped
2 ribs celery, roughly chopped
1/2 medium onion, roughly chopped
1 bay leaf
Kosher salt
2 teaspoons dried Italian herb blend
Freshly ground black pepper
1/2 ounce dried porcini mushrooms, crumbled if large, optional
One 14-ounce can whole tomatoes, with juice
3 cups cleaned baby spinach leaves (about 3 ounces)
1/4 cup freshly grated Parmesan Balsamic vinegar, for drizzling
Extra-virgin olive oil, for drizzling
[Photos: Shutterstock]