No matter how many times we go, we can always count on finding at least one, if not 10, trendy dresses, blouses, jackets, or jeans that you want to take home with us from H&M.
But there's one area in which H&M shopping can get a little erratic: trying to figure out your size isn't always easy. And that's exactly why H&M is changing its sizing policy, reports Racked. After hearing your complaints, the Swedish retailer is making major sizing changes so that it is more in line with North American sizes.
Here's what that means for you and your even-better-than-before H&M shopping experience.
H&M's New Sizing Change Is A Really Good Thing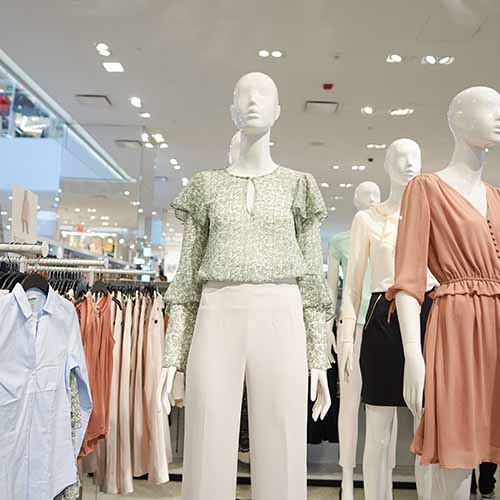 Why Is H&M Changing Its Sizing Policy?
As a shopper, you may expect to find your size isn't exactly the same everywhere you go. A size 12 dress made by a higher end designer may have very little in common (when it comes to proportions) with a similar dress designed by a more affordable brand. But, for the most part, and across the board, your size shouldn't really change all that much.
But if there's one complaint H&M devotees have, it's that its sizing is, well, kind of wacky and all over the map.
It's a common dilemma a lot of us have faced, particularly when shopping online for H&M clothing. You find a cute pair of jeans that are reasonably priced. You order them in the same exact size that corresponds to similar affordable or slightly higher-end brands, like Zara, Topshop, and ASOS. But when you receive your package and excitedly try on those jeans, you find you can barely squeeze one leg inside.
It's not you, it's them.
Thanks in part to one British shopper whose H&M sizing complaint went viral last year (and who referred to their sizing as "ridiculous"), the retailer has decided to make major changes to its sizing policy that will make it more in line with sizing at similar retailers. Because if there's one thing that makes shopping (and especially online shopping) 100 times less convenient, its having to guess your size at various retailers.
What To Expect From H&M's New Sizing Policy
H&M's complete sizing policy (which we'll get to in a minute) is a bit more involved, but for the sake of brevity, here's what you can expect from these changes: your new H&M size will be approximately one size smaller than your current H&M size. So, if you're used to purchasing a size 10 pair of jeans at H&M, your new size is 8. If you ordinarily fit a size 16 dress at H&M, you should be shopping for a size 14 dress. There's a pretty good chance the new sizing accurately reflects your size at similar American and European affordable retailers.
"It is important for us to always listen to our customers, take their feedback and act in order to provide the best experience possible," a H&M spokesperson told Racked. "We knew from feedback that our sizing needed to be more in line with the North American consumer as well as be in line with the industry standard in the market."
In the U.S., H&M's new full-size range will be offered in sizes 0 to 26.
When Do The Sizing Changes Go Into Effect?
Actually, H&M has already started making significant sizing changes.
In 2017, the retailer worked on changing its XS-XXL sizing so that it is now comparable to other stores, in a move that largely affected more simple garments like those made from jersey fabrics. If you wore a size XL prior to the change, you would now purchase that same garment in size L—your size essentially goes down one size.
As for its change to numerical sizes, H&M's e-commerce shops launched the new sizing campaign on April 30, 2018. If you already had items in your cart in your old size, the site automatically changed them for you.
"H&M in the USA will be updating their sizing structure for ladies' customer starting with new summer and fall 2018 products," a spokesperson told Glamour. "We always want to listen to our customers and their feedback," the spokesperson continued. "The new sizing will be more in line with the North American sizing standard and the retail landscape of the market."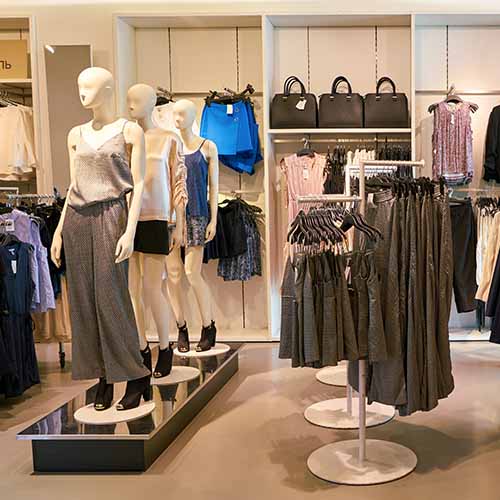 Not All Products Will Be Affected By H&M Sizing Changes
Unless you are shopping at H&M for a garment or lingerie that has a numerical size or is sized XS-XXL, it won't be affected by this new change. A pair of jeans or trousers with waist measurement sizes, as well as kids sizes, men's sizes, and shoe sizes will not be changed.
Let's hope H&M's new sizing policy makes it even easier and more fun to shop at one of our all-time favorite retailers.
[Photos: Shutterstock]