The holiday season is made festive by decorations, gifts, and the occasional themed Starbucks drinks, but there's something else we just can't get enough of during this time of year… the fashion. Between cute beanies, themed pajamas, and oversized winter coats, the ability to be festive, creative, and bold are just a few adjectives to describe our favorite holiday attire.
When it comes to holiday fashion staples, nothing reigns as much importance as the iconic holiday party dress. Showing up to a work holiday party, your family gathering, or the LBD on New Years Eve, are just a few examples of special occasions in need of your new favorite party dress. However, when your gift list in miles long and your wallet is feeling a little light, it's hard to splurge on yourself (this is the season of giving after all).
Lucky for us! What if you didn't have to compromise between looking fabulous and breaking the bank! Below, we've rounded up a few of our favorite (and festive) holiday party dresses for under $100. Whether $15 or $98, each of these pieces look incredible and leave you feeling guilt free at the cash register. Read on to see if any fit your style, occasion, or fancy!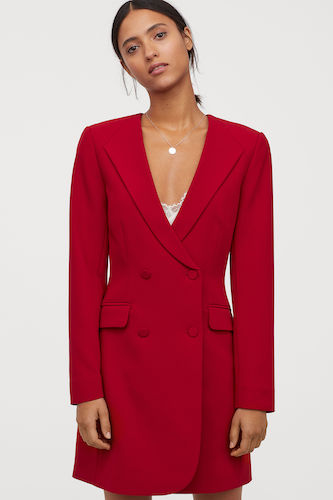 H&M Jacket Dress ($79.99)
Blazer dresses are huge this year, and with good reason. They're all *boss* babe. This power move requires little by way of accessorizing--just a pair of great pumps and you're good-to-go.
Sam Faiers Petite Silver Sequin Wrap Dress ($99)
This super sparkly dress available at QUIZ Clothing has a chic tie-wiast and wrap front. We love the 70s vibes!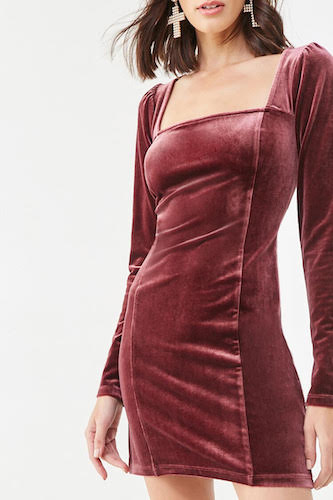 Forver 21 Velvet Mini Dress ($17.99)
This under $20 velvet mini dress is super on-trend. We love the long sleeves!

Amazon
MAKEMECHIC's Summer Split Satin, Cami Dress ($15.99)
Slimming, sexy, and festive, a bold red slip dress might be the perfect selection for you. Amazon fashion influencer, Colette Leclair, raves of how incredible this staple closet piece can be: "A silk dress is something that looks good on every body type and can be worn any time of the year. There are so many ways to style it, such as adding a chunky knit sweater over it with tights, an oversized blazer and belt, or layering a turtleneck under it. They give you that polished yet airy and effortless look, almost like you just walked off of a 90's catwalk to go and meet some friends for a late night bite and aperitif."
ban.do's Mylar Mini Dress - Gold ($66.00)
Playing around with gold foils, fabrics, and accents during the holiday season is a great way to style any themed party dress. What we love about this classic gold, ruffle dress from ban.do, is it's multipurpose and whimsical appeal. Whether you decide to wear it out to a work festivity or on New Years eve, it fits every occassion.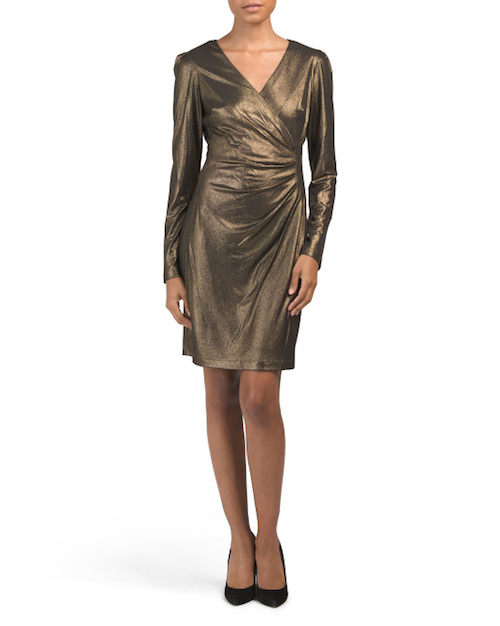 TAYLOR's Foiled Jersey Long Sleeve Dress ($39.99)
Finished with a metallic sheen, this dress does anything but disappointed. Meant to flatter all figures, the pleated side detail, lined long sleeves, a surplice front, and stretchable (and breathable) fabric, give you all the confidence (even when on your third eggnog cocktail).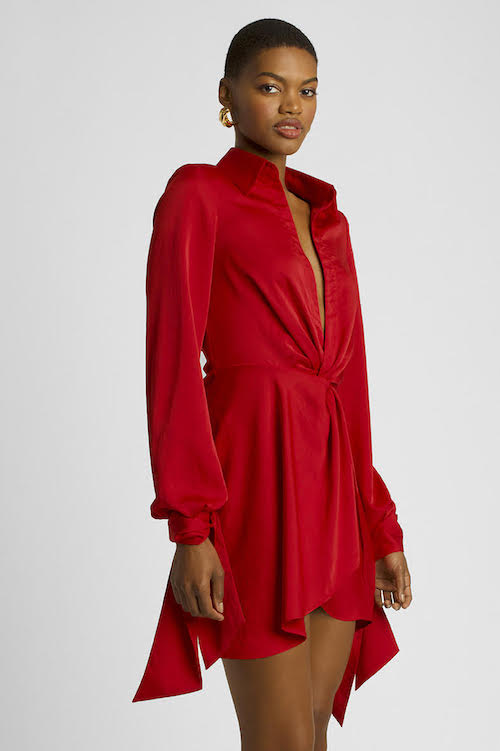 Get Choosy's Nadia Dress ($85.00)
The perfect mix between work and play, this low-cut, long sleeve dress has so many unique and flatter details that you'll be enticing people all night by wearing it. From front twist detail to exaggerated cuff ties, and a deep v-neck finished off with a crisp collar are just a few examples of why we've fallen in love with this dress.
ASOS' Flounce London Sequin Mini Dress ($67.00)
The iconic Little Black Dress, thats curtailed perfectly to the holiday season! Finished with Metallic sheen fabric and complimented with finish all-over sequin embellishment this makes for the perfect fashion choice for every winter occassion. Plus, how could we not love this retro, 80's appeal with the broad and padded soulders, yes please!
Victoria's Secret Satin Slip Dress ($89.50)
Intimate, festive, and romantic, we've added another slip dress to our category. This time, one that slightly grazes the floor and accentuates our collar bones. With the adjustable tie straps, and wide range of color available, it's meant to be personalized to fit your style and occassion.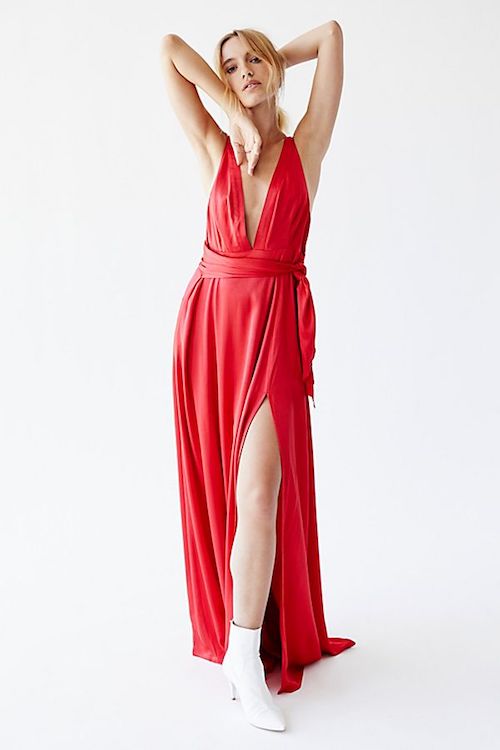 Free People's Eternal Love Dress ($89.95)
A bold silky maxi dress, might be the exact look you were searching for. Perfect for a themed occassion with friends, this plunging V-neckline will be turning heads. With an adjustable waist tie, and open back, you'll be wanting to stand underneath a mistletoe with your crush-to-be.
Viris Zamara Womens V Neck Work Jumpsuit ($27.95)
Changing things up a bit, we're swapping out our long-length gowns for this beautiful and silky jumpsuit. Flattering and conservative, this is an exceptional themed piece to wear to any work soiree or family gathering during the holiday. Additionally, this piece comes in a wide variety of colors, from blue, black, and red, it's meant to fit any themed holiday party.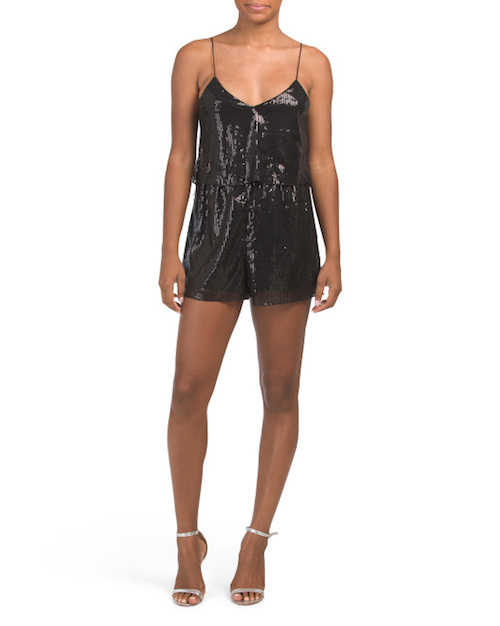 RAGA's Sequin All Night Romper ($39.99)
Instead of the iconic mini skirt (that may have you adjusting all night long), try a festive romper instead! We're loving this sequined piece from RAGA, as we believe it's the perfect fashion staple for your New Years Eve out! Pair with a festive hat and over the knee booties, and you have yourself an unstoppable outfit.
For more fashion finds, and must-have closet staples, check out SheFinds for the latest in wardrobe inspiration.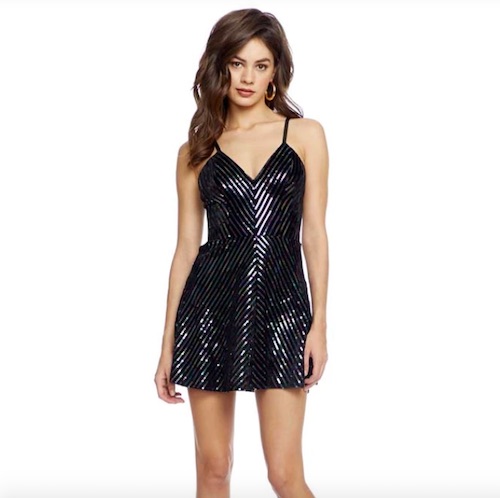 Dress The Populate Trista Dress ($98)
This deco mini comes in five colorways--the hardest part will be choosing.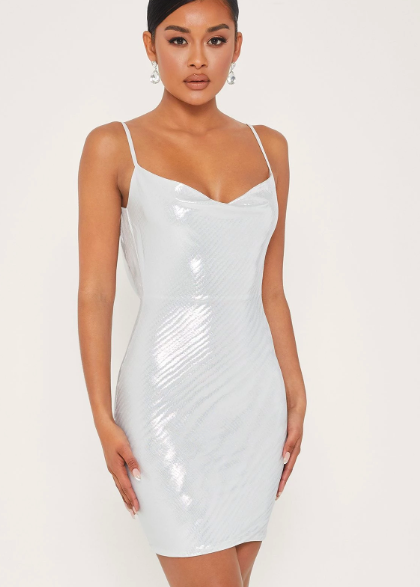 Meshki KALIA Mini Dress ($55)
This metallic mini from Australian brand Meshki gets its shine from a foil jersey fabric. A sexy cowl neck (so trendy!) and thin straps complete the look.
SheFinds receives commissions for purchases made through the links in this post.