Every year, UGG boots continue to be a staple shoe for winter. When temperatures drop and snow starts falling, UGGs are our go-to choice of footwear to brave the weather. They're just so cozy, some of us wear our UGG boots at least once a day in the winter–which is where we run into some trouble. It's difficult to keep your UGGS in pristine condition. If you're wondering how to clean your UGG boots, this post is for you.
Keeping your UGGs looking good as new is no easy feat. If you're not careful (and sometimes even when you are), UGGs can start to show the signs of wear and tear after just one short season–so frustrating! You're probably not to keen on the idea of replacing your UGG boots every year. They're not exactly the most affordable footwear option with the shearling boots starting at $130 for the Classic Short boot. We consider them an investment piece!
So, what's a woman to do when snow, sleet, and rain start to take a toll on her favorite winter boots? You clean them! That may sound like a daunting task, especially because of the material UGGs are made of, but fear not. Cleaning your boots is actually pretty easy, believe it or not. You need just a few products, and to follow the steps below to clean your UGG boots and make them look good as new!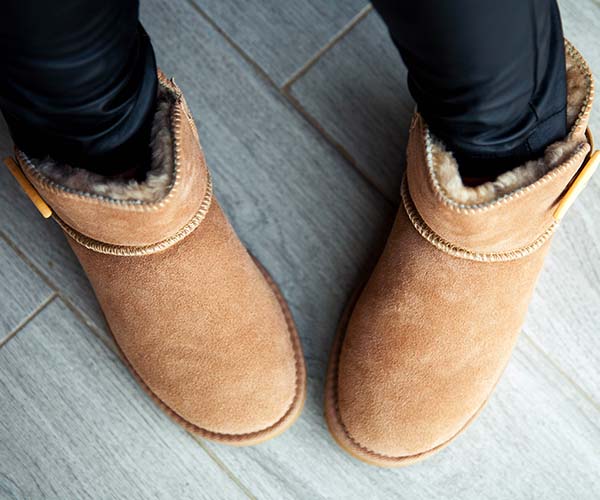 1) Brush Your Uggs Regularly
Using a soft bristle brush, brush your UGG boots regularly to remove dirt from the surface. Brush your UGGs in the direction of the shearling for best results. Doing this often can help keep dirt from getting stuck to your UGGs.
2) Use A Damp Cloth On Harder Dirt
According to UGG, you should use a clean damp sponge or rag to try to scrub away harder set dirt and stains. Make sure you don't use too much water, you don't want to soak your UGGs completely. UGG offers their own leather cleaning kit and cleaner and conditioner that rejuvenates your UGG boots and helps remove stains if water alone doesn't work.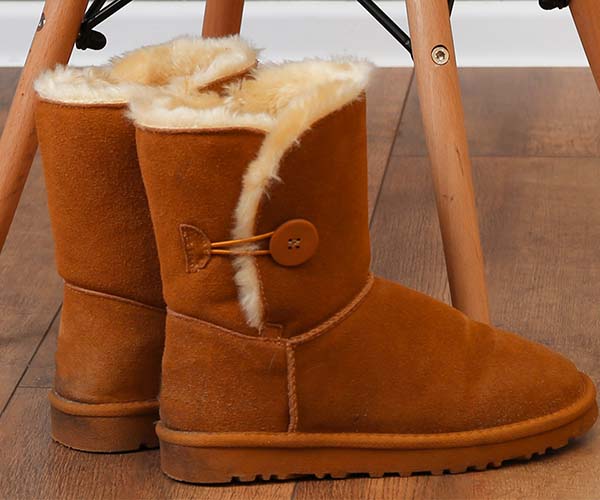 3) Let Your UGG Boots Dry
After you finish cleaning your boots, let them dry naturally for 24 hours. You do not want to put your UGG boots in the dryer--ever. Leave your boots in a cool, dry, ventilated area and try to avoid placing them in direct sunlight or heat.
4) After They Dry, Brush Them Again
Once your UGGs are completely dry, you want to use a brush to restore their original appearance. Using a suede brush, brush in a single direction to set the fabric back to normal.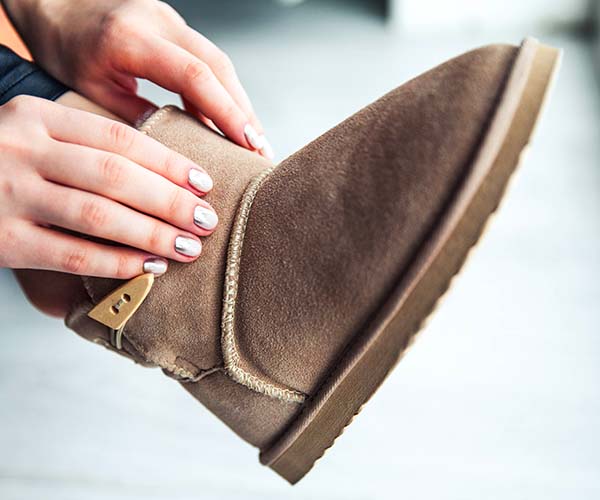 5) Protect Your UGGs For The Future
While the steps above should work to make your UGG boots look brand new, you should always protect your UGGs when you first get them to keep them in the best shape possible. You can also protect them after cleaning them with the steps above. To guard your UGGs with the UGG Protector spray, follow the steps below:
1) Make sure your UGGs are completely clean and dry.
2) Hold the spray 6 inches away from your boots and coat them evenly with the protector. Make sure the surface is wet but not soaked.
3) Let them dry naturally for 24 hours.
4) Brush them with a suede brush.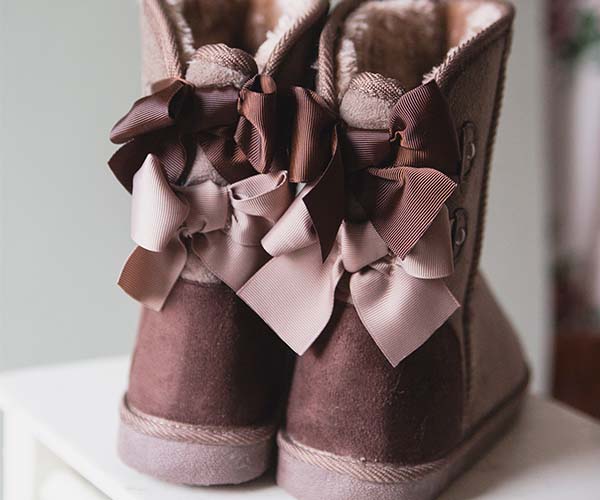 And you're done!
If you're still too afraid to tackle cleaning your shearling Ugg boots yourself, many dry cleaners offer boot cleaning. While this option requires a bit more time and money, the professionals will know exactly how to treat your Ugg boots.
If you haven't already seen them, check out these new fashion UGG boots on SHEfinds!
SheFinds receives commissions for purchases made through the links in this post.