The best style advice anyone can give is to know yourself. Know your tastes, your likes and dislikes, and of course, your own body. A centimeter difference in a hemline can make a huge difference for short girls, and finding a pair of jeans that fits your booty like a glove is essential for curvy ones.
Us big booty girls are #blessed to fill in our jeans (yas!), we also struggle with common jean fails like that gap at the lower back, when the the inner thigh rips, and muffin top spillage if the jeans are too low-cut.
But we don't have to! I sat down with stylist Nicole Winston to get the low down on how to order jeans that will find curvy girls *perfectly.* (And yes--she recommends Khloe's Good American brand!).
[Photo: Instagram]
1. Look for fabrics with stretch.
"Stretch is your friend!" Nicole, a Styling Consultant at the Fifth Avenue Club at Saks, explains. "No matter where your curves are, stretch will always give you an overall smoother look."
You'll want a fabric that contain 1-3% elastane or Lycra. Read those product descriptions carefully!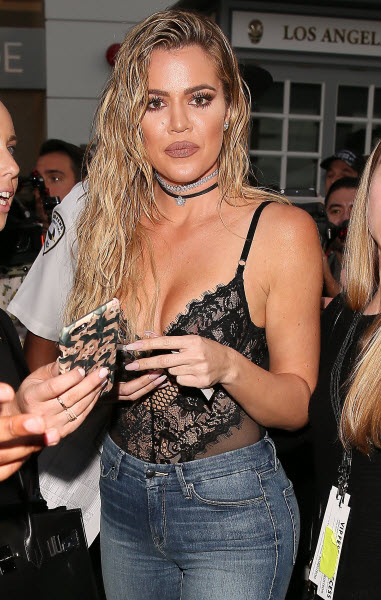 2. Shop the right brands.
"Some brands to consider checking out are NYDJ, Good American and Frame Denim. If you are curvy and go for Frame denim, size up one size!" Nicole advises.
If you're trying a new brand not on this list, read the customer reviews and you'll get an idea pretty quickly of whether the jeans work for curvy girls!
2. The wash matters.
"Things to avoid are color washes: don't buy something that has any type of fading or whiskers at the thigh or booty area," Nicole advises.
So, what should you buy? "Dark denim is always more flattering as it will add a slimming effect," she explains. In general, "Keep it simple would be my best advice!"
4. Check the pockets.
"Pocket size and placement is very important," Nicole says. Though it varies from client to client and jean to jean, Nicole explains that generally speaking, "The smaller the pocket, the larger the area its covering will look."
So, there you have it: 4 areas to focus on when jean shopping for your the perfect pair. Happy hunting, ladies!
And for more styling tips from Nicole, check out her blog Take 1 Thing Off or her Instagram for daily style inspiration.
Read More: The Worst Jeans For Girls With A Booty