J. Crew has always led the way when it comes to offering sweet clothing pieces that toe the line between preppy and professional and trendy.
But in recent years, the outlet has suffered a bit from store closures, layoffs, and the loss of creative director Jenna Lyons, who was largely responsible for J.Crew's successful direction, according to Racked. It didn't help that while a younger generation started clamoring for athleisure and even more affordable clothing, J. Crew continued to be known for slightly pricier, more tailored and groomed pieces.
But don't count J. Crew out just yet. The retailer, which carries women's, men's, and children's clothing, as well as swimsuits, shoes, accessories, and even relatively affordable wedding gowns, has held a place in customer's hearts since it opened its first shop in New York City in 1989—and it's keen on bringing back it reputable name to appeal to a new generation of shoppers.'
J.Crew's New Loyalty Program
What Kinds Of Changes Can You Expect From J. Crew?
Basically, J. Crew is relaunching a brand new J. Crew in September, complete with a new points-based loyalty program that can save you money and get you even more excited about shopping its merchandise.
"Beginning this fall, we're excited to bring new, expanded collections and enriched brand experiences that fully embrace and celebrate the diversity of our customers; offering them innovative and fulfilling ways to engage with the brand," J.Crew told Racked. "We are confident this evolving direction will be something both longtime J.Crew loyalists and new customers will eagerly engage with."
Here's what you need to know about J. Crew's new loyalty program.
J. Crew Will Likely Draw Inspiration From Madewell
It's worth noting that J. Crew isn't exactly an open book when it comes to sharing the nitty-gritty details of its upcoming relaunch. So far, we know that a "data-driven personalization engine" and loyalty program are the retail outlet's most exciting updates and improvements. And, according to Fast Company, shoppers should probably assume the loyalty program will mimic Madewell's successful points-based program.
J. Crew has owned Madewell since 2004, when it bought the legendary brand and put it to amazing use marketing clothing to a younger audience of women. Perhaps because of its more affordable pricing and casual clothing, which includes sought-after jeans styles, Madewell has prospered. It's still a guess, but it makes sense to assume J. Crew will draw inspiration from Madewell's rewards loyalty program.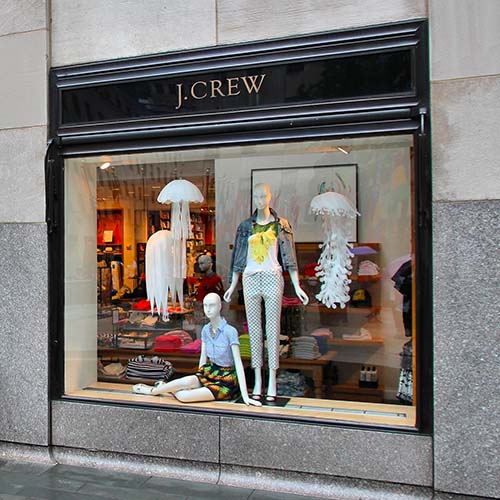 The Details Of Madewell's Loyalty Program
Madewell's loyalty program is free to join and rewards shoppers based on how much they purchase. After creating an online account or signing up for the program in a store, customers start off as Madewell Insiders who get a free birthday gift, monogramming, free returns, hemming on jeans that are too long, early access to exclusive collaborations, invitations to special events, and free economy shipping and handling. If you spent $500, you move up a notch and become a Madewell Muse, which grants you the same perks, with the addition of free standard shipping and handling, a dedicated concierge phone line, and an annual collectible tote. And after you spend $1000, you become a Madewell Icon and benefit from free expedited shipping, and a free semiannual gift (in addition to the rest of the benefits enjoyed by members).
When you sign up, you are placed in the tier that corresponds with the total price of the merchandise you've purchased within the last 12 months. And if you do return an item, that amount is deducted from your account.
According to Racked, J. Crew president and COO Michael Nicholson said J. Crew is looking to mimic Madewell's model, but that its points program will be "going beyond typical incentives and rewards."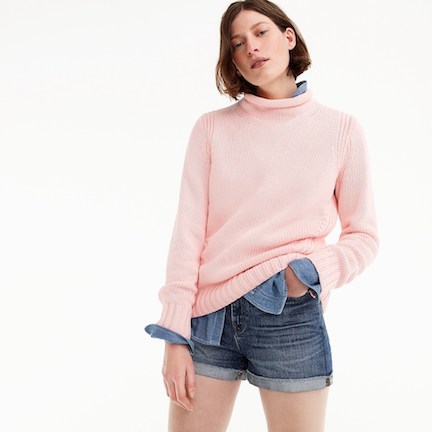 Women's 1988 Rollneck Sweater ($79.50)
J. Crew Has Already Started Making Changes
You may not have even noticed, but J. Crew has been quietly making changes leading up to its big relaunch. In 2015, J. Crew launched a cheaper clothing option called Mercantile that was supposed to be sold only in J. Crew outlets and at Mercantile stores, but will now be offered as part of J. Crew's collection.
Other components of what Nicholson calls J. Crew's "transformation plan" include three new categories: a swimwear line called Playa, an intimates collection of pajamas and lingerie, and J. Crew Heritage, which carries traditional J. Crew garb like rolled neck sweaters and blazers.
Expect full J. Crew updates to start taking effect in September 2018.
SheFinds receives commissions for purchases made through the links in this post.