Kelly Ripa is known for being candid when it comes to her personal life. The Live with Kelly & Ryan co-host recently opened up about her diet and fitness routine in an interview with The Cut. She also dived into some of the body shaming she's endured on social media lately, revealing that some of the criticisms may have gotten to her.
Splash
"I can be honest: My body looks like Peter Pan no matter what I do. I've never been a va-va-voom woman," Ripa said in the interview.
Splash
This comes months after Ripa was bullied on social media for wearing a bikini. Her husband, Mark Consuelos, shared a picture of the mom of three back in March from their tropical vacation. Trolls quickly flooded the comments section with hurtful comments about Ripa's figure.
One commenter said that she looked like a "12-year-old boy" in the bikini she was wearing in Consuelos' post, while another tried to argue that it wasn't appropriate for Ripa to be wearing a bikini at her age. "Kelly's gorgeous, but isn't there a cutoff age where age appropriateness comes into play? Just because you can rock a bikini, doesn't mean you should."
Splash
Consuelos replied with a heartfelt statement: "I wanted to take a couple days to weigh in. Probably should've earlier arguably. But I wanted to be above it. Well, now I'm not. I posted this pic of the women I most admire as a playful tribute to my wife who I'm proud of in endless ways. She works extremely hard in her professional life and her commitment to exercise, healthy diet is admirable and the benefits show.. Yes she's wearing a bikini at age 47 and will no doubt wear one for many years to come."
Splash
He's right! Ripa does work hard for her toned physique. She walked The Cut's Mara Reinstein through her daily routine, explaining that she always fits in a workout after she films Live.
"I like to take AKT, which is cardio-based dance classes, about four to five days a week between 3:00 p.m. and 5:00 p.m. And I like to do SoulCycle on the weekends. In the summer, I like to run in Central Park because I think it's so gorgeous," she says.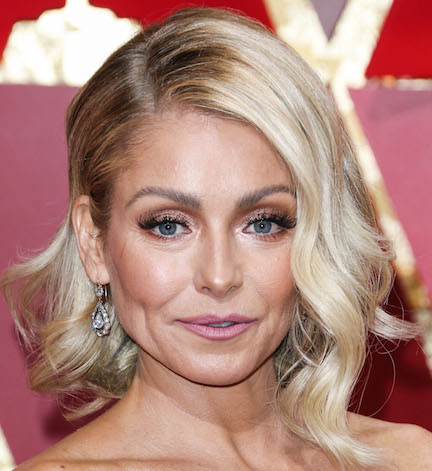 Splash
What do you think of Kelly's body shamers and exercise routine? Let us know in the comments below!