Kim Kardashian West's beauty line, KKW Beauty, is set to debut its newest launch and we can promise you that your Instagram photos will never be the same. The brand just unveiled the KKW Beauty Body Collection, which features four products that are specifically designed to give you #flawless skin from head to toe, and announced that it will coming to KKWBeauty.com on Friday, June 21.
Splash
Kim Kardashian is known to have quite a few beauty tricks up her sleeve and her newest launch lets us in on one of the most coveted secrets: her flawless, glowing skin. It turns out body makeup has been an integral part of Kardashian's beauty arsenal for years and now she's made it accessible for the rest of us.
Splash
The collection ranges from $27-$45 and is comprised of the Skin Perfecting Body Foundation, Skin Perfecting Body Shimmer, Loose Shimmer Powder, and Body Brush. The Skin Perfecting Body Foundation is available in seven different shades ranging from Fair to Deep Dark to ensure that every skin tone has a match. The Skin Perfecting Body Shimmer, however, is only available in three shades (Pearl, Gold, and Bronze) to offer different levels and pigments of bronzing.
Splash
Don't believe the hype? The beauty mogul shared a video of herself using the complexion-perfecting products to conceal the psoriasis flare-ups on her own legs, to her Instagram account and honestly, we're amazed at how well it works.
Splash
"I use this when I want to enhance my skin tone or cover my psoriasis. I bruise easily and have veins and this has been my secret for over a decade," Kardashian wrote on social media. "I've learned to live with and not be insecure of my psoriasis, but for days when I want to just cover it up, I use this Body Makeup. My formula is so creamy and buildable and has a smooth satin finish. It builds easily for more full coverage if needed."
Keep scrolling to learn more about the products in the new KKW Beauty Body Collection and don't forget to sign up for an email notification to be alerted when it officially drops!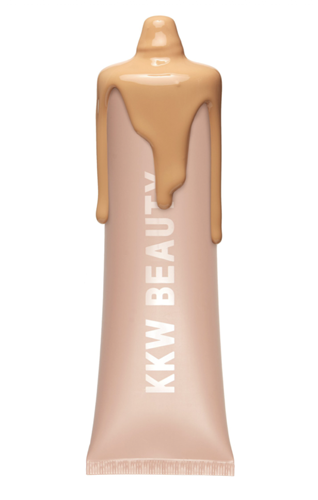 KKW Beauty Skin Perfecting Body Foundation ($45)
The Skin Perfecting Body Foundation is where it all starts. The formula works to blur imperfections while enhancing skin tone for a flawless finish. Consider it Photoshop for real life. A little goes a long way, so apply it sparingly and then allow drying time between layers if you want a more full-coverage look.
KKW Beauty Skin Perfecting Body Shimmer ($35)
The Skin Perfecting Body Shimmer can be applied alone or layered on top of the foundation for a versatile shimmer! Created with a water-based formula and reflective pearls, it provides a high-impact shine without skimping on moisture.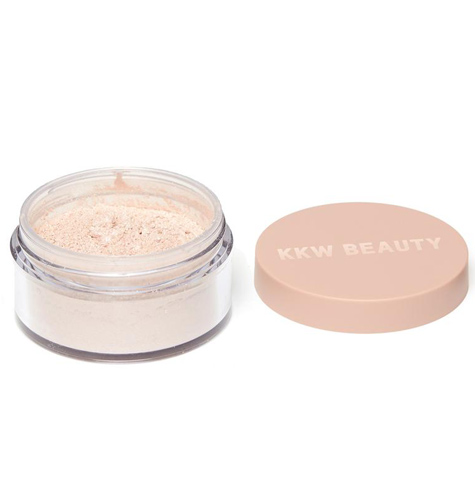 KKW Beauty Loose Shimmer Powder for Face & Body ($27)
The Loose Shimmer Powder for Face & Body is pretty self-explanatory and a must-have for all the glow addicts out there. The formula's reflective pearls blend into the skin while vitamin E nourishes and protects for a radiant shine that stands out.
Sticking with the versatile theme of the collection, the powder can be used alone or layered with the other products for more coverage. It's available in three varying shades including Pearl (an icy pink champagne), Gold (a bright golden yellow), and Bronze (warm copper champagne).
KKW Beauty Body Brush ($32)
For a perfectly even application every time, opt for the KKW Beauty Body Brush. Kim K. also paired the pieces together in various trios and sets, most of which include the specialized applicator to ensure a flawless finish.
It's important to note that the collection is not waterproof and does not contain any SPF, so you'll want to layer your sun protection underneath and stay clear of any bodies of water if you want to stay streak-free.
SheFinds receives commissions for purchases made through the links in this post.