To get into the holiday spirit, Kohl's decided to start it's Black Friday deals early – and we mean early. Basically, the entire month of November is Black Friday at Kohl's. We're not sure if we can still call it "Black Friday" when the sales go on all month, but let's just go with it.
"We know Black Friday shopping is a tradition for so many of our customers, and we're thrilled to announce an amazing lineup of Black Friday deals and doorbusters as families begin preparing for the holiday season," the retailer's chief marketing officer, Greg Revelle, explained. "Customers will find more deals than ever before leading up to the Black Friday shopping event, and we encourage customers to continue checking back in store and on Kohls.com for additional deals and surprise sales throughout the month."
The sales Kohl's has on now are just going to keep building throughout the month until we hit the week of Thanksgiving, when the discounts blow full steam ahead. Really, the savings just get better and better. What we're trying to say is that you should probably check out the sales at Kohl's immediately, but then keep checking throughout the month to be sure you can take advantage of every amazing deal they throw our way.
Between November 25 and November 27, Kohl's is offering online-only deals that change every day. Then on Thanksgiving and Black Friday, the retail will offer a bunch of in-store doorbusters from store open like The Fitbit Versa LITE Edition smartwatch for $99.99 or the Amazon Echo Show 5 for $49.99. Plus, you can earn Kohl's cash on most of the doorbuster sales that you can spend towards future purchases.
Kohl's has continued to change the products on sale throughout the month, offering limited-time deals one after the other. So as soon as you see something you like at a price you love, we suggest you grab it up when you can.
Scroll down to shop our favorite deals happening right now.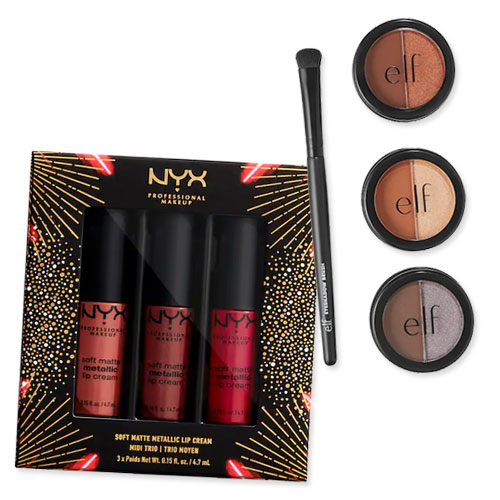 Beauty Deals Under $25
Kohl's has put together a selection of some of the best beauty gifts you can find for under $25. Among the top picks are an eyeshadow duo set from E.L.F. and a lip cream set from NYX Professional Makeup.
The E.L.F. Eyeshadow Duo ($4) comes with three crease-resistant, richly pigmented eyeshadow duos and it only costs $5. Plus it comes with a soft, synthetic-haired brush. So you get six different eyeshadow colors and a makeup brush for just $5! And for just $10, the NYX Professional Makeup Love Lust Disco Soft Matte Metallic Lip Cream Trio ($8) gives you three of the brand's best-selling lip colors: Cannes, Monte Carlo and Rome.
These makeup sets make perfect stocking stuffers… or you can get them for yourself to make this year's go-to holiday party look.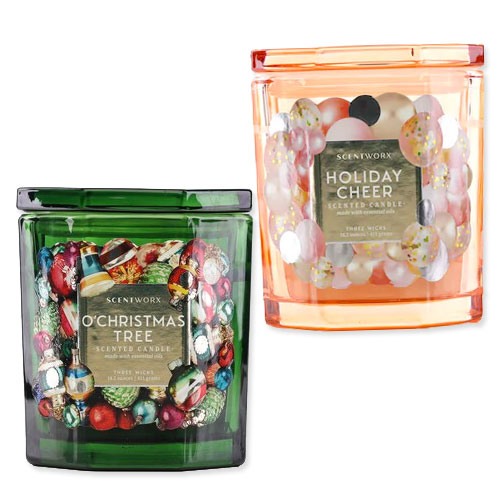 Incredibly Priced Candles
ScentWorx candles are marked down to $14.99, and since these candles cost $26.99 at regular pricing, it is almost like you're getting them half off!
Our favorites for the holiday season are Holiday Cheer ($19.99, down from $26.99), which is a sweet blend of sparkling orange mimosa, lemon peel, peach and hibiscus, and O Christmas Tree ($19.99, down from $26.99), which is scented with evergreen, fresh balsam, sparkling woods and glowing amber so it really does smell like a Christmas tree.
Psst… these ScentWorx candles make excellent holiday gifts.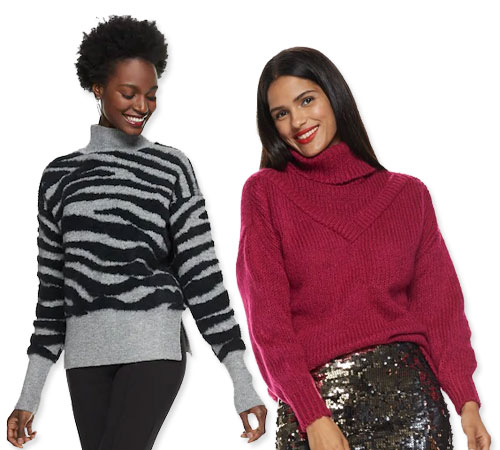 Nine West Turtleneck Sweaters
Keep in mind that Black Friday sales aren't only about gifts. There's no harm in picking up a few things for yourself while you're checking off your holiday shopping list - especially with discounts like the ones Kohl's is offering. Right now, all Nine West women's turtleneck sweaters are marked down!
Some of the cutest styles include this Nine West Zebra Print Sweater ($24.99, down from $50) in gray and black with slightly ballooned sleeves that you know you'll wear all winter long, or this cozy knit Nine West Turtleneck Sweater ($28.99, down from $58) with a relaxed fit in red. It's cold outside and just going to get colder. We think you need these sweaters.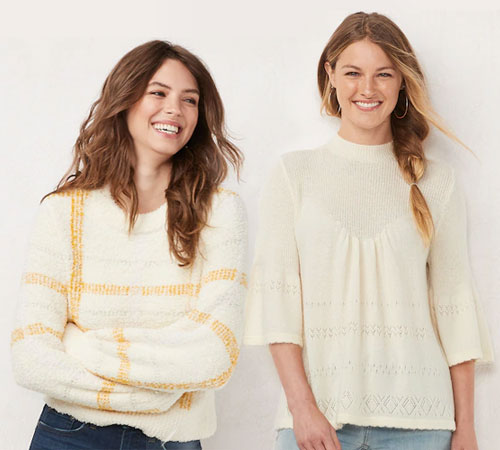 LC Lauren Conrad Pullovers
If turtlenecks aren't really your thing, Kohl's has another sweater option that might pique your interest. You can get warm, cozy pullover sweaters from Lauren Conrad for the same deal - marked down to $36.99 from an original price tag of $50. We love this LC Lauren Conrad Mockneck Sweater ($36.99, down from $50) for its cute feminine silhouette with bell sleeves and soft yet intricate detailing in the knit, as well as this fuzzy LC Lauren Conrad Blouson-Sleeve Sweater ($36.99, down from $50) with a soft sherpa construction and long blouson sleeves.
Unbelievably Low-Priced Sweaters
On top of the super cute and incredibly well-priced sweaters Kohl's is selling right now from Lauren Conrad and Nine West, you can find other styles for even less! We love this Apt. 9 Fuzzy Cowlneck Tunic, and not just because it is marked down to just $9.99 right now.
Originally priced at $36, this cozy sweater comes in a bunch of colors like gray, mauve, champagne, red and black, and it's made from a super soft fuzzy sweater-knit construction. Our suggestion? Stock up on as many colors of this style as you can while the price is this low!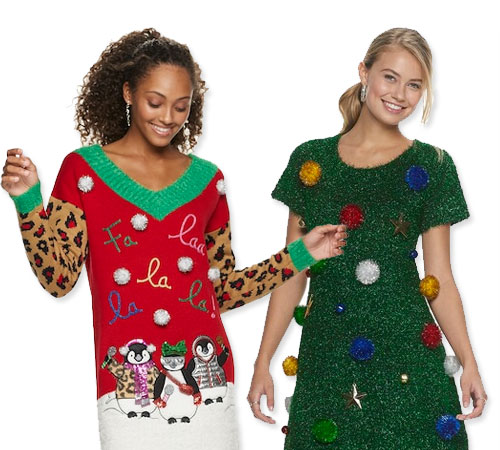 Ugly Christmas Dresses
Your Christmas Day look is complete for almost 50% off! Kohl's is offering ugly Christmas sweaters and dresses like this Tinsel Tree Dress ($21.99, down from $48) or this V-Neck Penguin Tunic ($23.99, down from $44) for half off. Okay, so it is only the Christmas dresses in juniors sizing that is on sale right now, but that doesn't mean you can't shop them. You can easily convert your size from womens to juniors by checking out Kohl's sizing chart here. Plus, these dresses make an excellent, affordable gift for a daughter, niece, cousin, younger sister… really anyone.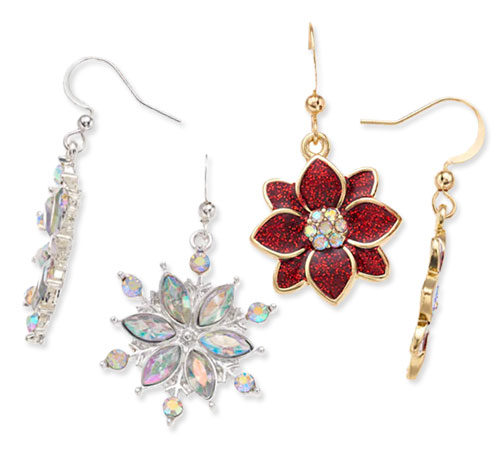 Holiday Earrings
And finally, no festive look is complete without a pair of holiday earrings to top it off. Okay, okay, so holiday earrings aren't as much of a seasonal staple as your classic Ugly Christmas Sweater, but at these prices, we think they deserve to be. Holiday jewelry is 50% off at Kohl's right now!
So that means you can get these Simulated Crystal Snowflake Drop Earrings ($5.60, down from $14) for just $7. Imagine how cute they'll look against a white sweater dress and trendy ankle boots! Or how about this pair of Poinsettia Drop Earrings ($4, down from $10)? At just $6, they are the perfect way to bring your favorite festive flower into your holiday outfits. Not to mention what great stocking stuffers these earrings are!
Keep checking SheFinds throughout the month for more amazing Black Friday sales and deals!
SheFinds receives commissions for purchases made through the links in this post.