Everyone always tells us to dress for our age, but we're rarely ever encouraged to dress for the age we feel. There are no limits when it comes to your wardrobe and many women fail to realize that they're entitled to wear the clothes they want to, regardless of their age.
In fact, embracing today's fashion trends is an excellent way to keep your wardrobe up to date and help you look younger. Now, that doesn't mean that you have to go overboard with crop tops and live in crazy distressed jeans. But, just remember that you're allowed to wear whatever you want! "It's important that you try and dress younger, not like your children or grandchildren," Jack Prenter, founder of style website knownman.com, tells InStyle. He also suggests establishing a signature style that won't get dated and fill it with timeless pieces.
Outfit Tricks To Look 5 Years Younger
If you think your wardrobe could use a youthful makeover, try these SheFinds-approved outfit tricks. Trust us, they'll make you look as good as you feel!
1. Embrace Colors & Patterns
We all have black pieces that we love, but stylists say that the popular and versatile color can actually make you look older. Replace your go-to black top, dress, or pants with browns and grays, which Dina Scherer, wardrobe stylist and owner of Modnitsa Styling says are both slimming and neutral and eliminates "that intensity that ages you and makes you a bit more strict." She also encourages women to embrace a brighter color palette by wearing bright-colored accessories like scarves, necklaces, and broaches near your face, which she says highlight your features and make you look fresh-faced. The same goes for patterns! "If you're wearing patterns to increase your youthfulness, I recommend more curved ones that are on the brighter or more colorful side, versus two-toned," Scherer explains.
2. Find A Good Bra
Never underestimate the power of a good bra. It will elevate your chest to a higher altitude, giving you a longer, slimmer-looking waist, which both will help you look younger. We suggest getting a professional bra fitting to make sure you're choosing the perfect-fitting bra.
3. Show Some Skin
Show off that hot bod by choosing pieces that don't hide your figure. "Sometimes women are aware of veins and the way their legs have perhaps aged or feel self-conscious that they are not tan enough," says Lauren Rothman, fashion stylist and author of Style Bible: What to Wear to Work. If this is something you're insecure about, take Rothman's advice and stop worrying about it! Try a shorter skirt, wear a cute tank top, choose that cute dress with the cold shoulders–just make sure you're prepping your skin with a good moisturizer to add some smoothness. And, hey, there's always body makeup if you need it!
4. Opt For Cropped Pants
If showing off your legs is still a no-go, then cropped pants and trousers are for you.  "As we age, we're so consumed with how many parts of our body we feel like we have to cover up, but a few don't need to be covered," Rothman says. "Elongating the leg a bit with that cropped pant is very flattering and sexy, and it's a part of your body that doesn't tend to show age." If jeans aren't your style, this works for any type of pant. Think skinny ankle pants, cropped styles, and culottes instead. "A pull-on pant can be very flattering and is not as dated as it once was," she says. "At this point, it's so stylish that they come in all silhouettes."
5. Add Some Height With Heels
Shorter pant legs also give you the opportunity to show off your shoes. An easy way to look younger and more stylish is by throwing on a cute pair of heels. Thankfully, more and more brands are embracing the block heel trend, which makes walking in heels so much easier and so much more comfortable. "It's still age-appropriate to wear heels," Rothman says. "The perfect level of style is when there's some comfort in there."
Now that you've got these tricks memorized, check out some cool, new clothes and accessories that will look amazing on you: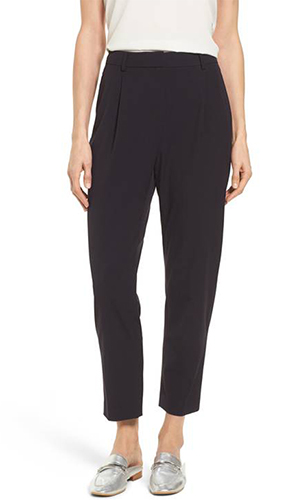 Halogen® Relaxed Ankle Pants ($47.40, originally $79.00)
Marc Fisher LTD Zala Pump ($159.95)
Wacoal Finesse Molded Underwire T-Shirt Bra ($39.00, originally $65.00)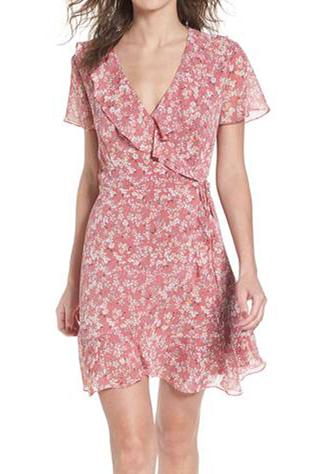 Lush Colie Ruffle Wrap Dress ($49.00)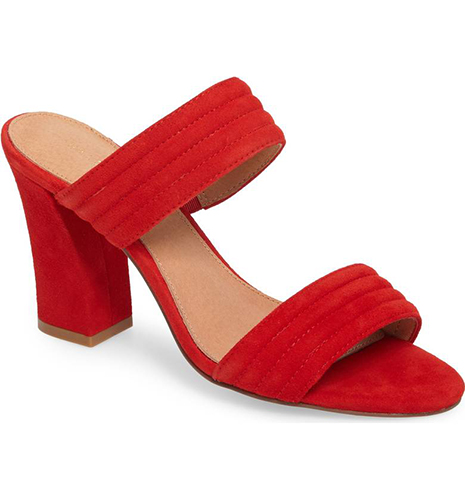 Halogen Della Slide Sandal ($89.95)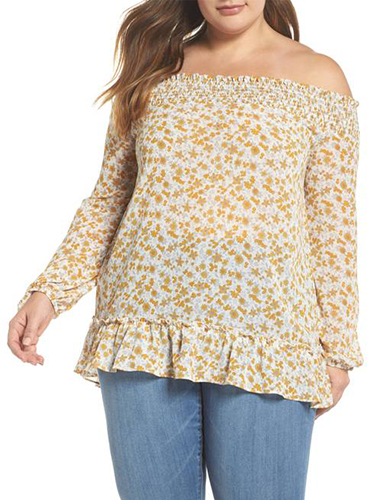 Glamorous Floral Back Tie Off the Shoulder Blouse ($79.00)
Frame Le Garçon Crop Boyfriend Jeans ($225.00)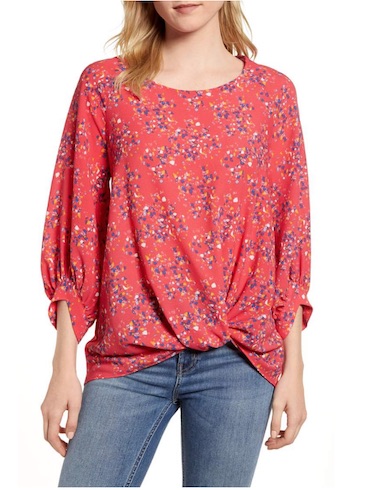 Gibson x Living in Yellow Maggie Twist Hem Top ($48.00)
Eliza J Floral A-Line Skirt ($168.00)
SheFinds receives commissions for purchases made through the links in this post.