Take-out is easy. It feels good. And then you notice your jeans don't fit quite so well anymore. Ordering food means you can't control the amount of carbs, salt, fats and processed ingredients. Get your body back on track with a week's worth of low-carb, anti-inflammatory meals…cooked by you! Not everyone feels at ease in the kitchen so ask a friend to help We think once you have a well-cooked meal under you belt you'll be back at the stove in no time.
Meaty Quinoa Cabbage Rolls, Abbey's Kitchen
We crave burgers, like every night. Nothing can actually replace biting into a perfectly medium-rare patty, but eating a ton of red meat is not super healthy. Lean beef and turkey are figure-friendly, anti-inflammatory proteins that can satisfy cravings for a hearty meat sandwich. Quinoa is a carb (a good one that gets processed slowly) but also a complete protein that won't cause a spike and drop in blood sugar. Put them together cabbage leaves to take the place of gluten-packed bread – ingenious!
Green Tea Latte Overnight Oats, Mindy Body Green
Do you need incentive to wake up? Same. Oatmeal has been shown over and over to offer protein, fiber and good carbs. That's a spectacular way to start the say. But oatmeal can get boooring. This recipe for overnight oats is pretty radical: it has spinach. Don't stop reading! If you're not into leafy greens this is a food way to get the anti-inflammatory effects without eating salad after salad after salad. Green tea, chia seeds and almond milk round out the anti-inflammatory ingredients.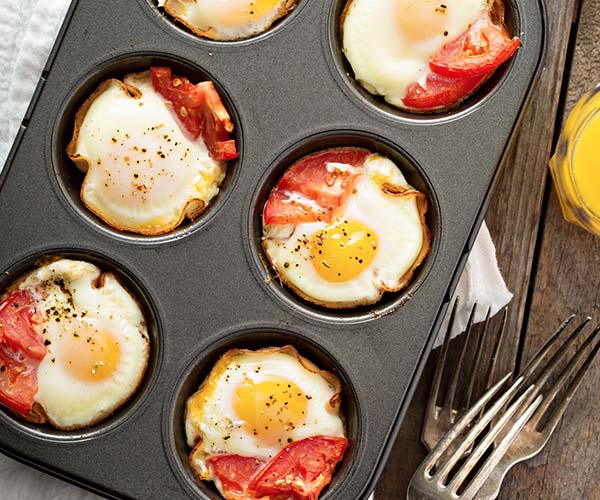 Egg Muffin Cups, Show Me The Yummy
We love to cook meals once and eat them for days. These eggs cups from Show Me The Yummy are the perfect fit. Prep a muffin tin with some no-stick spray. Next dream up your favorite veggie combo or just riffle through the fridge and see what you have hanging around. Today it might be kale, chickpeas, barley, broccoli, and sweet potato. Tomorrow it's spinach with cheddar cheese, mushrooms and dried tomatoes. Sautee the ingredients in a large pan and put it aside. Whisk up a load of anti-inflammatory eggs in a large bowl and pour the veggies in. This way you can make sure everything is evenly distributed when you fill the muffin pan. Keep extras in the fridge. An egg muffin and an apple make a nice afternoon snack.
Maple Mustard Salmon & Broccoli, The Gourmet RD
Calling all reluctant cooks! This recipe has only 4 ingredients. You will not get flustered and you will not forget to add anything. Anyone can make this meal. We're always happy to find new ideas for salmon. "Salmon helps your body burn off fat rather than store it," says Andrea Wise, a Chicago-based nutrition coach. The omega-3 fatty acids in salmon are healthy fats that directly inhibit inflammation. Salmon also provides you vitamin D. Studies show that low levels of vitamin D have been linked to retaining fat instead of burning fat. Wild salmon has more omega-3s than farmed so choose wisely.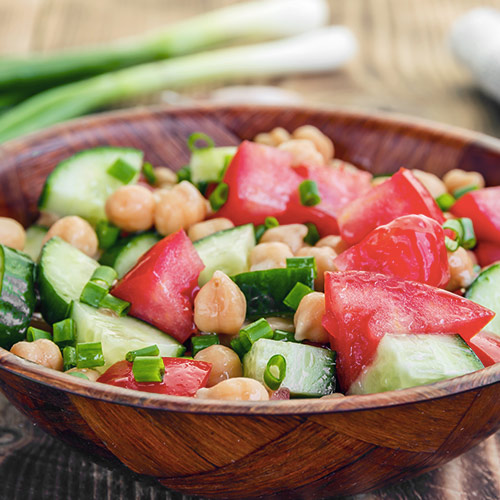 Mediterranean Chickpea Tuna Salad, The Gourmet RD
There is no one right way to make this salad. The chickpeas and tuna won't mind if you stray from the recipe – just make sure they remain. "Chickpeas are pulses, plant-based proteins that fill you up, help keep you regular and even help reduce cholesterol thanks to soluble fiber," says Rachel Swanson, a RDN at Lifespan Medicine. Research shows that people who eat pulses can experience significant weight loss even if they don't stick to a diet of restricted calories. The canned tuna delivers anti-inflammatory omega-3s and a hearty amount of protein. Pssst...add a few slices of red onions or a pickle cut into matchsticks.
[Photos: Shutterstock]