If you're looking to add some pep to your step, you can upgrade your sneaker game with this iconic shoe collection coming your way: the MAC X Puma Sneaker Collection launched today! Finally, you can match your shoes with a few of your favorite MAC Cosmetics lipsticks to create the looks of your modern athleisure dreams.
This fusion of fashion and beauty is literally going to change the game. You're going to want to know just about everything there is on these shoes before fellow hype-baes and sneakerheads get to them. And luckily for you, we're ready to kiss and tell: we're spilling all of the steamy tea there is to know about this legendary collaboration.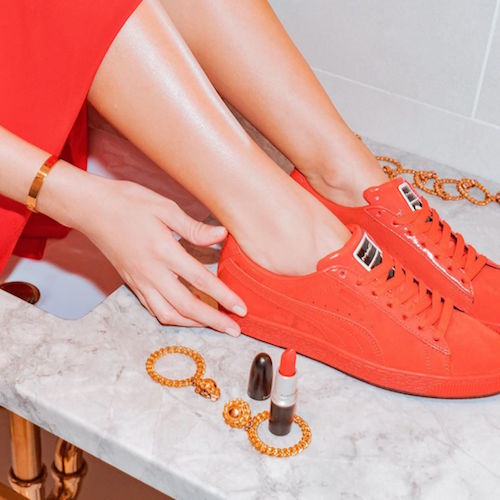 Our favorite beauty brands, MAC Cosmetics, is joining forces with the legendary athletics and leisure brand, Puma, to create shoes that take the concept of aesthetic to a whole new level. Now, you can pucker up with some of your favorite MAC Cosmetic shades while rockin' some matching kicks in this special edition line.
Currently, the line is launching with three shoes in flamin' hot colors inspired by some of MAC Cosmetic's fan-favorite lipstick shades. Chances are, you've definitely worn one of these shades before, so we bet you're pretty pumped to strut in the streets in these new style staples.
[Photo: Instagram]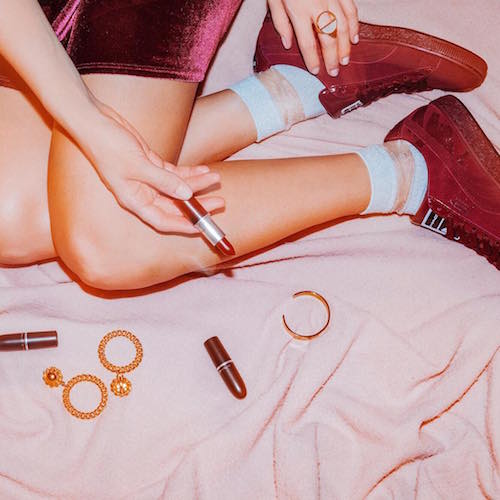 Starting today, you'll be able to rock your favorite lipstick shades from head to toe. Each pair is currently retailing at $85, and they're currently only sold in America. If you thought you could run to your nearest shoe store to grab a pair, you're out of luck, because these shoes are exclusively available on the Puma website and very select Puma stores only.
While this is a permanent collection, we're betting that the collection's launch will sell out within minutes of releasing. So, keep your credit cards whipped out and in hand because you're not going to want to miss this groundbreaking sneaker launch.
[Photo: Instagram]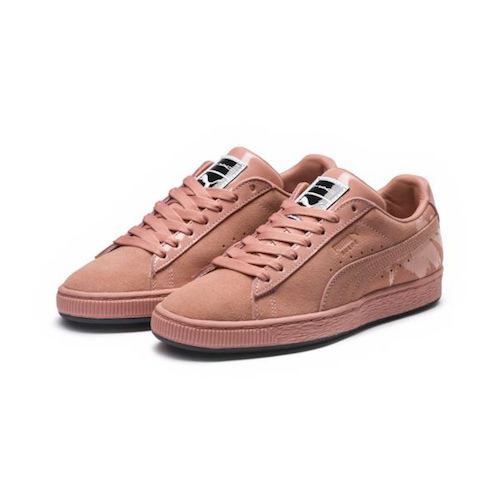 PUMA x MAC ONE Crème De Nude Women's Suede ($85)
Chances are, you're probably familiar with MAC Cosmetic's most popular shades. While we're still tapping our toes and waiting for a Ruby Woo sneaker, the brands teamed together to style Puma's classic suede sneakers with three of MAC's ultra-pigmented lipstick shades. You'll be able to purchase these shoes in the classic beige-pink Crème d'Nude, fiery red Lady Danger, or the deep plump-red shade known as Sin.
We know you probably have these shades stocked up in your beauty drawer, so we're pretty hyped to be able to add them to our shoe closet. These shades are the perfect addition to your summer lounge wardrobe, so you definitely want to grab a pair before they're gone.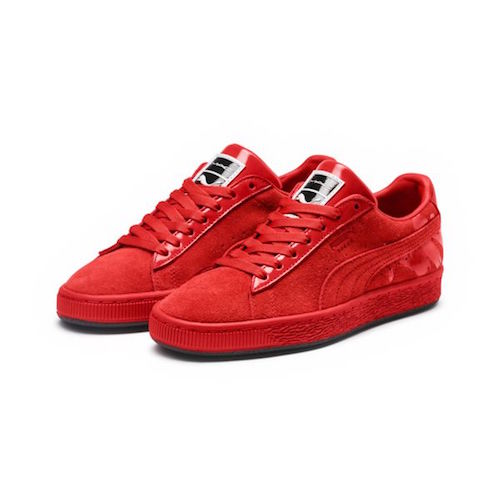 PUMA x MAC TWO Lady Danger Women's Suedes ($85)
Getting a little deja vu with this sneaker style? It's because these sneakers are designed in Puma's signature low-cut style detailed with the Puma logo on the side, that way everyone knows your rockin' two of your favorite brands in one.
These shoes are the perfect way to incorporate fashion and beauty into your style, making you the chicest girl on the block. Take on the night like the phenomenal woman you are in the bright Lady Danger sneakers or stay chill and luxe with the Crème d'Nude shoes on your feet, either way you'll be the baddest gal in the style game with these cool kicks.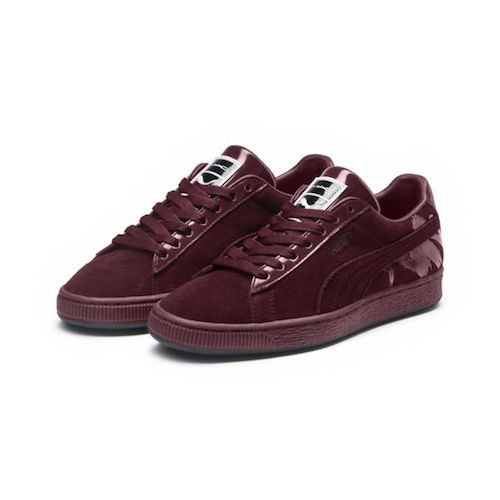 PUMA x MAC THREE Sin Women's Suedes ($85)
This isn't the only thing up the MAC Cosmetics sleeve right now. They recently just announced a new collaboration project with high-fashion icon, Caro Daur, that includes a brand-spankin' new product: the Oh, Sweetie Lipcolour. This is no ordinary lip product. It stands out from the crowd with its intense, opaque hues while having a light mousse-like texture on your lips.
The collection is inspired by the sweet treats you've known and loved, like sugar cookies and banana muffins, so they'll definitely satisfy your color cravings. The new product line contains 15 delectable shades that will turn your lips into the ultimate eye candy and will be available on June 11 in MAC Cosmetics stores and MAC's website.
MAC Cosmetics isn't the only brand that's been busy working on new collabs. In celebration of their iconic suede sneakers, Puma has been collaborating with tons of brands and designers to give this timeless shoe a modern twist. Other than MAC, their most recent collab has been with luxury travel and accessories brand, MCM, and we're shook to the core from these shoes, to say the least. MCM reimagined the suede and fused luxury high-fashion with the signature shoe, morphing MCM's classic emblem detail with Puma's fan-favorite shoe. The Puma X MCM collaboration pays tribute to the early days of hip-hop, which was also a huge time for the athletic brand. The result: a shoe that refreshes the style of yesteryear with today's most influential looks.
This collaboration will be released on May 24, and will include two sneaker styles (one with MCM's classic tan leather, and the other featuring a red-blue multicolor colorway), and a tracksuit set.
SheFinds receives commissions for purchases made through the links in this post.