If you were to look up #GirlBoss in the dictionary, we're almost positive a picture of Miley Cyrus would be prominently on display. From releasing top-scoring album "SHE IS COMING," to headlining top music festivals across the world, the 26-year-old pop sensation was on fire in 2019. (At least, career-wise–she did face the break-ups of her marriage to Liam Hemsworth and post-divorce fling with Kaitlynn Carter).
As we enjoy watching her crush 2019 with her powerful lyrics and wild persona, she's also serving major Halloween costume inspo as well. Here are three iconic Miley Cyrus 2019 looks to recreate for the holiday: her Glastonbury performance, the "Mother's Daughter" music video suit, and her ensemble from her TV show appearance in "Black Mirror." Without further ado: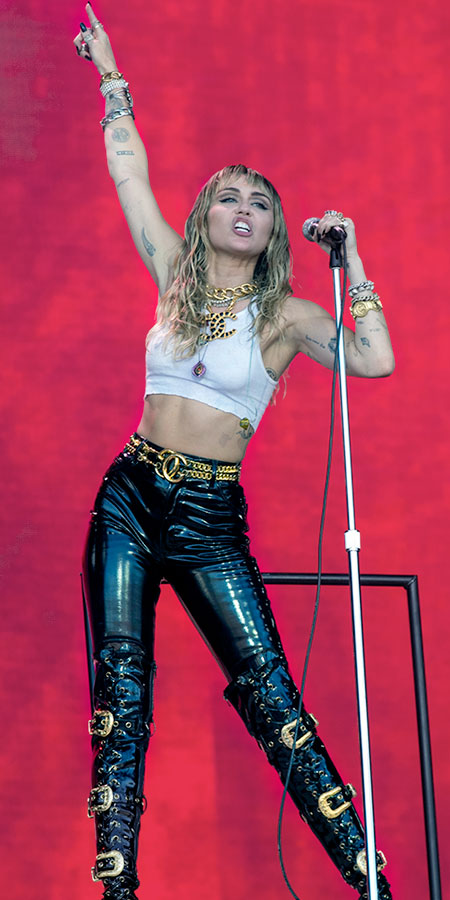 Splash News
Live at Glastonbury
Whether she's singing pop, country, or good ole' rock and roll, Miley Cyrus sure does know how to put on a show. Her most iconic concert in 2019 was her apperance at UK's very own Glastonbury Music Festival. Taking over Instagram feeds and magazine publications everywhere, is her iconic look from her time on stage. What we love most about her ensemble, is the raw edge, style, and personality it conveys. Believe it or not, recreating this look for Halloween is completely attainable, and we're going to give you all the tools to do so!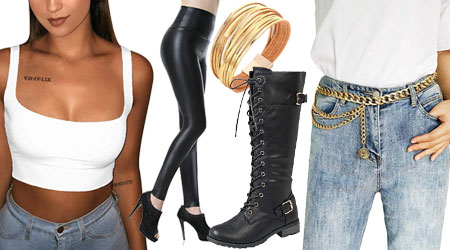 Amazon
Products to Recreate the Glastonbury Look
What is there not to love about the combination of a Women's Basic Crop Tank Top ($12.99), Faux Leather High Waisted Leggings ($15.99), stylish Knee High Combat Stacked Heel Boot ($18.70), and some bold accessories like this Wristband Braided Rope Cuff Bangle ($9.95) or a Metal Link Waist Chain Waist Belt ($13.99).
While it should come as no surprise that Miley Cyrus fills her wardrobe with couture designers like: Chanel and Gucci, we've proud of the outfit we put together! Not only is it a much more addordable variation to her Glastonbury look, it's full of items that can be used long after Halloween has come and gone.
Youtube.com/MileyCyrusVEVO
On Set of Mother's Daughter Music Video
It's been a while since we've seen the iconic red jumpsuit in a music video (Britney Spear's Opps I Did It Again video circa 2000). This time, the head to toe faux leather suit is seen on the latest pop star, Miley Cyrus. Paired with a catchy tune, this ultimate girl power anthem has been on the top of the charts since releasing earlier this year. Rock your passion for feminism by draping on the red power suit and accompanying accessories for this year's Halloween costume.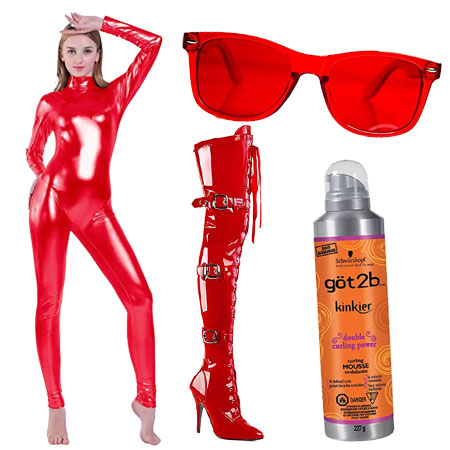 Amazon
Mother's Daughter Outfit Products
Along with the signature red Shiny Metallic Unitard ($17.99), there are a few more staple accessories you'll need to complete the Mother's Daughter music video look. First, the red Thigh High Boots ($85.95) come in patent and are as sleek and shiny as a slip-n-slide covered in baby oil. Next, the red GloFX Color Therapy Glasses ($9.97). Between the visor cover and sunglasses featured in the video, we opted for the latter. Not only are they versatile and can be worn outside of Halloween, they're easier to carry with you throughout the holiday's festivities. Finally, the Got2b Kinkier Curling Mousse ($4.78), there's no way to rock Miley's music video look without the scrunched and wet-looking curls.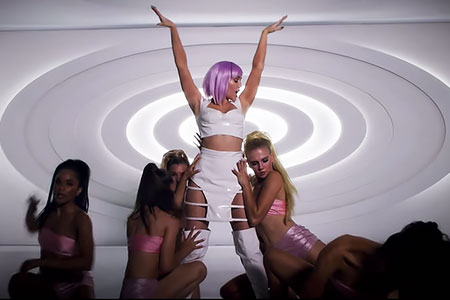 Youtube.com/MileyCyrusVEVO
Miley Cyrus as Ashley O
Miley Cyrus wearing a wig and singing pop songs on a TV show (that ISN'T "Hannah Montana"), Can this be true? As weird as it sounds, this is accurate. Earlier this year, and episode of Netflix's "Black Mirror" released staring Miley Cyrus. In the episode her character plays pop music icon Ashley O. Aside from the strange drama and plot twist that normally accompany a "Black Mirror" episode, we couldn't help but notice how fun and stylish her character's look was. For this outfit, we've put together various products to recreate her wardrobe from the show's accompanying music video: On A Roll.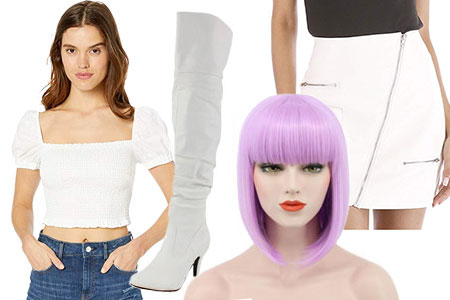 LOOK 1: White Leather
Everything from the boots, skirt, and top in Ashley O's music video are clean white and contrast dramatically with the character's cotton candy, pink wig. While we can't provide you with the dance moves, we have the perfect recommendation of products you need to recreate the all-white ensemble to wear to any Halloween party.
The most important factor in recreating Ashley O, is the signature pink wig. Try this Pink Halographic Wig ($17.66)
Next is the white top, for an awesome tee-dupe, try this White Sweetheart Necklace Tee ($65.07). *Bonus, you can wear it anytime of the year.
Just like the shirt making its way as your closet staple, what we love about this White Leather Skirt ($9.99), is how much it fits in our budget!
Last but not least, you can't be Ashley O without these White Knee-High Boots ($14.10), just wear some blister blockers and comfy socks!
Whether you decide to mimic Miley Cyrus this halloween, or go a different direction (with one of the many trending halloween costumes of 2019 at SheFinds.com, remember to have fun, embrace your personality, and get creative!
SheFinds receives commissions for purchases made through the links in this post.