"Hot Girl Summer" is not only a hit single by Megan Thee Stallion featuring Nicki Minaj, it also became one of the biggest social media phenomenons of the season, and really, is a motto to live by if you ask us. If you were feeling the feels because the hot girl time was coming to an end, have no fear because we're calling it now: Hot Girl Halloween is just around the corner. And we have the Cardi B, Ariana Grande and Nicki Minaj video looks to prove it:
What Is Hot Girl Summer?
For anyone who needs a quick breakdown on what hot girl summer is all about, here's what you've missed: the saying first took Twitter by storm this summer and just about everyone you know vowed to live their best "hot girl" lives. We don't blame them– who doesn't want to feel and look like their best self? If that wasn't enough, Megan Thee Stallion and Nicki Minaj then gave us the anthem we needed and nothing has been the same since then.
Hot Girl Halloween
It's no secret that fall is quickly approaching, but we're not quite ready to say goodbye to hot girl summer just yet. The good news is that hot girl Halloween has arrived and it's here to stay. All you need to do to prep for Oct. 31 is get some inspiration from Nicki Minaj's style in her most recent music videos to create a fiery DIY costume.
How To DIY Nicki Minaj's Music Video Looks 
Some of Nicki's best music videos this year are for both solo songs and collaborations with other artists. Fan favorite music video looks include her styles in "Megatron," "Hard White," "Wobble Up," and of course we can't forget "Hot Girl Summer." All of Nicki's outfits in each video have their own unique vibe, so there's definitely a Halloween costume suited for you this year. We've got you covered from cozy faux fur to bold animal print DIY costumes. Here's how to make them: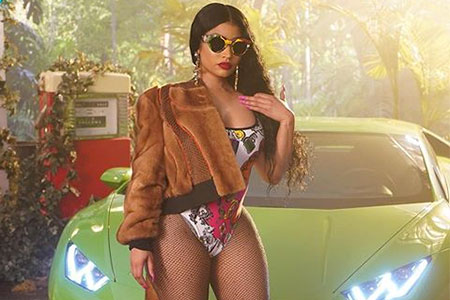 Youtube/NickiMinaj
1. 'Megatron' Music Video
Nicki has many different looks in her most recent music video "Megatron" but our favorite is the bodysuit and fur jacket combo she wears. You will need just four pieces to DIY your own "Megatron" costume.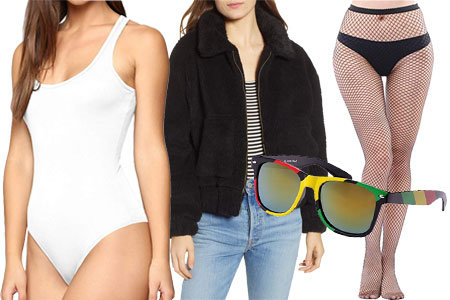 How to DIY it:
For starters, grab a basic bodysuit. We suggest pairing this white untyhots Women's Sexy Scoop Neck Racerback Tank Top Basic Bodysuits Jumpsuits ($10.99) with this Thread & Supply Northy Faux Fur Jacket ($69.00). Don't forget, you can for sure keep this cozy jacket in your wardrobe long after Halloween is over. Next, you need to grab some accessories to complete your DIY. How about Chic-Net sunglasses red yellow green Rasta Stripes Nerdbrille mirror 400 UV Wayfarer ($13.95) dupe for Nicki's shades and WEANMIX Lace Patterned Tights Fishnet Stockings Pattern Pantyhose ($6.59).
YouTube/MeganTheeStallion
2. 'Hot Girl Summer' Music Video
Find a bestie and recreate Nicki's and Megan Thee Stallion's bold animal print styles from their "Hot Girl Summer" music video. Pick a bright animal print of your choosing & pair it with a wig for Queen Barbie's fiery red hair.
How to DIY it:
You can easily copy Nicki's "Hot Girl Summer" style with a few affordable items: iHeartRaves Women's Sheer Mesh Cutout Rave Festival Dress ($21.95), Fani 22" Long Straight Red Wigs for Women Natural Hairline Middle Part Synthetic Wig ($16.99), JOTW Crowned Queen Pendant with a 20 Inch Adjustable Cuban Chain Necklace ($12.98), Zebra stripes - Shades of Lime Green Athletic Headband ($16.70). You'll have the best hot girl Halloween in no time.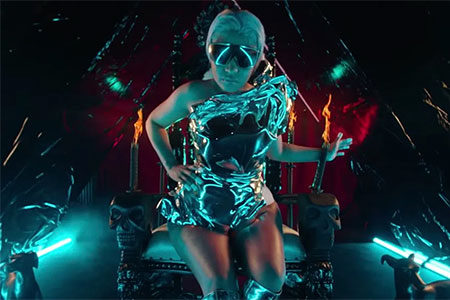 Youtube/NickiMinaj
3. 'Hard White' Music Video
Another one of our favorite Nicki looks is her silver reflective dress in her "Hard White" music video. This futuristic costume is sure to be a hit this Halloween. We even found the perfect metallic dress dupe from Amazon!
How to DIY it:
Lucky you, each item for this DIY "Hard White" costume is from Amazon. Pair this Whoinshop Women's Metallic Sexy Draped Front Long Sleeve Bodycon Party Mini Dress ($39.99) with these Cr Mini-80 Baggy Pointy Toe Stiletto Heel Thigh Over Knee Metallic Mirror Boots ($46.37). Also remember to order JIASLY Blonde wig For Women Synthetic Hair Long Straight Wigs Free Wig Cap 24 Inches ($17.99) to get the perfect bleach blonde Nicki hair.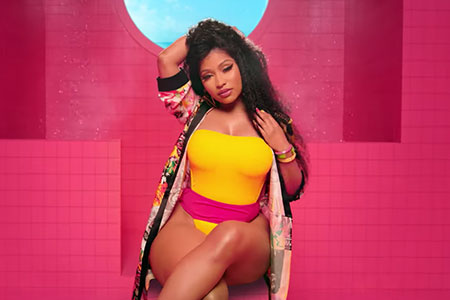 YouTube/ChrisBrownTV
4. 'Wobble Up' Music Video
If you're looking for a costume that's more bright and colorful than the "Hard White" costume then turn to Nicki's style in her feature on Chris Brown's music video "Wobble Up." You can easily complete this fun DIY with just three affordable pieces.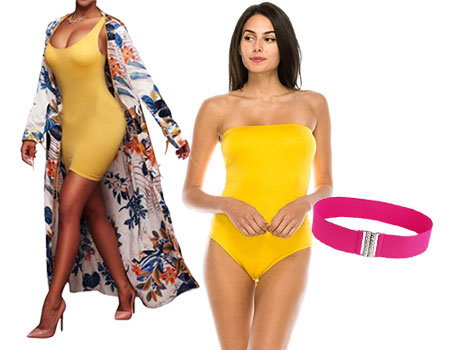 How to DIY it:
We've found some of the perfect dupes to Nicki's outfit in the "Wobble Up" music video. This CNC STYLE Women Solid Sleeveless Stretch Bandeau Boob Tube Top Bodysuit Leotard Top ($15.25) is a dupe to Nicki's yellow bodysuit. Next, you can complete this DIY costume for around $50 by pairing the bodysuit with this Modeway Womens Wide Silver Buckle Stretch Elastic Cinch Waist Belt ($9.99) and this LUKYCILD Women Open Front Floral Print Long Kimono Cardigan Coat ($27.99).
SheFinds receives commissions for purchases made through the links in this post.