Subtle is not the word anyone would use to describe Cardi B's fashion sense. The Queen of Rap pushes the boundaries of fashion and creates art much like Lady Gaga did when she emerged onto the pop scene in 2008. Nevertheless, she's got plenty of looks to inspire Halloween costumes this year.
Cardi B has been making moves since 2015 when she starred in the sixth season of "Love and Hip Hop: New York." She was first publicly recognized for her music when she was nominated for BET's Music Awards Best New Artist in 2017. Even though she did not win, the rest of the world took notice and she took the world by storm! 2019 was a huge year for the artist, with new videos for "Press" and "Please Me," and monster award show trophies, like a win for "Best Hip Hop Album" at the VMA's and "Abum Of The Year" at the BET Awards. Her "Bardigang" fan base is bigger than ever before!
Feeling Cardi B for your next Halloween look but don't have those Cardi B dollars? Look no further than these Cardi B inspired alternatives:
1. 'Press' Floral Outfit

Skrrrrrrr! Ms. Cardi B made her debut as a director in her music video for single "Press" and jaws dropped. The fashion was pure fire–who gonna check me boo? Message received loud and clear. She released the video a day her real-life court appearance for the alleged altercation in a strip club. Coincidence? We hear you queen and we are here for it.
While she was mostly "naked" in the video, she donned a white Viktor & Rolf pantsuit embellished with a huge ruffle and bling as well as a head to toe Edda Gimnes floral jacket and thigh-high boots and printed headscarf. These designer names out of your price range? No worries–we've got you covered. Here's how to DIY a Cardi B "Press" two inspired outfit for Halloween.
How to DIY It:
Get your head to toe floral ensemble in one piece with this sexy Venus Palm print jumpsuit ($39.99). Pair it with your confidence and be unstoppable! Can't find a matching floral print for the headscarf? No worries. It's all about tones. Wear this Elegant Large Silk Feel Solid Color Satin Square Scarf Wrap ($4.99) to achieve the same look. Not feeling the jumpsuit but want to get in on this look? Pair this Allegra K Women's Stand Collar Zip Up Floral Prints Bomber Jacket ($28.99) with some coordinating leggings to get that Cardi B "Press" feel. Don't forget the YOUR SMILE Silk Feeling Scarf Women's Fashion Pattern & Solid Color Large Square Satin Headscarf ($6.99) to match. Finish off your head to toe floral look with these Pop Fashionwear Womens Fashion Circle Round Jackie O Bold Chic Sunglasses P547 ($9.99). The whole look is classic, vintage, and a warning to others to stay in their lane.
2. 'Press' Orange Jumpsuit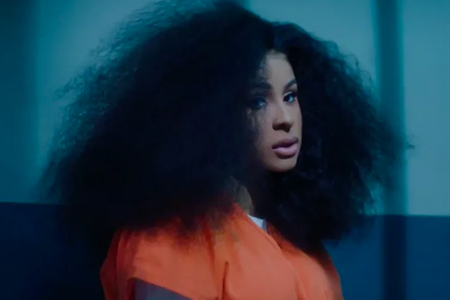 This easy-peasy "Press" inspired costume is the infamous orange jail uniform. How will you distinguish this inmate outfit from a character from "Orange is the New Black"? Wear it with stiletto nails and a dark lippy!
How to DIY It:
One of Cardi B's signature looks is her signature stiletto nails that scream "come at bro"! No thanks. But these Edary False Nails Gothic Full Cover Glossy Fake Nails Shape Nails Sharp Art 24Pcs Stiletto Nail ($9.77)  will add the Cardi B essence to your look. Get this ready to go Orange Prisoner Costume ($19.99) plus a Sivvan Women's Comfort Long Sleeve T-Shirt/Underscrub Tee ($4.99) to finish off the costume.
3. 'I Like It' Yellow Dress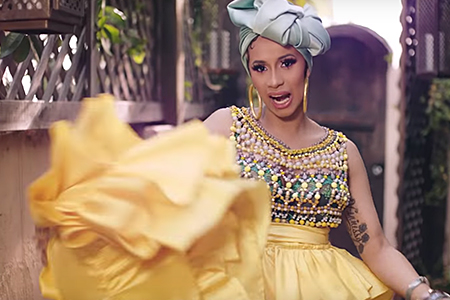 I like it that. We do too Cardi! How about a Cardi B throwback to 2018's "I Like It" video? Cardi B was working that gorgeous hi-lo ruffle skirt. What a spicy mami! Her headwrap game is so strong, she made it mainstream and trendy.
How to DIY It:
This WDIRARA Women's Solid High Waist Tiered Layered Ruffle A-Line Skirt ($21.99) or Alex sweet Adjustable Ruffle High Low Gothic Skirt Plus Size Steampunk Corset Skirt Long Dress ($16.96) will give you that Cardi B flavor and you can re-use it for a totally different look. Pair with a super cute UO Beach Front Crochet Cropped Cami ($9.99, down from $39) and a Bellonesc Silk Scarf 100% silk Long Lightweight Sunscreen Shawls ($14.99) to finish it off. Don't know how to wrap your scarf? Fear not. There are endless tutorials on Youtube and Instagram–you cannot fail.
4. 'Bodak Yellow' PVC Outfit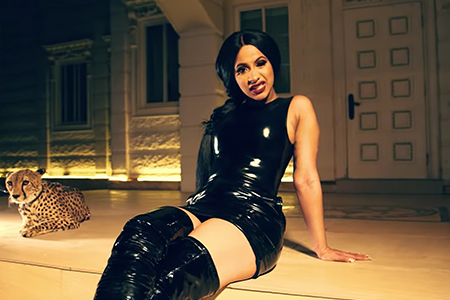 Remember when the "Bodak Yellow" single dropped?  Everyone was asking, "who is Cardi B?" Now you know. Get her head to toe leather look with these budget-friendly alternatives and slay all day or all night.
How to DIY It:

If Cardi B isn't sporting an amazing head wrap, she wearing her hair in styles that command attention. Fan favorites include her lob with bangs and the long and straight with a middle split. Don't have either? Cheat and use a OneDor Women's 14 Inch Straight Short Black Bob Wig with Hair Bangs ($9.99) or Kalyss 26 inches Women's Wig Long Straight Imported Synthetic Cosplay Costume Hair Wig ($18.99). For her sexy leather black dress and thigh-high boots, grab the UFV Women's Pu Leather Short Sleeve Bodycon Pencil Party Bandage Dress ($17.99) and pair with Delicious Women's Venga Faux Leather Over The Knee High Heel Boots ($39.95) to complete the look.
5. Everyday Cardi on Instagram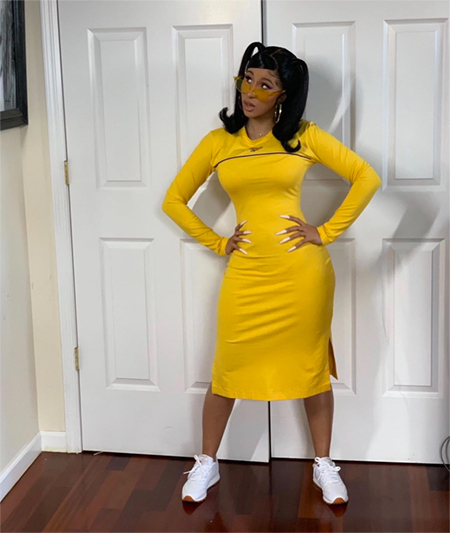 One of the best places to get style inspiration from Cardi B is her Instagram page! We love this simple look with the Cardi twist.
How to DIY It:
You cannot get the Reebok Classics Vector Hooded Dress ($70) in the U.S. but Reebok Classics Vector Dress ($50) will be super versatile in your everyday wardrobe. Try the hooded version, available in yellow, too. The Reebok Classic Leather ($75) is exactly that, classic! Plus, it's a great investment piece for under $100. Complete the look with OLINOWL Cat Eye Rimless Sunglasses Oversized One Piece Colored Transparent Eyewear Retro Eyeglasses ($6.99) and WOWSHOW 5mm Thick Flat Edge Gold Hoop Earrings ($10.99).
SheFinds receives commissions for purchases made through the links in this post.