Nina Agdal is making quite a splash in the modeling world. Representing some of the top brands like Victoria Secret and Billabong, and publications like Sports Illustrated, her presence is not only recognizable in the social sphere – but celebrated. The quirky personality of this 27 year old Danish model, is what fans and followers of her like best (and has even gained the attention from Actor, Leonardo Decaprio). So naturally, given her amazing confidence and sense of self, we can't wait to see which outfit this supermodel will rock next.
View this post on Instagram
For Agdal's New Years Celebration, she brought in 2020 with: ocean views, tan lines… and a little snorkeling. While her abs were in full display in some of her latest vacationing Instagram posts, we couldn't help but notice the incredible bikini bathing suit she was rocking! A cinched baby pink top, held up by small spaghetti straps and a matching mid-rise bikini bottom, looked beautiful against Agdal's tan and inspired us to seek the perfect look-a-like set.
We imagine Agdal paid a pretty penny for each matching piece, so we were on the hunt for an affordable and similar styled suit! And boy, were we in luck. For some inspired (similar) pieces, check out: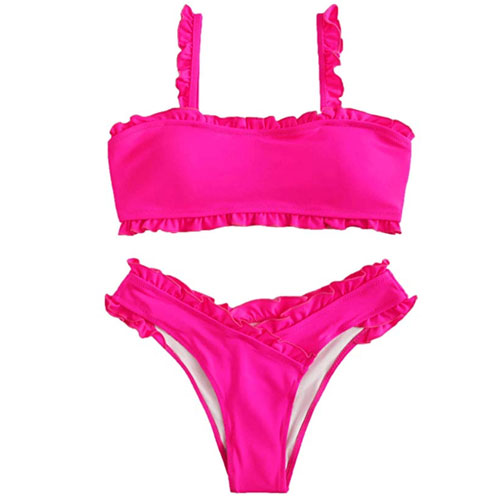 SweatyRocks Women's Bathing Suits Spaghetti Strap Ruffle Wrap Bikini Set Two Piece Swimsuits ($14.99)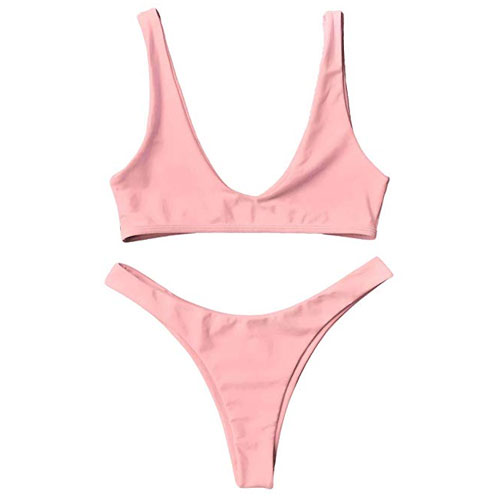 ZAFUL Swimsuit High Cut Cheeky Thong Bikini Scoop Neck Two Piece Bathing Suits ($15.99)
ZAFUL Women's Sexy Tie Shoulders Ribbed Bikini Set Padded Strap Triangle Swimsuit ($16.99)
ZAFUL Women's Strapless Solid Knot Details Two Pieces Bandeau Bikini Set ($17.99)