Move over Mia Wallace, there's a new Quentin Tarantino inspired Halloween costume about to take over this year thanks to Once Upon a Time In Hollywood's highly-anticipated debut earlier this summer: Sharon Tate.
The star-studded film features legends like Leonardo DiCaprio, Brad Pitt, Al Pacino, Dakota Fanning, and newcomer Sydney Sweeney, just to name a few, but it's Margot Robbie's performance that we can't get enough of! Between her uncanny resemblance to the late actress and her character's 60s-inspired wardrobe, we're sure that plenty of movie buffs are going to pay homage to Robbie's Tate this Halloween.
The Oscar nominee was able to embody Tate's classic mod-era style in the film and served up some iconic looks that we've been dying to recreate since we left the theater. Robbie suited up in groovy go-go boots and mini skirts, which were staples in Tate's wardrobe, and wore her golden locks straight to channel the effortlessly chic California girl aesthetic.
By grabbing just a few simple pieces, you'll be able to recreate the perfect Sharon Tate costume à la Margot Robbie's on-screen portrayal. It's like a costume within a costume, really!
Two Ways You Can Make A DIY Once Upon A Time In Hollywood Sharon Tate Halloween Costume: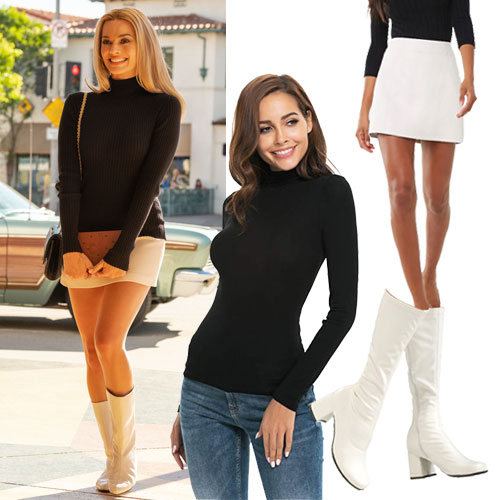 Courtesy of Sony Pictures
Look 1: The Movie Theater
The character of Sharon Tate first comes on the scene with this classic mod ensemble complete with a mini skirt, turtleneck, and go-go boots. It's the perfect Halloween costume that will be recognizable to any Once Upon A Time In Hollywood fan! Here's what you'll need for it:
Forever 21 Faux Leather Mini Skirt ($14, down from $19.99)
1. A White Mini Skirt
Nothing says 60s and 70s like a leather mini skirt! This white faux leather mini is the perfect piece for recreating Tate's outfit.
Wosalba Mock Turtleneck Crew Top ($20.99)
2. A Black Turtleneck
Of course, this mini skirt will need to be paired with a black turtleneck like Robbie wore as Tate. While you may already have a cable-knit turtleneck in your closet, this look requires a more curve-hugging thin material.
Secret Wishes Go-Go Boots ($26.16)
3. White Go-Go Boots
No Tate inspired ensemble is complete without a pair of calf-height go-go boots! These white ones have a low enough heel so you'll be comfortable and dancing all night.
Courtesy of Sony Pictures
Look 2: The Party
Another take on the look is this outfit Margot Robbie wore during a party scene in Once Upon A Time In Hollywood. If you're looking for a more skin-baring costume this Halloween, keep scrolling to shop the pieces you'll need!
Iliad USA Deep V-Neck Long Sleeve Fitted Surplice Wrap Crop Top ($14.99)
1. A Yellow Wrap Top
The 60s and 70s were all about wrap tops and bell sleeves. Recreate this iconic outfit from the film by opting for this flattering top.
Ci Sono Women's Pull On Elastic Waist Fit and Flare Buckle Accessory Pleated Shorts ($19.99)
2. High-Waisted Shorts
Here's hoping it's not too cold this Halloween, because authenticity calls for some skin-baring high-waist shorts to really nail the look! Pair these with the blouse for a two-piece coordinating set like Robbie wears in the film.
Secret Wishes Go-Go Boots ($32.93)
3. Black Go-Go Boots
Last but not least, another pair of go-go boots! This outfit from the film features black go-go boots so you'll want to snag a contrasting pair if you're going for the party scene. A low heel will keep things comfy, and really, these are cute enough to wear while out of character too.
SheFinds receives commissions for purchases made through the links in this post.