Very unexpected! Lena Dunham debuted a new underboob tattoo that is very reminiscent of the one Rihanna has.
The Girls star posted a photo of her new ink to Instagram with the caption, "Thank you @trinegrimm for my warrior's chest plate/tit chandelier. This is my first original piece by a female tattoo artist and it felt sacred and cool and she didn't chide me for copying @badgalriri's placement. If you're ever in Oslo, go meet this metal queen and let her handle your body."
So it looks like RiRi was part of the inspo for Dunham's tat! What do you think of it?
[Photo: Instagram]
Leave it to Lady Gaga to get a huge a** tattoo on her back. The singer showed off her new ink last weekend, which she got to commemorate her Grammy's duet with Metallic.
"The Moth & Metallica
Bella Hadid walked the Victoria's Secret Fashion Show for the first time in 2016, but it looks like she's officially an angel for life (sort of).
The model debuted her new tiny angel wing tattoos, one on each side of her right ankle, just days after her ex boyfriendThe Weeknd and Selena Gomez went public with their relationship.
What's interesting about her tattoo choice is that she and The Weeknd both appeared at the 2016 VS Show and even had a friendly exchange on the runway. So will she always be reminded of her ex when she looks at her ankle ink?
[Photo: Instagram]
Her tattoo artists shared photos to his Instagram of Hadid's tats, captioning one photo with the dove emoji and the other with the word "fly." So, do with that info what you want but there's still some meaning having to do with The Weeknd, no?
[Photo: Instagram]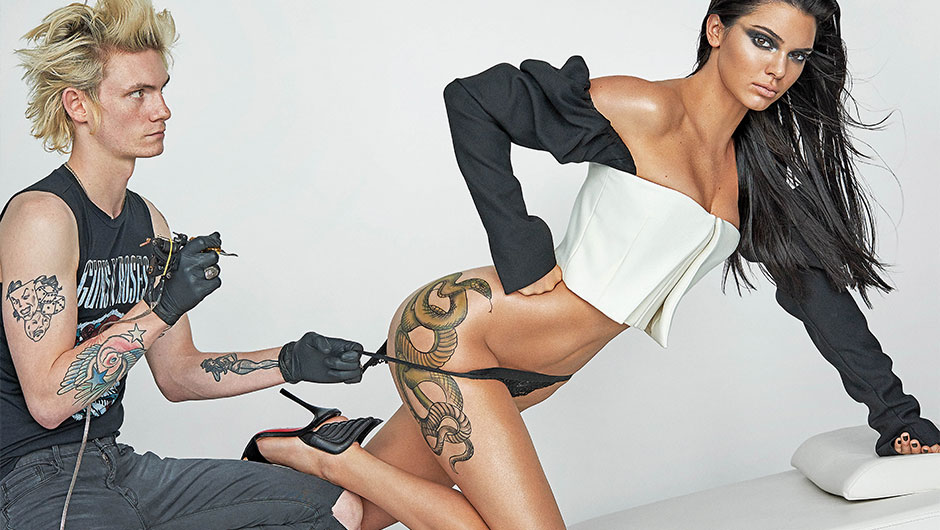 Kendall Jenner got a huge a** tattoo on her a** because this is what people do in 2017.
The 21-year-old model joins Joan Smalls, Amber Valletta, Lara Stone, Ellen Rosa, and Carolyn Murphy on multiple covers for V magazine's January issue, which is themed "eternalness of tattoos in an industry known for constant change." Hence, the massive snake tattoo on Kendall's thigh, which appears to continue onto her booty.
Don't worry, though, it's temporary. At least for now...
[Photo: V Magazine]
Kendall Jenner revealed to Allure that she got the word "Meow" tattooed inside her mouth. However, the magazine claimed the inner lower lip tattoo faded after the shoot.
Well, it looks like that was a lie. Or Kenny got a touch-up. We're going with the latter. Yesterday, celeb tattoo artist JonBoy posted this photo to Instagram of the supermodel's new ink. Yep, it looks like the bottom lip tat is definitely there to stay.
[Photo: Instagram]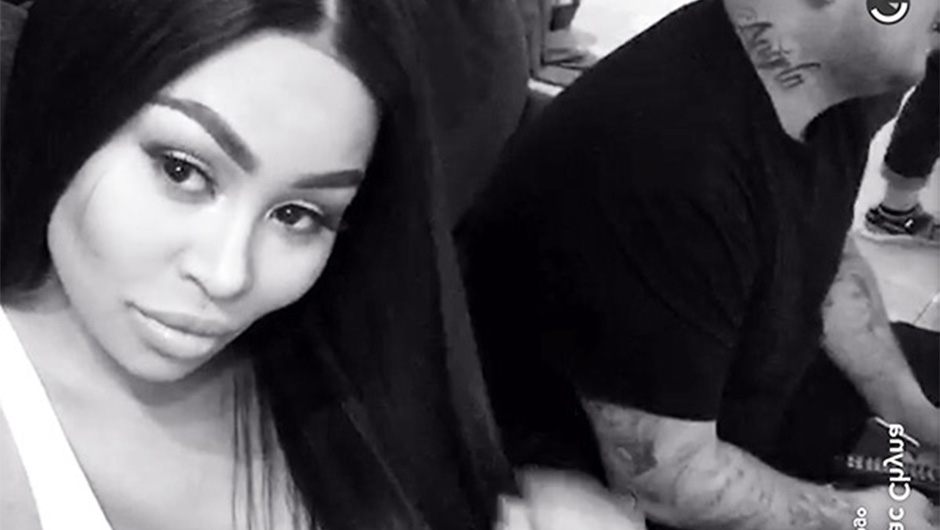 Rob Kardashian showed off his new neck tattoo on Blac Chyna's Snapchat, and it might be the name of their unborn child. It looks like he is not keeping up with the Kardashian tradition of "K" names. The tattoo reads "Aniyla." How pretty!
[Photo: Blac Chyna Snapchat]
Miley Cyrus is showing her affection for Liam Hemsworth in a whole new way. Tattoo artist Doctor Woo posted a photo to Instagram of Miley's new ink, "@mileycyrus don't play when it comes to #vegemite ? #halfneedle." If there is one thing we know about Australians, like Liam, it's that they love Vegemite. Also, Liam has been quoted multiple times declaring his fondness for the food.
In an interview with Aussie's Sunday Style, Liam received treats from his homeland and totally geeked out, "My Aussie mates in Malibu are going to love these! After-school Milo and Vegemite on toast. I lived on it." But if that's not enough evidence of his Vegemite fandom, there's also this quote from a 2010 interview, "Meat Pies and Vegemite. They don't really have meat pies in the states; they have hot chicken pies, not meat pies," he told an Australian site. "Vegemite, definitely, I had four bits of Vegemite toast this morning!"
OK, so that explains it, Miley definitely got this tattoo for her love.
[Photo: Instagram]
Justin Bieber got some new ink...on his face! The pop star debuted a tiny cross tattoo just below his right eye. His tattoo artists told Us, "Justin came in last night and decided on a small cross near the corner of his eye. It represents his journey in finding purpose with God."
Justin told GQ earlier this year that he would consider getting a face tattoo when he's, "really old, not super old, but maybe, like, forties or fifties or something." Guess he had a change of heart!
The Biebs currently has more than 50 tattoos, including a pair of wings on his back and cross on his chest.
[Photo: Instagram]
Womp womp. Miley Cyrus may have gotten a tattoo she didn't want. The singer debuted her new ink of a planet on Instagram. "permaaaa skinnnnn arrrrrttttt by daaaa mosssst bad a$$ @laurenwinzer ????? #lilbbJupiter," she initially captioned the pic... except it's actually Saturn. Cyrus realized her mistake and fixed her caption which now reads, "permaaaa skinnnnn arrrrrttttt by daaaa mosssst bad a$$ @laurenwinzer ????? #stonerasf--k." Well, sounds like she's still happy with her tat!
[Photo: Instagram]
Lea Michele debuted a tiny, sweet tattoo she got in honor of her late boyfriend and former Glee star, Cory Monteith.
The actress posted a photo to Instagram of the number 5 tattooed on the side her rib cage. "And one more.. for my quarterback..," she captioned the pic.
Gleeks know that Cory's character, Finn Hudson, had the number 5 on the back of his football jersey.
[Photo: Instagram]
Tattoo artist David Allen showed off his latest work on Lady Gaga. "Honored to tattoo a symbol of "unity" on @ladygaga today. An image of solidarity for survivors of sexual assault," Allen captioned the snap. Gaga's new tattoo matches fellow sexual assault survivors who joined her onstage for her powerful Oscars performance. She shared the entire process on Snapchat and said, "At rehearsal the survivors and I made a pact." What a special tattoo with incredible meaning!
[Photo: Instagram]
Kylie Jenner showed off her latest tattoo on Instagram last night. Her new inner arm tattoo is in honor of her grandma. "grandmothers name in my grandfathers handwriting," Jenner captioned the Instagram picture. This is Kylie's third tattoo.
[Photo: Instagram]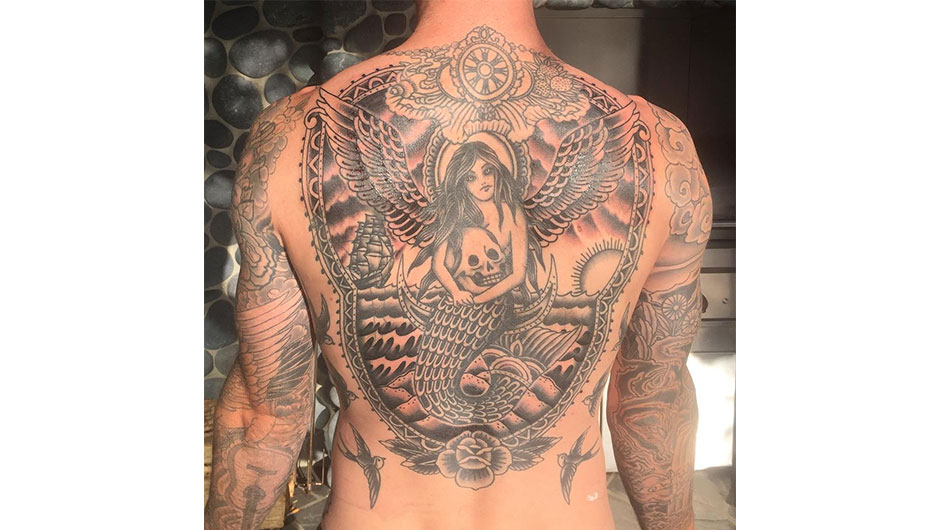 Adam Levine debuted his newly finished back tattoo that took six months to complete. What started as just a mermaid tattoo launched into a full-blown canvas that covers nearly his entire back, featuring crashing waves and pirate ships. "6 months in the making. Thanks @bryanrandolph for absolutely blowing my mind with this one! Woooo hooooo!!!!" he captioned the picture.
[Photo: Instagram]
Kylie Jenner finally showed off the tattoo she got nearly two months ago on her hip. She videotaped herself getting the tat but never fully revealed what it was until now. Kylie got the phonetic spelling of the word "sanity" in red ink on her hip. Maybe this is her reminder to keep calm when things get crazy?
[Photo: Instagram]
Justin Bieber showed off his newest tattoo on Instagram. He got a pair of angel wings on the back of his neck. Um, ouch.
[Photo: Instagram]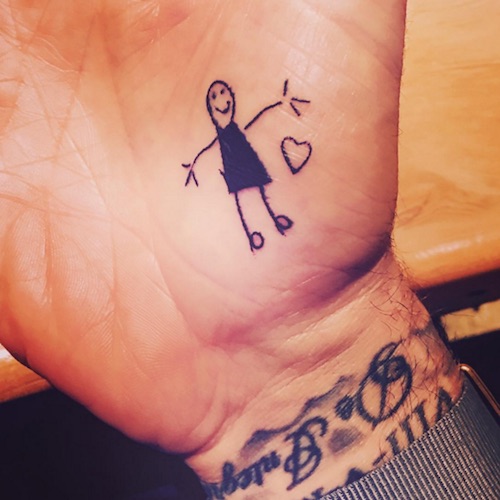 David Beckham's latest tattoo was designed by his daughter Harper. He captioned the picture "Apparently Harper is allowed to scribble on daddy." So cute!
[Photo: Instagram]
Kylie Jenner is a lady in red showing off her tiny heart tattoo. Kylie reportedly got this tattoo to symbolize all the love in her life.
[Photo: Instagram]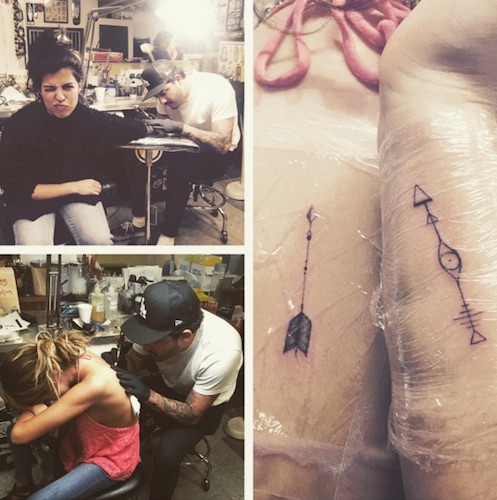 Sarah Hyland and her best friend got matching arrow tattoos.
[Photo: Instagram]