Maintaining your skin's hydration levels can feel like a full-time job. That's why it's vital to follow a skincare routine that contains moisturizing products that will not only help restore your skin's hydration, but also deliver nourishing ingredients to promote a healthy, radiant complexion. This is especially true for the under-eye area, which is extremely delicate and prone to dryness, discoloration, and loss of firmness.
It's never too early to start using an eye cream and research shows that continued usage of the powerful product can significantly strengthen the under-eyes and restore brightness and elasticity. But, that's only the case when you're using the best eye cream ingredients. In fact, there are certain eye cream formulas that can potentially exacerbate conditions like dark circles, puffiness, and under-eye circles…
Shutterstock
Frequent use of a harsh scrub or cream that contains irritating ingredients can lead to under-eye circles over time. There is not a specific ingredient that is universally irritating for everyone, but anything that turns the skin pink should be avoided.
Shutterstock
Best Eye Cream Ingredients
Eye cream ingredients to look for include caffeine, which can shrink the blood vessels that give a dark bluish hue to the under-eye area. Hyaluronic acid recruits water and improves skin hydration, while retinol fights pigmentation and wrinkles. Peptides and antioxidants have been found to counteract the effects of UV light and other destructive free radicals on the skin.
Shutterstock
Other Causes Of Under-Eye Bags
The foods you eat before bed can also negatively affect the appearance of your under-eyes in the morning as well. Eye bags are triggered by salty foods as they contribute to fluid retention, leaving you with puffy, under-eye circles in the morning.
Under-eye circles can also be aggravated by:
-Allergies
-Smoking
-Lack of sleep
Keep scrolling to shop some of the best eye creams for under-eye circles and contain the best eye cream ingredients:
Citrix Vitamin C Antioxidant Eye Cream ($48)
Citrix Vitamin C Antioxidant Eye Cream has a rich emollient formula that calms the skin and helps to reduce the appearance of fine lines. It also diminishes under-eye circles, moisturizes to improve skin tone and texture, and provides antioxidant benefits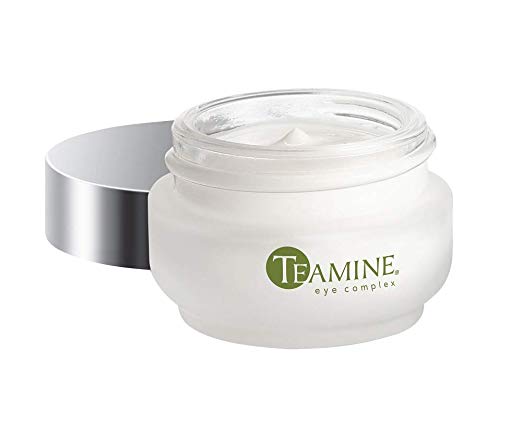 Teamine Eye Complex ($52)
Teamine was formulated to effectively address dark circles in multiple ways. In addition to visibly diminishes dark under-eye circles, the formula also works hard to smooth the look of fine lines and wrinkles.
SkinCeuticals A.G.E. Eye Complex ($95.71)
SkinCeuticals' A.G.E. Eye Complex is an incredible treatment that offers both instant and long-lasting anti-aging benefits to the eye area. Optical diffusers instantly reduce the appearance of dark circles and capillaries while flavanoids and peptides work over time to dramatically improve dark circles and puffiness. Blueberry extract and proxylane moisturize, nourish and prevent future visible signs of aging while simultaneously boosting elasticity and skin thickness, thereby diminishing the appearance of fine lines, wrinkles and crow's feet.
NEOCUTIS Lumière Bio-restorative Eye Cream ($97)
A restorative, line-smoothing eye cream that uses growth factors to target the delicate eye area and reduce the appearance of fine lines and wrinkles, crow's feet, puffiness and under-eye darkness.
SkinMedica TNS Eye Repair ($102)
TNS Eye Repair not only includes TNS (Tissue Nutrient Solution) to improve the appearance of fine lines, wrinkles, skin tone, and texture, but it also contains peptides in addition to vitamins A, C, and E to help support the skin around the eyes. Additionally, this product has unique ingredients to help improve the appearance of dark circles.
SheFinds receives commissions for purchases made through the links in this post.