Limiting yourself to "diet" food like salad won't actually help you lose weight because everyone needs to eat protein. "Think about eating a salad with vegetables and dressing versus eating a salad with vegetables, dressing, salmon, chickpeas and sunflower seeds," says Julie Andrews, The Gourmet RD. Which would leave you feeling happy and full and which would send you running for a bag of chips? "Protein helps maintain and build muscle, which helps burn fat and keeps you feeling fuller for longer," she says. Eat a variety of proteins to reach your 2018 weight loss resolution!
[Photos: Shutterstock]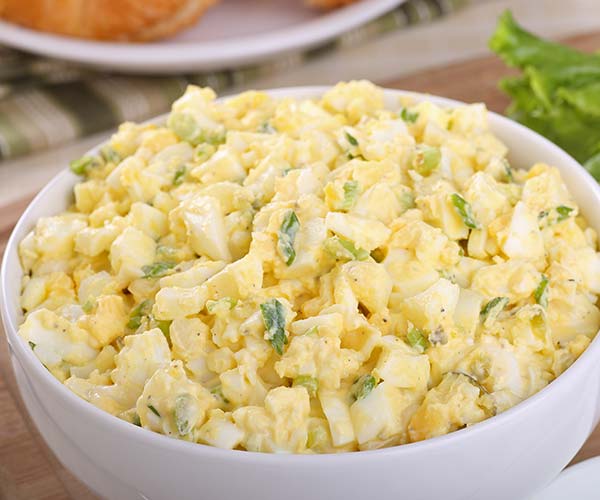 Eggs
Eggs are the real deal. Andrews says they are a "complete protein". From eggs we get choline, selenium, biotin, iodine, phosphorus, vitamin D, vitamin A and vitamin B12. Most of these are in the yolk so forget about making just the whites. "Eggs are inexpensive, readily available and very versatile in cooking and baking," she says. "For many years eggs took a lot of heat for being too high in dietary cholesterol but new research shows it's not harmful to our systems." Andrews suggests buying omega 3-fortified eggs for extra anti-inflammatory properties. Try her tasty grown up egg salad recipe!
Pulses
You might have been eating pulses for a while and not realized it. They are dried seeds of legume plants and include dried beans, dried peas, lentils and chickpeas. If not, you need these proteins in your 2018 diet. Andrews says one cup has 8 grams of protein and 7 grams of dietary fiber. But cooking dried pulses can require time. Don't worry! "If I'm in a pinch, I buy canned beans, chickpeas and lentils because they're already cooked so I can just drain, rinse and add to soups, stews, casseroles and salads," she says.
Nuts & Seeds
Almonds, walnuts, pecans, cashews and sunflower seeds, are packed with protein (about 4 to 7 grams per ounce), fiber and heart-healthy fats. "Nuts and seeds are calorie-dense so it's important to pay attention to portion size," says Andrews." If you're not a "pick up a handful of nuts and seeds for a snack" kind of lady, she has some ideas. "All nuts and seeds are great for making pesto and sauces, for blending into smoothies, adding to salads and layering on to yogurt and oatmeal." Be careful with nut butters and read the labels. Avoid ones with added sugar and partially hydrogenated oils (aka trans fat). The best bet is a butter with minimal ingredients.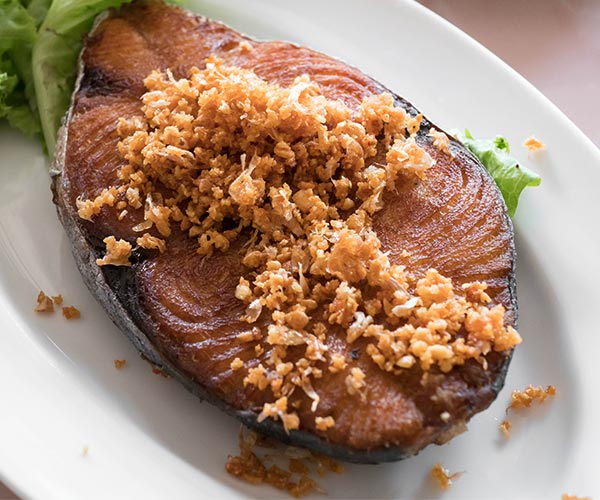 Fatty Fish
Get familiar with the seafood section of your supermarket. "A 3-ounce serving of fish contains 19 to 26 grams of protein," says Andrews. Fatty fish like salmon, tuna, mackerel, lake trout, herring, albacore tuna and sardines are especially healthy because they are great sources of omega- 3 fatty acids. We're not trying to malign other types of seafood. Andrews says that fish such as cod, halibut, snapper, shrimp and scallops are also excellent sources of protein, but without the omega-3 bonus. This salmon grain bowl is one of our fave recipes from Andrews!
Chicken
"Lean meats are a great way to get protein without excessive fat and carbohydrates," says Alix Turoff, a New York City nutritionist and trainer. Her top pick is chicken. "It can be cooked in a multitude of ways, is more affordable than other meat sources and is available at almost every restaurant," she says. "Unless there are specific reasons for avoiding meat (religious, moral, etc.), I do not suggest that it ever be cut out of your diet." Stop whining that chicken is boring - just get creative in preparation. Have you ever tried slow cooker honey and garlic chicken with veggies?
Greek Yogurt
If you tolerate dairy, there's a lot of Greek yogurt in your future. It's a super breakfast or snack with a lot of protein - one cup gives you 20 grams. Always choose plain and low- or no-fat varieties and never anything with added flavors and sugars. Cottage cheese comes in a close second with 24 grams of protein in a cup. The issue is sodium and those curds have lots so always read labels.
Plant-Based Protein Powder
The purest and healthiest way to get nutrition is from whole foods. But sometimes we simply don't have time to scramble an egg. Protein powders are convenient meal replacements. "They can be a good fit if you want to lose weight but need a quick, portable food option," says Rachel Swanson, a RDN at Lifespan Medicine. You need the best protein powder for your own body – not the ones that appear trendy. She suggests products that are organic and plant-based, compared to popular whey or casein proteins (those isolated from cows milk). "The high protein content isolated from plant sources such as peas, sprouted brown rice, hemp, or gluten-free grains like quinoa will also help to preserve lean body mass if your weight loss approach includes increasing fat burn with exercise," she says. "Avoid any powders that contain a laundry list of ingredients, cheap additives that you can't pronounce, a high amount of sugar and any artificial sweeteners."
Oatmeal
In ¼-cup of oats there's 5 grams of fiber and 7 grams of protein. The fiber is part soluble – it slows digestions and makes you feel satiated –and insoluble fiber – the kind that helps you get smooth moves (wink). "Regular and healthy bowel movements reduce belly bloating and improve digestion," says Abbey Sharp, RD, of Abbey's Kitchen. Choose steel-cut oats over rolled or instant. They're not pre-cooked and are processed in a manner that helps them maintain more fiber and protein than other versions. Plus the hearty, chewy feel of steel-cut oats helps you to slow down and feel full.