Gucci's logo tee was no doubt the biggest graphic t-shirt trend of 2018–maybe even the biggest street style trend in general. Everyone was from Chiara Ferragni (The Blonde Salad) to Kendall Jenner rocked one. It was so good, I even contemplated spending $590 on it. Almost. 
But if you had that thought–don't act it on. Because there's a new sheriff in town, and it's the 70s retro tee.
That's right–it's so simple, yet so good. Just a basic white ringer tee with groovy 70s font. It's everywhere! Don't believe me? All the fashion girls are already rocking them for spring-summer 2018, including this great one from Madewell's spring collection: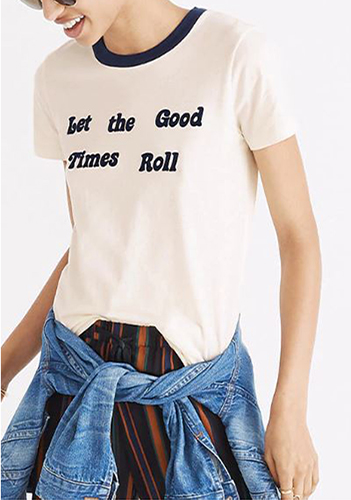 Madwell Let The Good Times Roll Ringer Tee ($39.50)
New York-based lifestyle blogger Steffy wore hers with a blue cardi, red frames and mustard yellow headband:
Bloggers Jules Hunt (Om & The City) and Allison Murray (West Of Felicity) were twinning in theirs (love the sweet accessory!):
"American Made" actress Sarah Wright Olsen just rocked hers with a pretty pendant necklace and minimal makeup. So effortless.
This is the perfect, effortless weekend look for any girl. We love them with high-waisted jeans (skinny or flare) and some gorgeous gold delicate jewelry. Don't overthink–it's easy AND the options are cheap (sorry, Gucci):
Topshop by And Finally All You Need Is Love Tee ($48)
The Topshop version is pretty neat, too--it comes with a Beatles song lyric and cool, chunky red writing. Plus, it's under $50.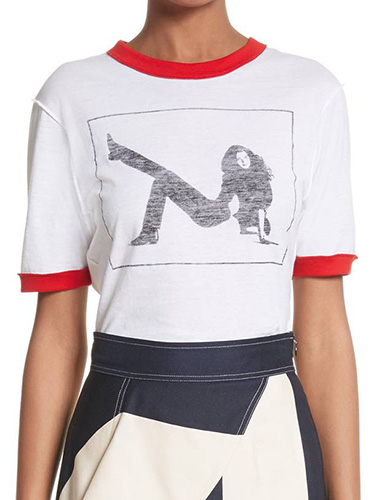 Calvin Klein Print Tee ($190)
Calvin Klein makes one with a sexy lady silhouette---for when you're feeling that vibe. Cue "American Woman."
PAM & GELA Rad Rainbow Ringer Tee ($125)
Do you know the brand Pam & Gela? Founded by the women behind Juicy Couture, this LA-inspired brand is a great source of quality graphic tees and (what else?) comfy-cool sweats.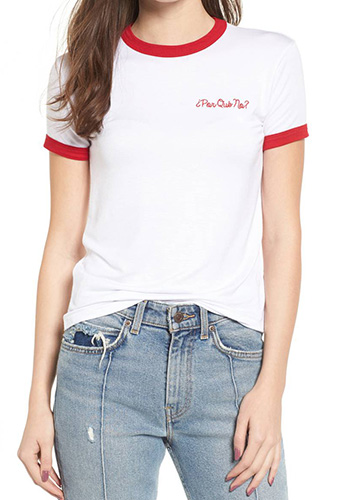 Show Me Your MUMU Recess Ringer Tee ($74)
That teeny tiny writing says "Por Que No?" or "Just because." Our thoughts exactly on this cool red-trimmed ringer tee.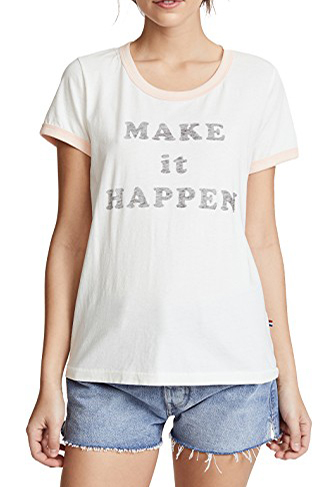 Sol Angeles Make It Happen Ringer Tee ($79)
For those days when you're feeling productive--a "make it happen" ringer tee from Sol Angeles.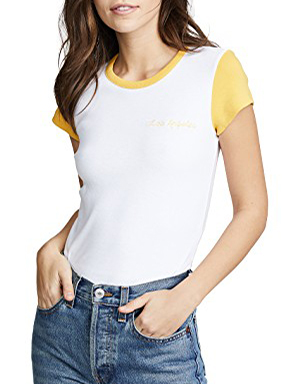 FRAME Color Block Tee ($95)
Pair your favorite FRAME denim jeans with their 70s-inspired mustard yellow block tee.
SheFinds receives commissions for purchases made through the links in this post.