Some manicure questions are easy to answer: square or round, spa pedicure or regular? But others aren't so straight forward. Do you want your calluses shaved or your cuticles cut? When your manicurists asks you anything involving a blade, you're a bit wary to answer them, right? You've likely heard through the grapevine that both are dangerous–but how, exactly.
We spoke to a leading dermatologist to get the final word on whether it's okay to cut your cuticles or not. Here's what she had to say:
Why Do People Cut Their Cuticles?
To start, let's address the benefit of cutting them in the first place. To be able to determine whether it's worth the potential risks or not, you'll need to know why it's even done in the first place. And the answer is that there is no reason, it's purely cosmetic! That's right--there's no reason to cut your cuticles other than to clean the nail edge or to make the nail area larger (just like pushing them back). This step doesn't benefit the nail or skin in any way. We tell you this because it will make the cost-benefit analysis much easier to understand.
Why It's So Bad To Cut Them
"Our cuticles connect the skin around the nail to the nail plate to protect them from infection. They prevent water and dirt from getting in between the skin and nail which can lead to bacterial, viral, and fungal infection," Dr. Janet Prystowsky explained to us.
"If your manicurist causes your cuticles to bleed they have gone too far," she warns.
Why is it such a big deal to break the skin? "Think of your cuticles as the little plastic wrap at the top of a drink that says "Do not drink if seal is broken." Your cuticles protect your nails from infection. If you cut them, you're opening the door for fungus, including yeast; viruses, like herpes or wart; and bacteria, such as paronychia, because you're "breaking the seal."
How To Protect Yourself
There are some steps you can take to protect yourself from infection, while still occasionally getting your cuticles cut if you prefer that look.
Tools
"Professional manicurists should only trim frayed loose ends with clean tools," Dr. Prystowsky advises. "If you're worried their tools aren't clean, bring your own. Even if your manicurist cleans their tools between each customer (which isn't always the case), cutting your cuticles removes a vital part of your nails' defense system.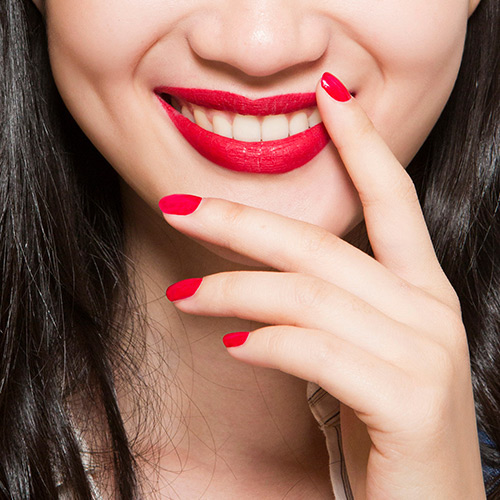 Switch Salons
"If any of this is a concern, find a better manicurist," Dr. Prystowsky. We've all gone to some questionable salons in pursuit of the perfect $8 manicure--but it's just not worth the possible infection if your manicurist is too rough when cutting your cuticles.
Push Them Back
"The cuticle is what protects the nail fold. Excess cuticle should be pushed back rather than cut as trimming it often times leads to breaks in the cuticle which provide a portal of entry for microbes like yeast, bacterial and wart virus," Susan Bard, MD of Manhattan Dermatology Specialists tells us. "This is especially concerning if a cuticle is cut to the point of bleeding as it can contaminate the instrument, which if not properly sterilized in an autoclave, can transmit blood borne diseases to the next client."

So--there you have it: the scary reason you should never get your cuticles cut at the nail salon. Tell us in the comments below--do you trust your nail place?

READ MORE: The One Anti-Aging Product Every Woman Over 40 Needs To Start Using ASAP To Look 10 Years Younger